Brock Netter, Staff Writer
It feels so good to finally say this … ladies and gentlemen, high school football is officially back.
Last season — quite possibly the most unforgettable one in modern history — provided plenty of jaw-dropping performances, instant classics and playoff runs that will be remembered for a lifetime.
Now, as we turn the page to the 2021 season, between the SVC, SOC I, SOC II, FAC, MSL, alongside Logan, Vinton County, Wellston, Portsmouth and Ironton being added to the coverage umbrella, more moments are waiting to be covered and unknown players are ready to mold themselves into household names.
So before the season's opening kickoff takes place, we've compiled a list of 20 players to watch for this season.
NOTE: This is NOT a list of the 20 best players in SOSA's coverage area. It's not an end all, be all. This doesn't mean other players won't have outstanding seasons. These are simply just 20 players to keep an eye on this season. Nothing more, nothing less.
Braylen Baker, Logan Elm
The Braves lost roughly 75 percent of their offensive production due to graduation, including their quarterback and top two receivers. But Baker steps in as the team's top returning receiver after catching 16 passes for 313 yards (19.6 yards per catch) and three scores last fall. He's dangerous with the ball in his hands and is always a threat to score. So expect his numbers to skyrocket.
Jeffery Bishop, West
Rather quietly, West managed to play a full 10-game schedule last season, and with the young team it had, every snap was valuable. As a freshman, Bishop made quite a splash by hauling in 19 catches for 419 yards (22.1 yards per catch) and a team-high six scores. He also added 233 rushing yards and three additional scores. Remember his name.
Johnny Burton, Piketon
Standout quarterback Levi Gullion garners most of the headlines in Piketon, and understandably so. But having receivers like Burton on the outside makes Gullion's job a bit easier. The senior wideout hauled in a team-high 35 catches for 565 yards and nine touchdowns last fall as he helped Piketon win its first playoff game since 2012. He has a knack for making big plays and he'll be a major factor if the Redstreaks aim to win the SVC.
Brayden Campbell, Northwest
It's no secret what Campbell brings to the table. Straight production. He's a hard-running tailback with a nose for the end zone. Don't take our word for it, take his 900-plus rushing yards and 10 scores last season for reference. That led the Mohawks to their first-ever outright conference title and first playoff victory. Northwest still possesses a ton of talent, and with Campbell still leading the way, a conference repeat could be in the cards.
Tayden Carpenter, Ironton
With Ironton now in SOSA'a coverage area, you can't not mention Carpenter. As a quarterback who helped guide the Tigers to a state championship appearance, he threw for 1,331 yards and 19 touchdowns last fall. He'll have an added layer of responsibility this season with nationally ranked standout Trevor Carter likely out for the season. But it's nothing Carpenter and his arm can't handle.
Cavan Cooper, Paint Valley
It's quite possible that Cooper could wind up as the SVC's Offensive and Defensive Player of the Year. He's that talented and versatile on the field. He threw for 690 yards and ran for another 525 yards, accounting for 16 total scores offensively while scoring three times defensively during his sophomore campaign. Expect the best version yet of Cooper as the Bearcats vie for the SVC crown.
Mason Doughty, Chillicothe
Doughty has all the physical tools you could want out of a quarterback. 6-foot-3, big arm, big frame, football IQ. Now we get the chance to see how he plays as he'll step under center, replacing last year's FAC Player of the Year in Kam Smith. Chillicothe's non-conference schedule is tough, but if Doughty makes it through that, the Cavaliers could have something special on their hands.
Maddox Fox, Unioto
No matter who lines up under center, it's always helpful to have a 6-foot-4 receiver on the outside like Fox. He returns this year as the only receiver on the team to have caught a touchdown last season after bringing in 35 catches for 638 yards and five scores — all team-highs that helped Unioto to its first-ever playoff win. Expect to read his name quite a bit this year.
Jeremiah Frisby, Wellston
Wellston graduated a monster senior class, which puts more emphasis on Frisby to lead the way as the team's signal caller. Last season, he threw for 1,050 yards and over 10 touchdowns, leading the Golden Rockets to their first TVC championship since 2002. As they attempt to repeat as champions, Frisby will be at the center of the storm.
Wade Futhey, Waverly
Wade's brother, Will, has had the spotlight on him ever since he stepped on the field. Now it's Wade's limelight turn as he steps into the role of replacing one of the the most prolific quarterbacks in school history. All eyes will be on him as he leads the Tigers in defense of their SOC II championship and another hoped-for playoff run.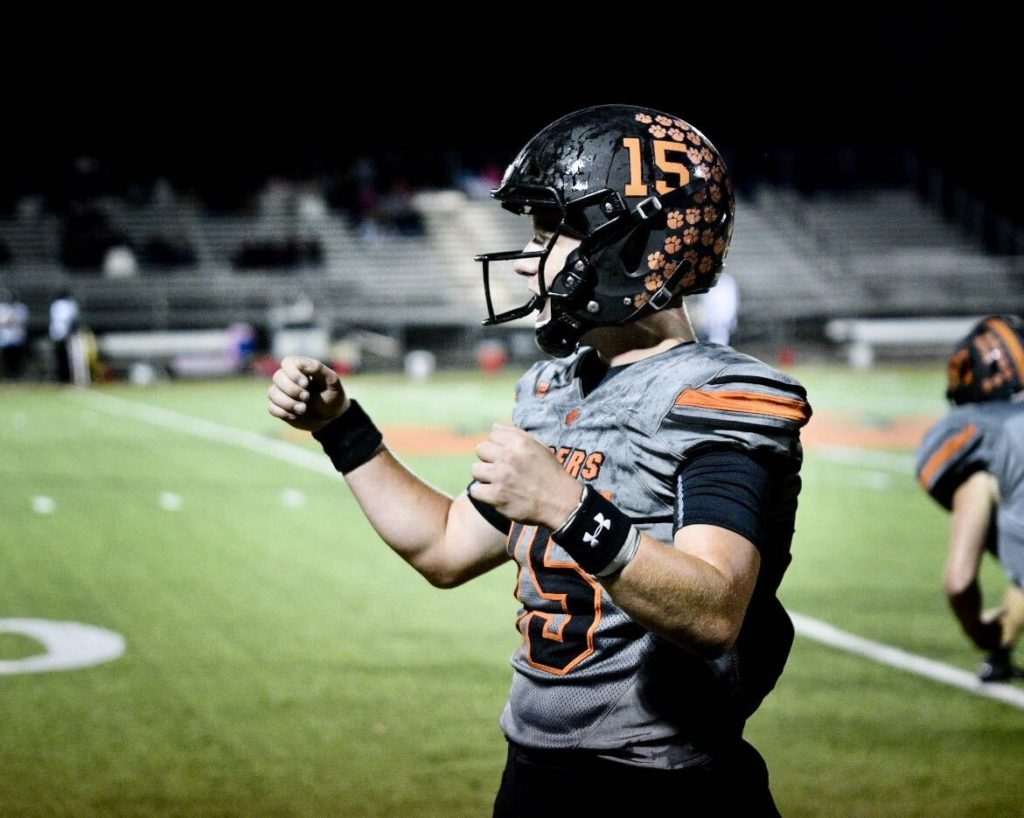 Braylon Howell, Oak Hill
Howell is mainly used as a blocker in Oak Hill's power-running system. But he can go up and get the ball when his number is called. He hauled in three touchdowns last season while also clearing some holes from time to time in big wins over Valley and Minford. With a little more youth to Oak Hill this fall, Howell's production is more important than ever.
Derrick Lattimore, Wheelersburg
Don't let Lattimore's 5-foot-8 frame fool you … he's a bulldozer who will run into and then through the contact. But he also possesses the shiftiness to make defenders miss and rip off big gains. He finished last season with 95 carries for 784 yards (8.25 yards per carry) along with eight touchdowns. The Pirates have a lot of new parts offensively, so Lattimore should shoulder a ton of responsibility.
Tanner Lemaster, Washington
Of every tight end in the state of Ohio, the highest-rated one resides at Washington Court House. The 6-foot-6 towering junior is a mismatch anywhere on the field, with the ability to throw a good block and bring down any 50-50 ball. There's a reason the D-I offers have been piling up at his feet. Surely, as the Blue Lions vie for the FAC crown, Lemaster will have a say in them doing so.
Camden McDaniel, Teays Valley
The Vikings lost a lot of receivers on the outside, but in the backfield, McDaniel is ready to run over more defenders. With a 6.3 yard-per-carry average last season, he handled duties as the top back, running 100 times for 633 yards and six scores. The Vikings will go as far as McDaniel carries them, and he has the motor to go for a long time.
Dillon Morton, Eastern
The Eagles have a lot of offensive production to replace with its top three leaders in touchdowns last season all gone. Enter Morton, who takes over under center and leads a team mostly filled with sophomores. Remember, the Eagles were just one game away from winning the SOC I. Though Northwest and Symmes Valley are tough outs, it's not an impossible task.
Ben Nichols, Zane Trace
If you're looking for a sleeper team inside the SVC, look no further than Zane Trace. Nichols is a huge reason why. He completed 61 percent of his passes last season, throwing for 889 yards and nine touchdowns, but also used his legs to rush for 470 yards and six more scores. Much of the Pioneers' core is back this year, so plan accoridingly.
Carter Nickel, Valley
The Indians were completely slept on last season and they won two playoff games with Nickel under center. The cat is now out of the bag, but having a quarterback with that experience and one who relishes in the big moments does a lot for a team. Though Valley has a small roster size, the Indians still have big-game seasoning on their side. They'll be led by Nickel, who's poised to light it up.
Jeffery Pica, Minford
Pica showed flashes of brilliance in the Falcons' playoff game by tying a school record for touchdowns in a half with four. That night, as a freshman, he rushed for over 200 yards in the biggest game of his team's season. That small glimpse of talent is what Minford fans hope to see more of as it breaks in a new core of skill players across the board. Expect Pica to have the ball in his hands quite a bit.
Dylan Seison, Notre Dame
Notre Dame's football program finally broke through and won its first game in two years last season, and mostly because Seison was a one-man wrecking crew. Whether it was running, receiving or on defense, his fingerprints were everywhere. Heading into this season, don't expect that to stop. Seison has the talent to keep the Titans in every game.
Evan Spires, Jackson
Put Spires anywhere on the football field and just watch him work. He's the ultimate playmaker, offensively and defensively. Last season, he threw for 588 yards and nine touchdowns while rushing for 340 yards and three more scores. Don't forget, just a couple of years ago, he led the state in interceptions. He's arguably one of the most well-rounded players in Southeast Ohio. Get used to reading about him.
SPONSORED BY NEIL COLEMAN INSURANCE