Derrick Webb, Staff Writer
PIKETON — If you live in Piketon, or in Pike County for that matter, you probably remember what the sports news cycle included on Oct. 11, 2020.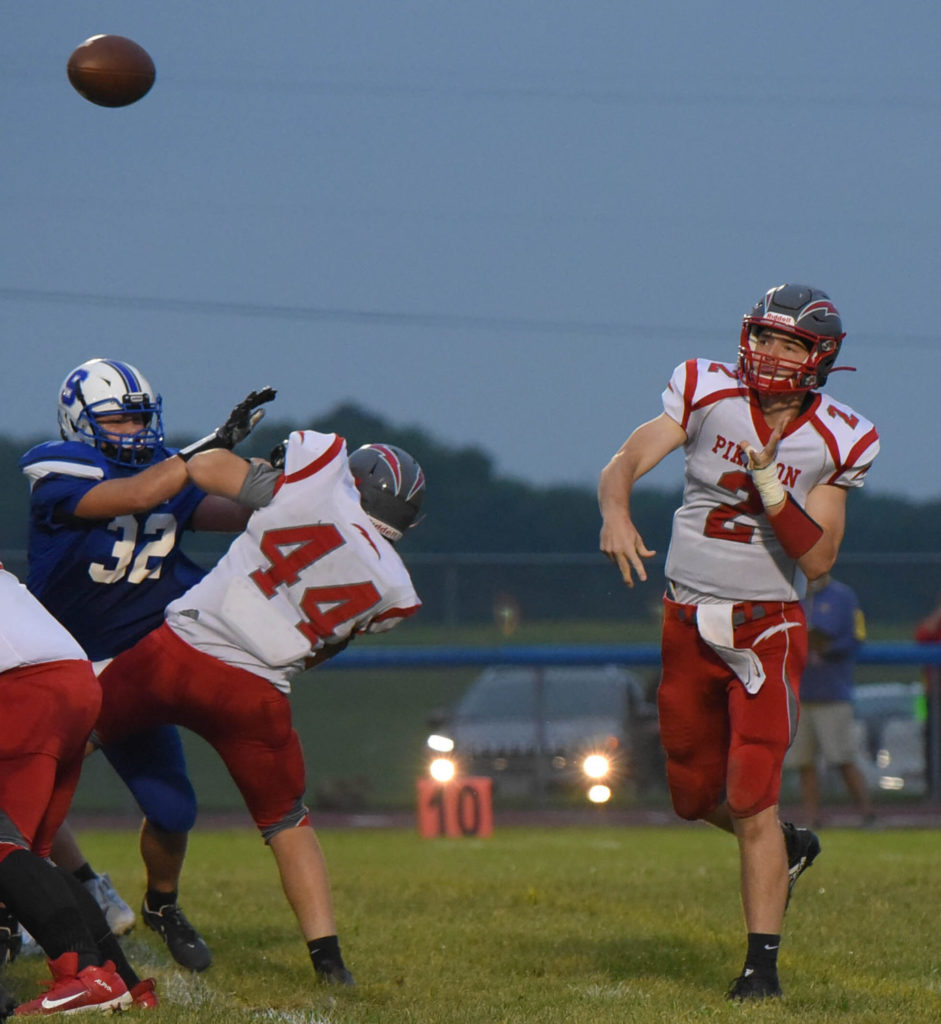 The night before, Levi Gullion had slashed and gashed his way through Minford's defense and that's an understatement. By the end of the night, the junior quarterback had racked up 605 all-purpose yards — 418 through the air and 187 on the ground — in a wild 53-51 playoff win.
His final stat line included a 28-for-38 passing performance and eight total touchdowns.
It's regarded, by all, as one of the best single-game performances in the program's history.
The Redstreaks, riding their star signal-caller, erased a 20-point deficit en route to the second round of the playoffs — where they eventually fell to Harvest Prep.
But despite the next-round exit, area fans still caught a glimpse of what was to come. Since that final night of his junior season, Gullion has worked to become better. Now a senior, you can bet your bottom dollar on him doing special things when the football is in his hands this fall.
"[The playoff run] was truly thrilling. I felt like my legs really worked well for me last season," Gullion said. "We have high expectations for ourselves. We've just been focusing on the next team up and doing what we need to do."
As a junior, Gullion's eight-game stat line looked like this … 140-of-239 passing for 2,260 yards with 19 touchdowns and 11 interceptions. He also added 585 yards and 15 scores on the ground while averaging six yards per carry.
Put simply, he was the definition of dual threat with plenty of weapons around him.
Camren Loar, Johnny Burton and Chris Chandler all caught over 30 passes while combining for 15 touchdowns while Brody Fuller and Logan Maynard teamed up for 32 catches and four trips to the house.
When you mixed all of those names together, you got a feared offense that tallied 26.4 points per game while scoring 30-plus on five occasions.
"I love my receivers. They're some of my best friends and we have an amazing relationship," Gullion said.
Loar and Burton will be back this season while Gullion continues to build chemistry with a rather new crop of receivers. But he'll have help in doing so.
That will come, of course, from his dad and longtime Piketon head coach Tyler Gullion. As you may imagine, when Friday Night Football is in season, there aren't many conversations between the two that don't revolve around the gridiron.
"I really enjoy [playing for his dad] and having that relationship helps with communication on the football field," Gullion said of playing for his dad. "Most of our conversations during football season are about football."
Last season was one in which the Gullions and company finished 4-4. But there are high expectations around camp this fall — expectations that they've set and expectations from the general public.
When you have one of the best quarterbacks in the region, forecasted success tends to pop up.
Piketon will open its season on Aug. 20, hosting River Valley. The Redstreaks will then complete their non-league schedule with dates against Wellston and Valley before looking at Scioto Valley Conference play.
But as for now, River Valley is the only opponent that matters.
"I feel my best trait is my competitiveness. I've worked at being the best I can be in everything I do," Gullion said. "We have high expectations for ourselves this season and, in order to have success, we have to have great communication. No missed assignments."
SPONSORED BY OHIO VALLEY BANK