Derrick Webb, Staff Writer
WHEELERSBURG — Four years ago, Wheelersburg coach Todd Jarvis persuaded an inexperienced freshman to stand in goal for his junior varsity team.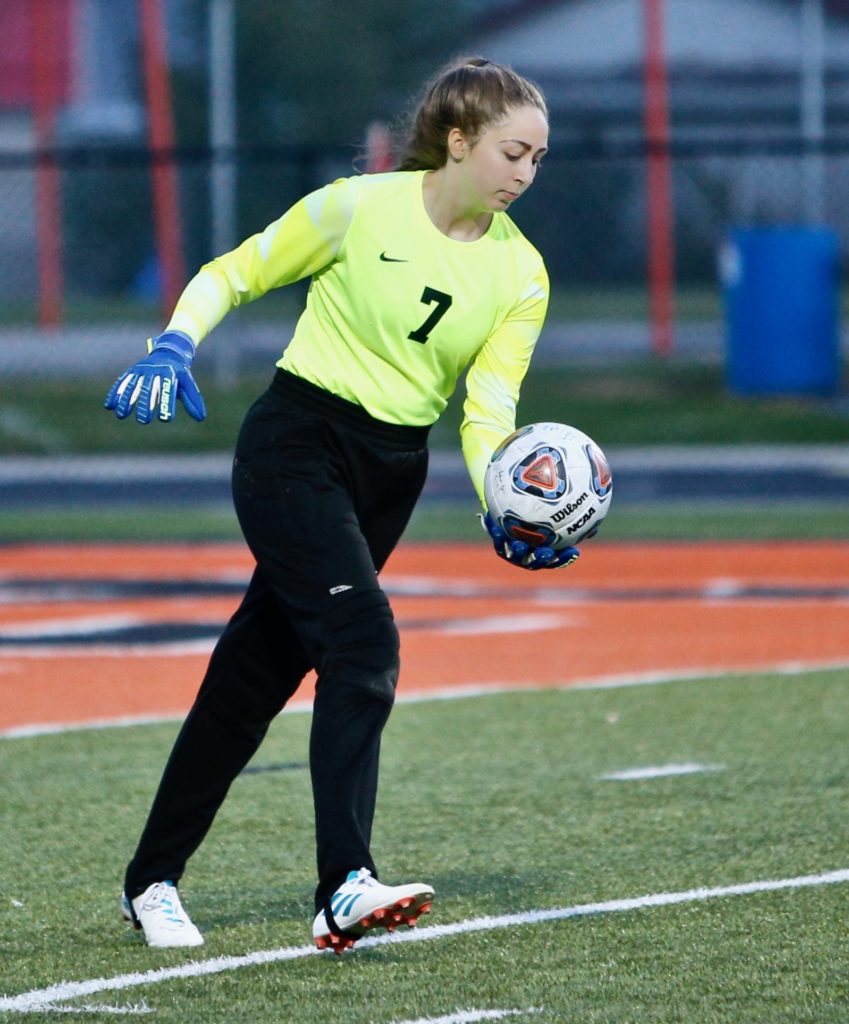 Now, Brynley Preston stands in between the pipes as one of the area's best goalkeepers.
It's crazy to think about the difference four years of hard work and dedication makes.
As a junior, Preston helped the Pirates finish 15-4-1 and capture the program's fourth district crown in the past five seasons. She pitched seven shutouts and tallied 110 saves.
This year, as she accepts even more of a leadership role, she's got high hopes for her Pirates. We caught up with her to discuss how 'Burg is replacing a talented senior class, what it takes to get back to a district championship game and much, much more.
Question: Taking a quick look back at last season, what moment was your favorite?
Preston: My favorite moment last year has to be the Fairfield game. Of course the penalty kicks were exciting, but every girl on the team fought hard for 80 minutes. I just remember feeling so proud of each and every one of my teammates that night. It's the games like those that you'll remember for a lifetime.
Q: What's the most challenging part of being a goalkeeper?
BP: I'd say the most challenging part of being a goalkeeper is the mentality you have to have. You have to be quick to think and make a decision, all while you have someone sprinting towards you with the ball. Having a short memory is also another challenging aspect. If a goal is scored, you have to quickly move on and continue to lead your team.
Q: Your team lost a great senior class. But you bring back tons of talent. How are you working to replace what was lost while maximizing the potential you have?
BP: Losing our seniors, Ellie [Kallner] and Laney [Eller], was really tough. With them graduating, we had to say goodbye to not only great talent, but amazing leadership. Currently, we're using all the practice time we can get to work on our skill-sets and move girls around to see who can fill the spots needed.
Q: A district title last season and I'm sure those same goals are there this year. What's it take to get back to that level?
BP: A district title is something the team works for every year. It's hard work, but playing for something bigger than yourself makes it that much easier. I believe having great team chemistry is the most important thing to have to get back to the district level. When you love and care for your teammates, you come out each day and play for them. That's what led us to such an awesome season last year, and I'm confident we have the talent and chemistry to take us there again.
Q: Obviously, you can't get the job done without a great back line. Can you talk about what those girls do so well to help you in the goal?
BP: My back line does a great job of defending and keeping the ball out of my hands. They're aggressive and do whatever it takes to stop the ball, whether it's using their body as a shield or throwing themselves in front of the goal to make a save. We communicate well together and that's always very helpful. I know I can count on them to work hard and do their job.
Q: Coach Todd Jarvis is one of the best there is. What's it like playing for him on a daily basis?
BP: Coach Jarvis is one of the most uplifting coaches I've ever had. He comes to us everyday with a smile on his face and you can tell he truly loves the game. My soccer career didn't begin until freshman year when he asked me to be his JV goalkeeper. It was a scary task to take on, but he was there supporting me every step of the way and made me into the player I am today. He makes the game fun and is always telling jokes, but gives us all the coaching and constructive criticism we need.
Q: Overall, where do you hope this team finishes this year? What's the goal?
BP: Our first goal this season would be to win the SOC outright and eventually make it to a regional final. As long as we focus on each goal ahead of us, one at a time, I believe we can achieve whatever we set our minds to.