Derrick Webb, Staff Writer
One state semifinalist, four district champions and a plethora of sectional title winners made this past softball season well worth covering.
But those were just the highlights. To really understand how special the season was, you'd have to look back on every career-defining moment, every big-moment pitch, and every at-bat that ended with jubilation.
Southern Ohio Sports Authority was right there every step of the way, covering individual milestones, improbable feats and wins that changed history.
After a fun-filled season, take a look at our All-Area Team, which consists of 30 area players who were at their best throughout the winter season.
Megan Bazler | Clay | Catcher | Senior
No matter the opponent, Bazler consistently made a dent in the scorebook. She posed a tough out at the top of the lineup, made pitchers work extra hard to retire her and found outfield gaps with ease. However, she's been doing all of those things for the past four years. It's nothing new. Bazler was a first-team All-Ohio selection and will continue her career at Rio Grande.
Abbie Bickenheuser | Westfall | Third Baseman | Junior
Power. Speed. Glovework. Intelligence. We could go on and on about Bickenheuser's ability to take over a game at the snap of a finger. She seems to always be in the right spot at the right time and, with runners on base, she's as dangerous as they come. She was a central reason why the Mustangs ripped off 24 wins and captured an outright conference championship.
Andi Blevins | Minford | Catcher | Senior
There's a reason Blevins is playing at the next level and she put a spotlight on it all spring. The left-handed catcher is rarely run against and has always been a terror with the bat in her hands. That same song and dance played during her senior year as opponents spent time figuring out ways to not let her beat them. Rio Grande is getting a great player and an even better person.
Alexis Book | Unioto | Outfielder | Freshman
You'd be hard-pressed to find a better freshman than Book. Unioto's do-it-all outfielder was a penciled in base hit each at-bat, swiped bases with ease and tracked down anything that dared enter her vicinity in center field. She was an all-conference, all-district and all-state selection and will only be sharpening her skillset over the next three seasons. The area is lucky to have her.
Claire Dettwiller | Notre Dame | Catcher | Senior
If there's been a resounding constant within Notre Dame's program over the past four years, it's been Dettwiller's ability to lead her teammates to success. But that should come as no surprise. We've seen her do it in any sport she's competed in. Dettwiller helped the Titans win 23 games and capture conference, sectional and district titles. She undoubtedly leaves huge shoes to fill.
Olivia Dumm | Westfall | Pitcher | Sophomore
After losing its coach and a crop of ridiculously talented seniors, the future of Westfall's softball program seemed to be in limbo. Then Dumm arrived on the scene and helped things return to normal in Williamsport. She was nearly unbeatable in the circle and could drop bombs with her bat as well. She's an early favorite for next year's SVC Player of the Year award and, if she continues to play at her current pace, is poised to be one of the program's best-ever.
Macee Eaton | Wheelersburg | First Baseman | Sophomore
In an overall sense, Eaton may be the best hitter in all of Southern Ohio. She was the SOC II's Player of the Year, a first-team all-district honoree and a first-team All-Ohio choice. She also got her first taste of state-level softball while helping her Pirates win 26 games. Not much will change next season. Eaton will only be better. That's a scary thought for any opposing pitcher.
Sydney Foglesong | Adena | First Baseman | Sophomore
Foglesong spent her spring lifting the Warriors to new successes. The power-hitting first baseman helped Adena win 16 games and reach a district championship game. For never appearing in a varsity game, she consistently looked like a veteran hitter while adding excellent glovework to the mix as well. She'll be a force to be reckoned with over the next two seasons.
Rylie Hughes | Wheelersburg | Third Baseman | Senior
Coming into the year, Hughes already had a reputation that highlighted her as one of the area's best sluggers. She did nothing to negate those thoughts as a senior. Hughes hit in the three-hole for most of the season, one that saw her Pirates win a regional title — the program's first since 2016. She hit for both contact and power and anchored the area's best lineup.
Jenna Johnston | Wellston | Shortstop | Junior
In any conversation that revolves around the area's most elite players, Johnson's name must be injected. Otherwise, it's not an intelligent conversation in the first place. Johnston was a five-tool stud for the Rockets this season, hitting .554 alongside 11 doubles, six homers, 27 RBIs and 41 runs. She led Wellston to the TVC-Ohio title and a district final appearance.
Kylee Kellough | Huntington | Pitcher | Senior
Replacing Kellough will be one of the toughest tasks that Huntington has been forced to address in the history of the program. It's really that simple. Kellough wasn't only a dominant pitcher and a feared hitter, she was the calm during a storm and the unquestioned leader in the dugout. The Rio Grande commit leaves a legacy of success behind as she takes the next step.
Brooke Kennedy | Manchester | Pitcher | Senior
The 17-win Greyhounds were paced by Kennedy, who hit .342 alongside three home runs, 11 doubles, 25 RBIs and 32 runs. She also tossed 64 innings, owned a 1.86 ERA and struck out 70 hitters. She helped Manchester go 10-4 against a talented crop of SHAC talent and left her final fingerprints on a program that has depended on her throughout the past four seasons.
Kenna Kilgour | Wellston | Second Baseman | Senior
Once again, Wellston was in the mix for a district championship. That bid fell short in the district title game but the Rockets had already posted 19 wins and won the TVC title before then. Kilgour had a lot to do with that, hitting .431 alongside seven doubles, four homers, 22 RBIs and 34 runs. She was the TVC's Defensive Player of the Year and was also an all-district selection.
Lexie Lockwood | Southeastern | Shortstop | Junior
Lockwood's name will enter the OHSAA's record books for both single-season batting average and steals. The junior logged a .683 average and swiped 53 bases while her Panthers enjoyed their best season in quite some time. She placed the ball well, was an absolute terror on the base paths and set the tone for a 16-win team. She's got one season left to continue that pace.
Sydney McDermott | West | Pitcher | Sophomore
Electric doesn't begin to describe McDermott in the circle. The sophomore broke the school's single-season strikeout record with 295 and did so by hurling straight gas towards home plate. McDermott logged multiple double-digit strikeout performances while guiding the Senators to 16 wins this spring. She's one of the main reasons West has high expectations for years to come.
Gwen Messer | South Webster | Pitcher | Senior
As a sophomore, Messer was dominant in the circle. As a senior, she was simply elite. The southpaw steered the Jeeps to a second-place finish inside the SOC II — no easy feat — and 19 victories. She was called upon to pitch against top-tier competition, including Wheelersburg, Notre Dame, Wellston, Clay and Canal Winchester. She pitched in well in every single outing.
Avery Miller | Unioto | Third Baseman | Junior
Miller instantly made an impact two seasons ago when was an unknown freshman. Now, she's a household name … and she played like one all year long. After battling an injury earlier in the year, Miller quickly returned to form at the plate for the 19-win Shermans. There wasn't a pitch she couldn't tattoo. Make no mistake about it, she'll continue her hitting charade next spring.
Marisa Moore | Peebles | Shortstop | Junior
There was uncertainty headed into this spring at Peebles. Two years removed from a state semifinal run, the Indians had said goodbye to tons of talent and were forced to wait a full two years to defend their regional title. But Marisa Moore helped make sure her team returned to the limelight. She led a roster full of youth to an Elite 8 appearance and 13 wins. Next year, with 13 of 14 returning roster members, the Indians could be special. Moore will lead the charge.
Maddie Mullins | Westfall | Catcher | Senior
When her teammates started a fire on the base paths, Mullins was consistently there to put it out with one swing. The hard-swinging backstop aided the Mustangs to yet another conference title — the program's fourth straight — and a district championship. She leaves a sizable void behind the dish but also leaves a legacy of success, one her teammates have learned from.
Madison Perry | Portsmouth | Shortstop | Junior
Perry is the perfect combination of power and speed at the plate. And, in the field, it's almost surely an out if the ball is hit anywhere in her direction. The Rio Grande commit led the Trojans to their best season in quite some time … one that included a sectional title, a district final appearance and a school record 21 wins. Perry was at the center of that storm all year long.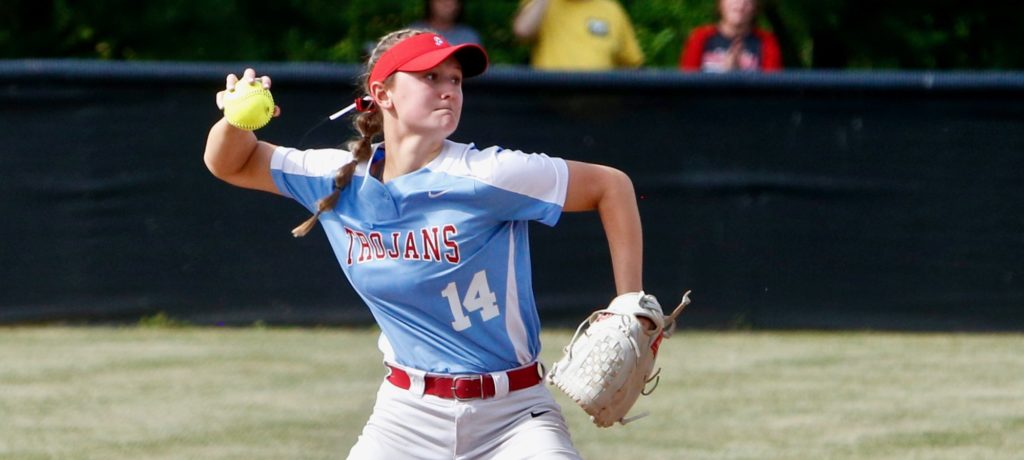 Kate Rollins | West | Shortstop | Freshman
The area quickly learned about Rollins' name this spring. When you hit at the pace she did, it doesn't take long to build a reputation. Rollins showed next-level talent as a freshman and easily adjusted to the varsity level. You don't see players like her every day. She'll be a staple in the Senators' lineup over the next three seasons with a bat that possesses exceptional power.
Kayla Roberts | Hillsboro | Pitcher | Sophomore
If you're wondering how the Indians ripped off 20 wins this year, the answer lies on Roberts' shoulders. The talented flamethrower led Hillsboro to the Frontier Athletic Conference title and made a habit of making hitters look silly in the box. Just a sophomore, she's got two more springs remaining to assert her authority. If she's in the circle, our money's on her.
Lexi Scott | Zane Trace | Outfielder | Sophomore
As soon as she entered high school, you heard murmurs about just how talented Scott was on the diamond. But when her freshman season was nixed because of the COVID-19 pandemic, her varsity softball debut was pushed back a year. She finally got the chance to prove those rumors true this spring, hitting in the three-hole and manning left field. Her future is ultra-bright.
Breanna Sexton | Vinton County | Catcher | Junior
When Sexton comes to the dish, outfielders tend to back up a few steps. The junior finished the season batting .513 with 13 doubles, eight home runs and 38 RBIs — all team-highs as she earned all-conference, all-district and All-Ohio honors. After losing just one senior, the Vikings are reloaded for next season with Sexton at the forefront of the attack.
Olivia Smith | Paint Valley | Catcher | Junior
There's not a lot that Olivia Smith doesn't do well. She was the school's kills leader on the volleyball court, broke the single-season rebounding record in the winter and continued to torment opponents on the diamond. While the Bearcats struggled to find a rhythm at times, Smith was the one constant they could rely on. That won't change when she's a senior.
Gwen Sparks | Notre Dame | Pitcher | Freshman
Sparks was simply dominant in the circle all year long. She set multiple program records en route to a 23-1 record and a district championship. In her final four games, all tournament contests, she struck out 44. Over the next three years, you'll want to keep your eyes on Notre Dame's program. Sparks is the reason why. She's poised to be one of the greatest Titans ever.
Boo Sturgill | Wheelersburg | Second Baseman | Senior
Boo's picture appears in the dictionary next to "leadership." She's the prime example of a fearless leader who puts her team's success in front of her own. She met expectations again during her senior year, helping the Pirates win conference, sectional, district and regional titles. Wheelersburg has huge shoes to fill at second base next season and Sturgill leaves that void.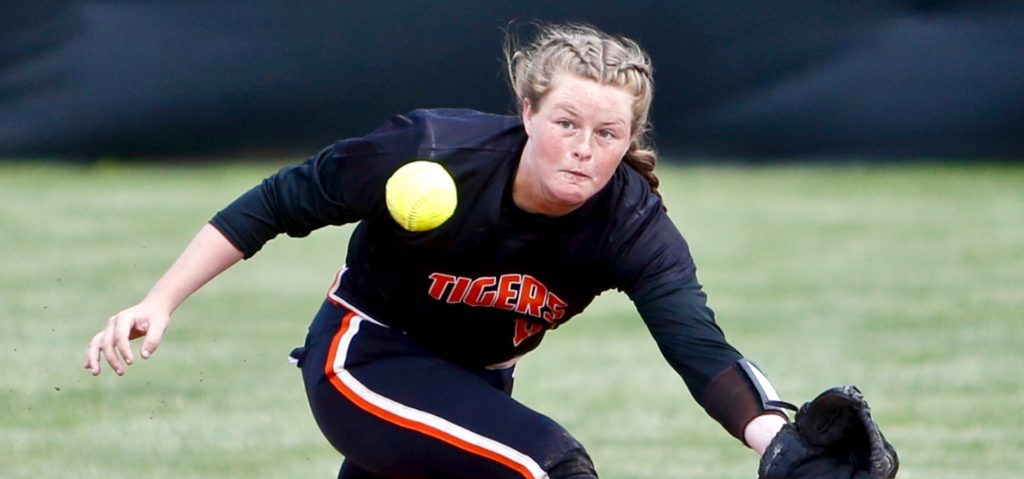 Suzzy Wall | Waverly | Shortstop | Junior
Want a base hit? Just send Wall to the plate. She'll get the job done. Once again, Suzzy led the Tigers' offense to success, raking her way through opposing pitchers. She set school records for doubles with 15 and RBIs with 36 and was a first-team all-district selection and a second-team All-Ohio honoree. She continues to be one of the most feared hitters in the Southeast District.
Haley Wilburn | Huntington | First Baseman | Senior
If you've already heard or read this, we're still going to say it again … Wilburn is the most underrated player in, not only her conference, but in the coverage area. Huntington's left-handed first baseman made a habit of clobbering pitches, and did so with pressure on her shoulders. She came up with big hits in big moments and constantly proved her worth. If she so desired, she could have success as a collegiate hitter. Her skillset is ridiculously impressive.
Kiera Williams | Adena | Second Baseman | Freshman
Coming into this spring, Williams had never played a pitch of varsity softball. But if you watched her play, you couldn't tell. She was the perfect contact hitter near the top of the order all year and usually set the tone for the Warriors' offense. And defensively, she was as sure-handed as they come. There's no doubt that she'll continue that torrid pace over the next three seasons.
Honorable Mention Selections
Delana Landefeld, Westfall; Megan Miller, Unioto; Carissa Wheeler, Unioto; Caelan Miner, Adena; Haley Wilburn, Huntington; Erin Richendollar, Southeastern; Gracey McCullough, Zane Trace; Ava Hassel, Notre Dame; Ava Jenkins, Green; Laney Eller, Wheelersburg; Andi Jo Howard, Wheelersburg; Emma Bailey, South Webster; Zoiee Smith, Waverly; Abbie Marshall, Waverly; Kailey Adkins, Oak Hill; Emilie Johnson, Valley; Kenzie Dietrick, Hillsboro; Sidney Payton, Miami Trace; Bri Weller, McClain; Katelyn Chambliss, Fairfield; Layla Hattan, Fairfield; Lanie Johnston, Peebles; Hannah Hobbs, Manchester; Paige Alford, Amanda-Clearcreek; Logan Juliann, Amanda-Clearcreek; Nevaeh Ousley, Wellston