Derrick Webb, Staff Writer
AKRON — If it's any consolation, Wheelersburg didn't end its season without a fight by any means.
A dogfight would be a more appropriate description, actually.
In a Division III state semifinal at the University of Akron's Firestone Stadium, the Pirates (26-2) saw their season come to an end by a 10-8 final at the hands of Sherwood Fairview.
The Apaches (27-1) pounded out 15 hits while pitcher Paige Ricica forced Pirates hitters out of their comfort zone — surrendering just four earned runs on eight hits and striking out three.
"We were just dropping hands and getting under a lot of balls," Wheelersburg coach Teresa Ruby said. "She had a lot of spin and it was spinning up. We didn't keep our hands up and work through the top half of the ball. We just didn't do that."
If you'd had told Ruby that this year's group would be playing in a state semifinal in the first place, she may have questioned your judgement.
The Pirates brought back just three starters this spring while relying on a score of underclassmen to produce in critical situations.
However, behind the leadership of seniors Boo Sturgill, Rylie Hughes and Laney Eller, Wheelersburg's youngsters caught on quickly. The result was a magical run to a regional final.
"It's been tremendous. We've talked a lot about this group of kids and how they lost a whole season," Ruby said. "This senior class came back with a huge underclass group. We knew that, not only were they going to have to play, but they were going to have to produce at a high level. [The seniors] led by example and they led by producing on the field. The younger classes have matured so much from beginning to end. The seniors started that and didn't come into the season expecting anything less than us being here today."
The Pirates lit up the scoreboard first, scoring two first-inning runs on a hit and two errors. Fairview answered with a run of their own in the bottom half, cutting the deficit in half.
Then, in the top of the second inning, after a double from Brynley Preston, Sturgill sent a two-run rocket over the left field fence to push her team's lead to 4-1.
"I was really excited. I went into the box not thinking about anything. I was just relaxed and I was ready to be myself," Sturgill said. "That's how I approached every at-bat today. I knew that this could, potentially be my last game, but I didn't want it to be. I left my heart on the field."
The Apaches answered quickly, courtesy of senior Anna Ankney.
After three consecutive hits, Fairview's power-hitting shortstop came up and cleared the bases with a grand slam — a no-doubter and that's putting it lightly — to give the Apaches a 5-4 lead.
"That hurt. We knew [Ankney] was dangerous coming in and we got a pitch just a bit over the wrong part of the plate. She took advantage of it," Ruby said. "She's a quality player and, unfortunately, she came up when we couldn't put her anywhere. [Fairview] has some excellent hitters. They've got a nice team."
Fairview tacked on two additional runs in the third when Alyssa Merritt logged a two-run single just out of Wheelersburg shortstop Haley Myers' reach, pushing the advantage to 7-4.
But the Pirates weren't done fighting.
With runners on the corners, freshman Rileigh Lang beat out a bunt to plate Sydney Salyers — who had entered the game as a pinch-runner for Andi Jo Howard, who had earlier doubled.
Sturgill then knocked in her third run of the day with an RBI groundout before Myers forced a 7-7 with a two-out RBI single.
The deadlock stayed intact until the bottom of the fifth when Clair Shininger gave Fairview an 8-7 lead. Ankney then knocked in Shininger with an RBI groundout to make it a 9-7 tally.
The Apaches purchased insurance in the bottom half of the sixth when Merritt logged an RBI single. That was followed by a home run off the bat of Wheelersburg's Sydney Skiver in the seventh, but one that was sandwiched between three outs to seal the deal.
Howard went the distance for the Pirates, allowing 10 earned runs on 15 hits while striking out a pair.
"As much as we can, I've tried to separate Jo and [Howard's older sister Faith, who helped Wheelersburg win a state title in 2016]. But Jo will take this hard," Ruby said. "It reminds me of the first time Faith came up here. She got run-ruled. She came back and owned all the games after that. I don't expect anything less from Jo. She'll wear this until she gets back up here and sheds it."
As for offensive statistics, there were plenty.
Sturgill was 1-for-4 with a home run and three RBIs, Myers finished 1-for-3 with an RBI, Skiver was 1-for-4 with a home run, Lang drove in a run, and Hughes, Howard and Preston each had base hits.
Ankney was 2-for-3 with two runs and five RBIs for Fairview, Merritt finished 4-for-4 with two runs and three RBIs, and Shininger finished 2-for-4 with two runs and an RBI.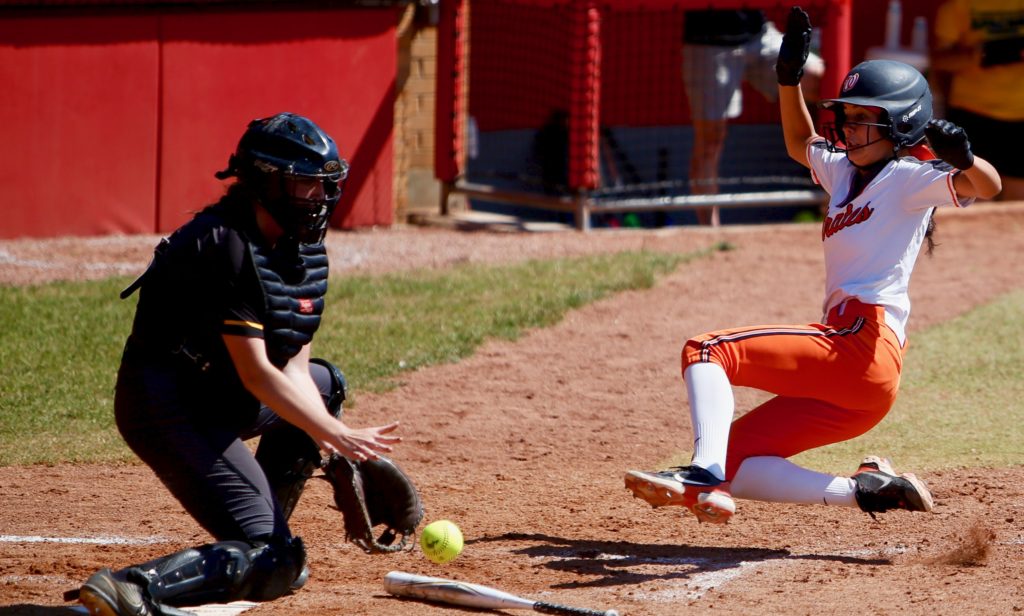 While Fairview now faces Johnstown-Monroe or South Range in the state title game, Wheelersburg's self-coined "sisterhood" has run its course … this spring, at least. 
But the values that were put in place by the departing seniors will certainly benefit the program's culture for years to come.
"I think the most important thing is for a team to be close," Hughes said. "If you don't get along, you're not going to have fun. Having fun is how you win. It was my dream to come to Wheelersburg and I couldn't be more thankful for the coaches and girls that helped me."
"These underclassmen now have this experience under their belts and they can dedicate themselves to being back here," Ruby said. "We've got a lot of talent coming back and a lot of talent coming up."