Brock Netter, Staff Writer
CHILLICOTHE — When Elijah Vogelsong takes the mound for Minford, all the Falcons need is a run or two and he'll handle the rest.
It's been the recipe followed all season and it continued to work like a charm on Thursday in Division III regional semifinal as the Falcons (25-2-1) earned a 2-0 victory over Wheelersburg.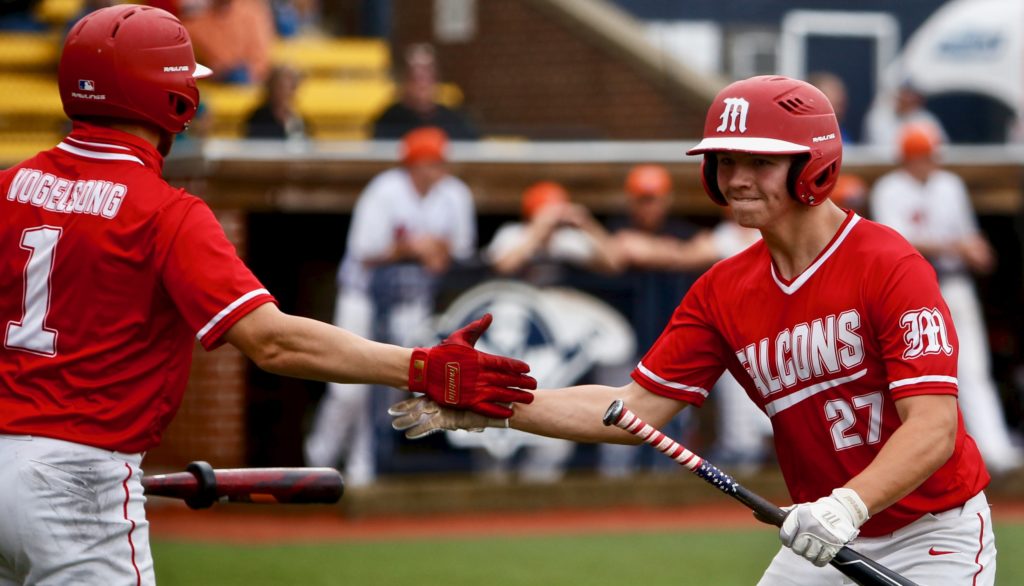 The victory not only completes the season sweep of the Pirates, but it also makes back-to-back regional final appearances for the Falcons.
"We don't change anything, we treat every game the same and approach it the same," Vogelsong said. "We practice the exact same way and don't change anything, just keep the momentum rolling. Baseball is a game of rhythm and we have a good one going right now."
Having seen the Pirates (22-8) for the third time this season, Vogelsong already knew what was coming at him. But it didn't matter as he was nearly untouchable.
Racing through the Pirates' lineup, he tossed a complete game, allowing just four hits and striking out 12 batters.
"I just treat it like any other game when I go on the mound, whether it's a game or a scrimmage," Vogelsong said. "It's all the same. You play 100 percent either way and good things will happen."
Minford drew first blood in the bottom of the third following an hour rain delay. With a runner on third following a throwing error, Grant Wheeler notched an RBI groundout to put the Falcons ahead 1-0.
The Falcons added an insurance run in the bottom of the fifth when Adam Crank legged out an RBI triple with two outs, pushing the score to 2-0 and giving Vogelsong the extra cushion needed to close out the game.
"Honestly, I was expecting a fastball on that pitch, but he hung me a curveball instead," Crank said. "I've seen curveballs really well all year and all of my big hits have come with two strikes, so it's sort of been my spot all year."
In addition to his pitching outing, Vogelsong went 1-for-2 with a triple, Crank finished 1-for-3 with a triple and an RBI, and Wheeler went 1-for-3 with an RBI.
For Wheelersburg, Ethan Ison suffered the loss in six innings, allowing two earned runs and striking out five batters. Cooper McKenzie, Braden Horr, Case Dyer and Ison each had a base hit.
Minford will play in a Division III regional final at noon, Saturday at Lancaster's Beavers Field against the winner of Barnesville and Fredericktown.
"We have to bring the energy and hit the ball," Vogelsong said. "We didn't swing at first-pitch strikes really well today, so we have to swing better because the next pitcher we see is going to going to through strikes and not give up many walks."