Derrick Webb, Staff Writer
AKRON — The Wheelersburg Pirates are headed back to Akron to chase another state crown.
Coach Teresa Ruby's team earned that right with a 9-1 win over Ironton this past Saturday after breezing through sectional, district and regional tournament play.
The No. 2 state-ranked Pirates (25-1) will now meet No. 7 Sherwood Fairview (26-1) in a Division III state semifinal at 12:30 p.m., Friday at the University of Akron's Firestone Stadium.
Here's everything you need to know before that matchup happens:
Fast facts …
This will be Wheelersburg's fifth appearance in a state tournament. Each of those appearances have occurred since 2004. Fairview is making its first state tournament appearance. The Apaches have advanced to the regional bracket seven times in the last nine years but hadn't played in a regional final since 1998. During their tournament run, the Pirates have outscored opponents by a whopping 61-11 margin — topping Lynchburg-Clay (17-0), Fairfield (12-2), Wellston (10-2), Tuscarawas Valley (13-6) and Ironton (9-1). The Apaches have beaten Liberty-Benton (5-0), Van Buren (8-2), Riverdale (14-2), Otsego (9-0) and Cardington-Lincoln (11-1). Wheelersburg's state title win came in 2016 when the Pirates beat Canfield South Range by an 8-3 final. Fairview started the season with a loss and has won 25 consecutive games. The 25 wins is a new single-season record.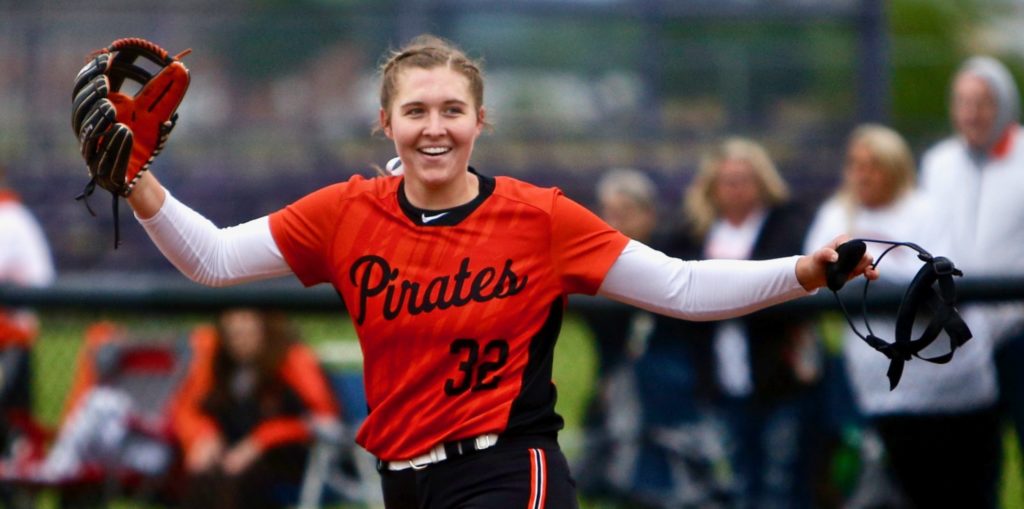 Who's hot …
Maybe a better question is who isn't hot for either team? Nevertheless, you probably won't find a bat hotter than Macee Eaton's in Wheelersburg's dugout. In her last three games, the sophomore is 9-for-12 with two home runs, five doubles and 10 RBIs. There's a reason she bats cleanup. On the other side of the diamond, Fairview's Anna Ankney is in the same realm. In the Apaches' regional final win, the leadoff hitter had three hits, belted two homers, including a grand slam, and drove in seven runs. Following the team's district championship, Ankney was hitting .674 alongside 13 homers, 50 RBIs and 58 runs scored. In the circle, Wheelersburg's Andi Jo Howard has bent at times but hasn't broken. She's tossed the last 21 innings, giving up six earned runs and striking out 20 hitters during that time. Fairview sophomore Paige Ricica, who is 19-1, fired a five-inning six-hitter against Cardington-Lincoln while whiffing seven after throwing a five-hit shutout in the team's regional semifinal win.
Four names to know …
If you're looking for leadership, look no further than Wheelersburg's Boo Sturgill and Rylie Hughes. The power-hitting pair has chewed and devoured its way through opposing pitchers all year long and looks to continue that trend up north. They bring big bats to the lineup but more importantly, they bring experience to a starting nine that includes six underclassmen. When or if the Pirates find adversity, they'll look towards their two starting seniors to steer the ship. The Apaches have six seniors to count on. Two of them, Kiersten Cline and Olivia Ricica have been known to hit the cover off the ball. Cline roped three doubles in the win over Otsego while Ricica, Paige's battery mate, entered regional play with a .432 average alongside 36 RBIs and 27 runs scored.
Potential X-factors …
Fairview junior Alyssa Merritt has been hitting in the team's No. 8 spot. But that doesn't mean she doesn't possess power. Merritt hit two home runs in the regional win over Otsego and added two more hits against Cardington-Lincoln. If the Apaches can make plenty of contact, which they've done all season, Wheelersburg freshman shortstop Haley Myers is likely to factor into the decision. Myers has been as sure-handed as they come during the tournament run. She's got the arm strength and the range needed at her position and the bat to keep the Pirates afloat in the two-hole. Catcher Brynley Preston and designated hitter Sydney Skiver could also make significant impacts. Preston has been a wall for Howard all year long while Skiver has the potential to go deep at anytime. Then, there's centerfielder Kiera Kennard, who made her mark felt against Ironton. When Kennard gets on base, she simply makes things happen.
What Wheelersburg needs to do to win …
The Pirates need to be the Pirates. Coach Teresa Ruby said it best after the team's regional championship win, "It's the same formula we've used. We have to be us." Being themselves means not giving up extra outs, executing when asked to execute and hitting pitches on the screws at the dish. Also, this is a team that's full of youth. But most of the team's starters know what it feels like to play in a big game — remember, this year's freshman class won the Little League World Series in 2018. That experience should allow each of them to take a deep breath and simply play the game. Whatever happens, happens.
What Fairview needs to do to win …
The Apaches can't let an offensive avalanche happen. Hitting seems to be contagious for 'Burg. Once one gets a hit, there's usually more to follow. If that happens, Fairview must limit the damage and match Wheelersburg at the plate. If Fairview digs a hole, it may very well end up being its grave. Ricica has to locate her pitches and continue to hide the ball well — she throws around 54-55 miles per hour. Then, the defense has to continue making plays behind her. Wheelersburg isn't going to strike out a ton. But what you can't give the Pirates is extra at-bats.
SOSA will have full coverage from Wheelersburg's state tournament appearance throughout the weekend. You can follow live in-game updates at both @dw1509 and @SOSAOhio.