Derrick Webb and Brock Netter, Staff Writers
CHILLICOTHE — Year in and year out, Wheelersburg sets the highest of standards and challenges itself to reach the mountaintop.
After Saturday, the Pirates are officially two games from the peak.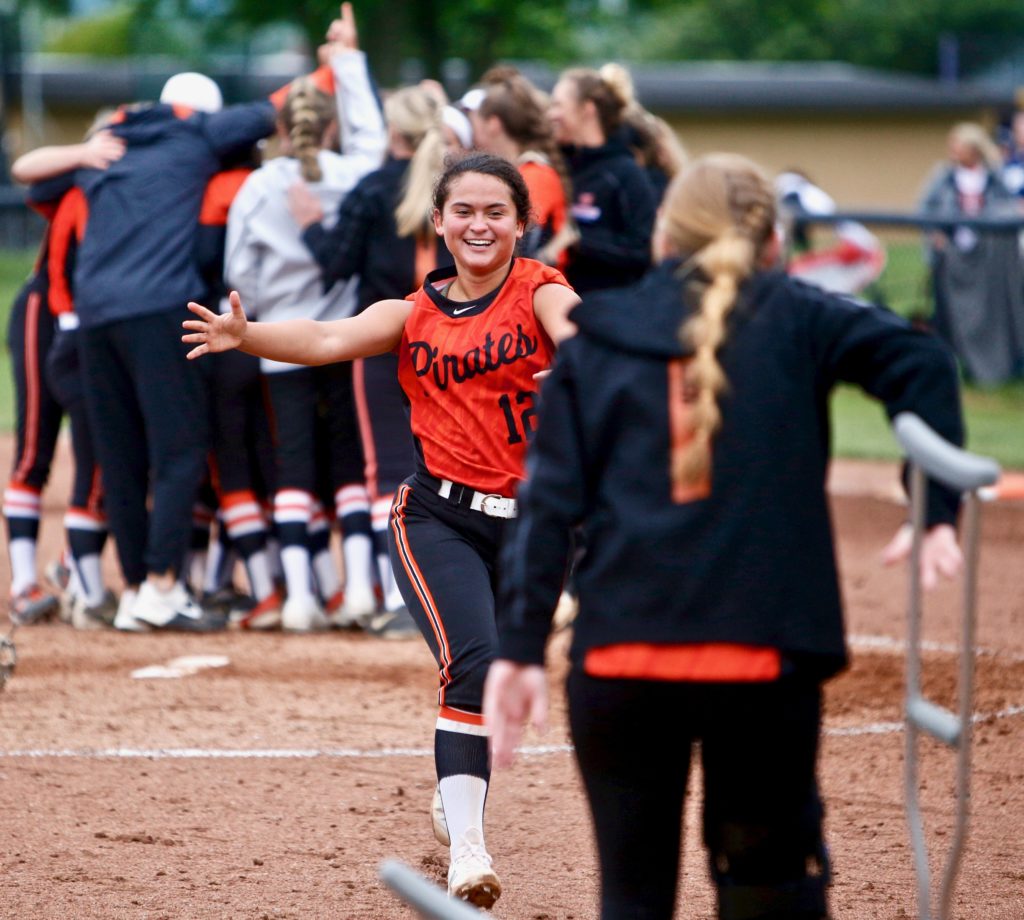 The Pirates (26-1) started quick on Saturday and kept their foot on the gas throughout seven innings to cement a Division III regional championship — the team's first since 2017 — decisively beating Ironton (27-5) by a 9-1 final.
"I'm proud because they 'get it.' I've had plenty of talented teams. They all haven't gotten to this point," Wheelersburg coach Teresa Ruby said. "These girls have gotten it. I call it a sisterhood. They've supported each other, they've picked each other up and man, they've invested. We had practice yesterday and we had to run them out. They have that kind of focus."
Like usual, Wheelersburg's offense had no trouble scoring and doing so early.
In the bottom of the second inning, after a leadoff double via Andi Jo Howard, Kiera Kennard and Brynley Preston laid down back-to-back bunts to score Sydney Salyers — who came on to pinch run for Howard — and put the Pirates ahead 1-0.
Three batters later, with two runners on and two outs, Haley Myers roped a two-run double to left-center field that pushed the lead to 3-0. Then, in the third, Howard stepped back up to the dish and laced an RBI single to left field for a 4-0 game.
"We talked about what opened the game up and that's small ball," Ruby said. "We laid down some bunts, we squeezed one home and we knew that style of play was going to play a big part of this. That opens the gates for bigger innings and that's what happened today."
In the circle, Howard faced a small jam in the fourth. With the bases loaded, Ironton's Emily Weber notched an RBI single to center field, cutting the lead to 4-1. But that was all the Tigers could get as Howard settled back in.
---
---
Wheelersburg got that run back in the bottom of the fifth.
With two outs, Kennard doubled into left field before advancing to third on the throw. Ironton was then called for interference at third on the same play, which allowed Kennard to score on a wild sequence and extend the lead to 5-1.
The Pirates then added the final nail into Ironton's coffin in the bottom of the sixth.
Following a leadoff double from Rileigh Lang, Boo Sturgill stepped up and laced an RBI single into the outfield green. Three batters later, with two runners on, Macee Eaton deposited a two-run double into the right-center field gap before Sydney Skiver followed with an RBI single of her own, ultimately punching the Pirates' tickets to Akron.
"I think a lot of batters who face [Ironton pitcher Keegan Moore] walk away and think, 'Man, if I didn't chase that pitch.' We didn't chase today," Ruby said. "We just really focused on not chasing. We wanted her work in the zone and knew that if she worked in the zone, we felt good about our chances. They were legit hits."
Howard earned the win in the circle, throwing seven innings of four-hit softball and striking out eight.
At the dish, Eaton finished 2-for-3 with a double, two runs scored and two RBIs, Myers was 2-for-4 with a double, a run and two RBIs, Sturgill went 2-for-3 with two runs and an RBI, and Preston was 1-for-3 with a run and an RBI.
Skiver additionally was 1-for-4 with an RBI and Lang was 2-for-3 with a run scored.
Wheelersburg advances to a Division III state semifinal at the University of Akron's Firestone Stadium. The Pirates will play the winner of Sherwood Fairview and Cardington-Lincoln at 12:30 p.m., Friday.
"We're relieved in one sense and excited. Some of our younger kids have been on that big stage. They played in a Little League World Series," Ruby said. "But it's still going to be different. Anytime you go to the state tournament, you have to talk about controlling your emotions. We can't get too hyped up. We just have to breathe. And it's the same formula we've used. We have to be us. We can't give up extra outs, we need to square the ball up and we have to execute."