Brock Netter, Staff Writer
CHILLICOTHE — Even when Minford looks down and out, the Falcons never truly are.
And on Wednesday, their patience paid off again.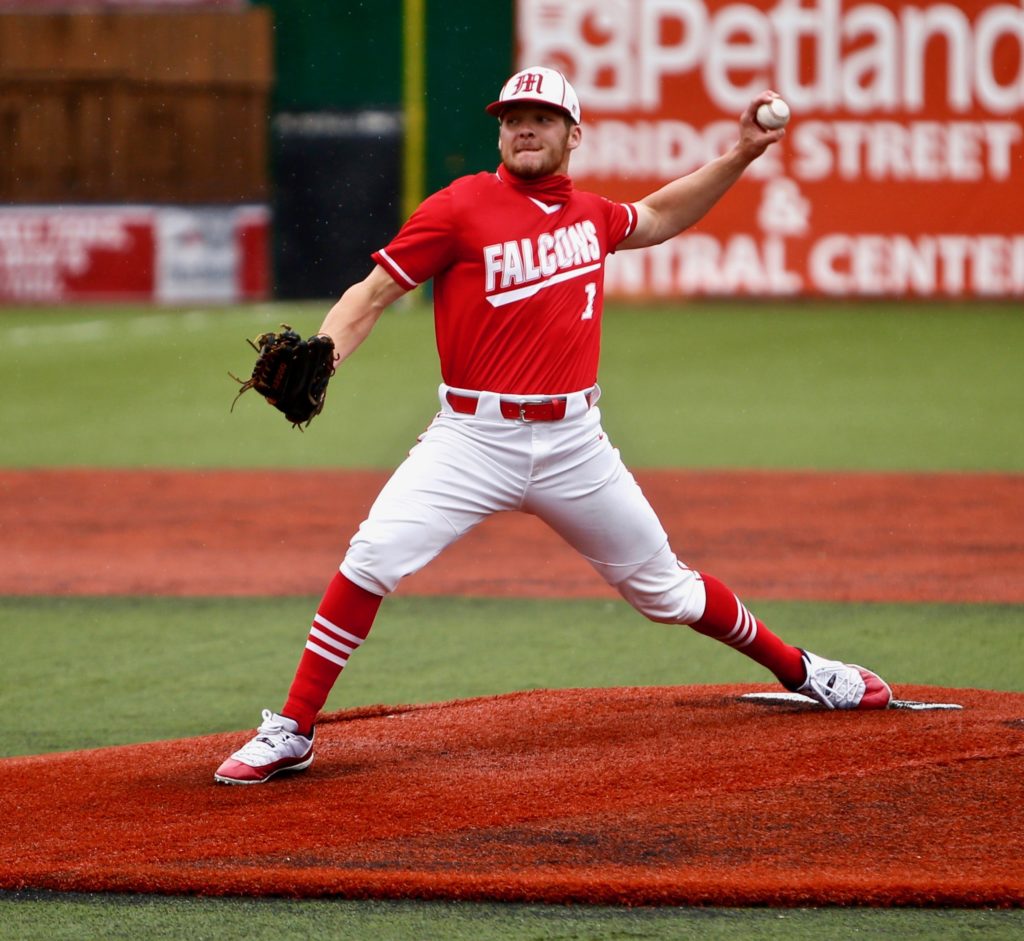 After being shutout through five innings, Minford (23-2) broke through in the sixth inning and scored four runs to claim a Division III district championship by a 4-0 final over Meigs, Wednesday at VA Memorial Stadium.
"We treated this game just like we did any other game this season," Minford's Elijah Vogelsong said. "We try not to make it anything special because we believe that we should be here. I know a lot of young kids who might get uptight in these games, but we preach to not worry about anything and ultimately great teams win late."
It was the ultimate pitcher's duel between Meigs' Ethan Stewart and Vogelsong.
Both pitchers mowed through each other's lineups, matching each other's performances throughout the game.
Yet, it was Vogelsong who got the better end of the pitching matchup, going the distance and striking out 14 for the win.
"Stewart is one heck of a kid and a great pitcher," Vogelsong said. "He plays the game really hard. At the end of the day for me, I just focus on not walking any batters and I trust my defense. I believe in my heart that if a guy hits the ball, my defense behind me will make the play. Sometimes it turns into strikeouts, but that's just how I play."
Through five innings, the Marauders only had three hits compared to just one for Minford.
However, the Falcons' championship pedigree showed itself in the sixth and that was all they needed to catch up to Stewart.
Following a leadoff single and stolen base by Cole Borland, Grant Wheeler stepped up and smoked an RBI double down the left field line to put the Falcons ahead 1-0.
"The main thing was that I was trying not to strike out," Wheeler said. "I was just trying to hit it hard and put the ball in play somewhere. I watched the barrel hit the ball and it got through."
Adam Crank followed suit during the next at-bat with an RBI single to right field, scoring Wheeler and extending the lead to 2-0.
That officially opened the floodgates, and Aodhan Queen stepped up two batters later and notched a two-run single to right that served as the death nail for the Marauders. 
"This was a great win for us. Meigs is a team who can rip the ball and get on base at any moment," Vogelsong said. "I had faith in my teammates and I knew we would score."
On top of his outing on the mound, Vogelsong also went 1-for-3 with a double and a run scored.
Crank went 2-for-3 with a run scored and an RBI, Queen was 1-for-3 with two RBIs and Borland was 1-for-2 with a run scored.
Minford advances to a Division III regional semifinal, back at VA Memorial Stadium at 1:30 p.m., June 3 against fellow SOC II foe Wheelersburg.
"Playing together, that's the main thing we have to do," Wheeler said. "I know that every one of these guys has my back and I have theirs. As long as we do that, hopefully great things will happen."
NOTE: SOSA will have a photo gallery from the Falcons' win later this evening.