Derrick Webb, Staff Writer
CHILLICOTHE — Just when you thought Paint Valley's tournament run was going to come to an end, the Bearcats mounted a comeback that will be talked about in Bainbridge for quite some time.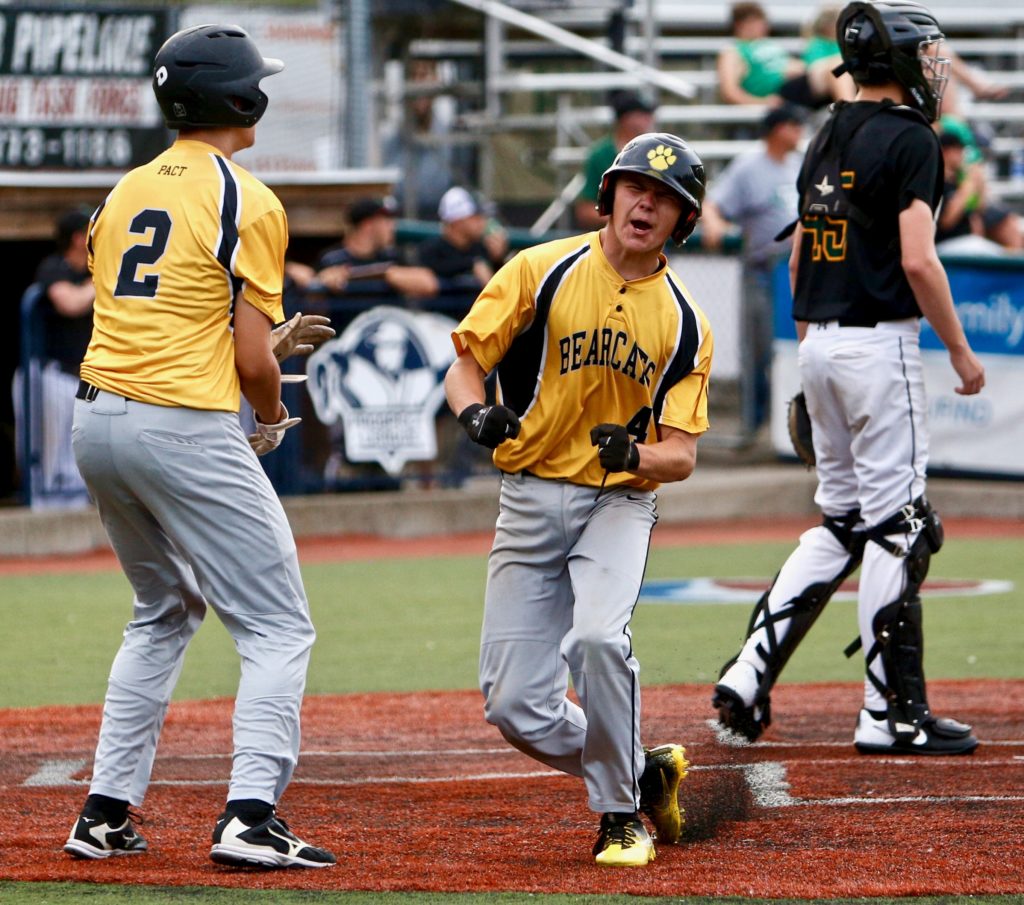 After digging a 5-0 hole, Paint Valley (18-11) scored six unanswered runs before adding three more late and holding on tight to a 9-8 victory over Reedsville Eastern in a Division IV district final at VA Memorial Stadium.
There's a reason they answer to "Cardiac 'Cats."
"This team is special. There's just something about them," Paint Valley coach Shayne Combs said. "We lacked experience coming in, but we just kept getting better and better. It's almost as if our season long improvement is who we were here tonight. We got behind, we stayed with it, we played for each other and you could start to feel the momentum starting to shift."
Eastern (17-6-1) struck first, taking a 1-0 lead in its first at-bat.
Then, in the third, the Eagles added four more thanks to a sacrifice fly, a two-run single and a balk call with a runner on third.
But the Bearcats, however subtle, still had a heartbeat.
After Devlen Spradlin began the top of the fourth with a single, Eastern committed two fielding errors which allowed Spradlin to score.
Then, with two on and two outs, Brock Blanton worked a walk to load the bases. That's when Connor Free cleared the bags with a three-run double, cutting the deficit to 5-4.
And, all of the sudden, momentum entered the Bearcats' dugout.
"This team, where we lack a little baseball skill or athleticism, we certainly have that 'it' factor where we just figure it out and find a way," Combs said. "I think it's a credit to our two seniors. Devlen Spradlin is number one in his class and Brock Blanton is number six in his class. You're talking about high-character young men. So when you have two individuals leading your team like that, it brings a lot of maturity along."
Beau Blankenship started the fourth with a single and moved to third. That's when Dax Estep, who had replaced Free on the mound in the top half of the inning, singled to force a 5-5 tie.
Trent Mettler then reached base via error to load the bases and Blanton did what he does best … he came up huge in the clutch.
Blanton worked a seven-pitch walk to give the 'Cats their sixth straight run and a 6-5 lead.
Eastern, however, provided an answer in the sixth when Matthew Blanchard tripled to bring in Ryan Ross in the top of the sixth. But the Bearcats had one more offensive outburst left in their arsenal.
With an out in the bottom half of the inning, Free came through once again, pelting an RBI single into center field and giving PV a 7-6 lead. Beau Blankenship then joined the hit party, logging a two-run single to make it a 9-6 score.
The Eagles then pushed across two runs in the seventh to make things interesting before Paint Valley's Blaine Parker made a sliding catch in right field to seal the deal.
"The kids are probably so sick of me saying, 'Compose and compete.' But it's one of those things where we have to always think about the next pitch," Combs said. "We played a team with nine seniors tonight. So I told my guys if they thought that [Eastern] was going to quit, they were nuts. I promised my kids they weren't going to quit. This is certainly isn't an outcome of where [Eastern] did anything wrong. We just made a real special play out there in right field with Blaine to end it. I'm certainly glad it went our way."
Estep took the win on the hill, tossing four innings and allowing an earned run on four hits while striking out five.
Free finished 2-for-4 with a double and four RBIs, Blankenship was 2-for-3 with a run and two RBIs, Estep was 1-for-4 with an RBI, Mettler was 1-for-4 with two runs, and Blanton went 0-for-1 with two walks, two runs and an RBI.
The Bearcats will now face Valley in a Division IV regional semifinal at Lancaster's Beavers Field. First pitch is slated for 2 p.m., June 3.
"One thing we've learned in our first stretch where we were fortunate enough to advance is that you have to handle the layover," Combs said. "You have to balance rest and staying sharp. We have some different things we can go to in order to give us some game-like situations. But we have to have a balance. Then, the second thing is, we're going to play a really good opponent. So we have to get busy as a coaching staff. It's about getting reps, staying fresh and getting the kids primed to play with great energy and great passion. Then, we'll see what happens."
NOTE: SOSA will have a full photo gallery from the Bearcats' win later this evening.