Brock Netter, Staff Writer
CHILLICOTHE — The disappointment that was felt from Wheelersburg's 2019 district final loss was officially replaced with ear-to-ear smiles on Saturday.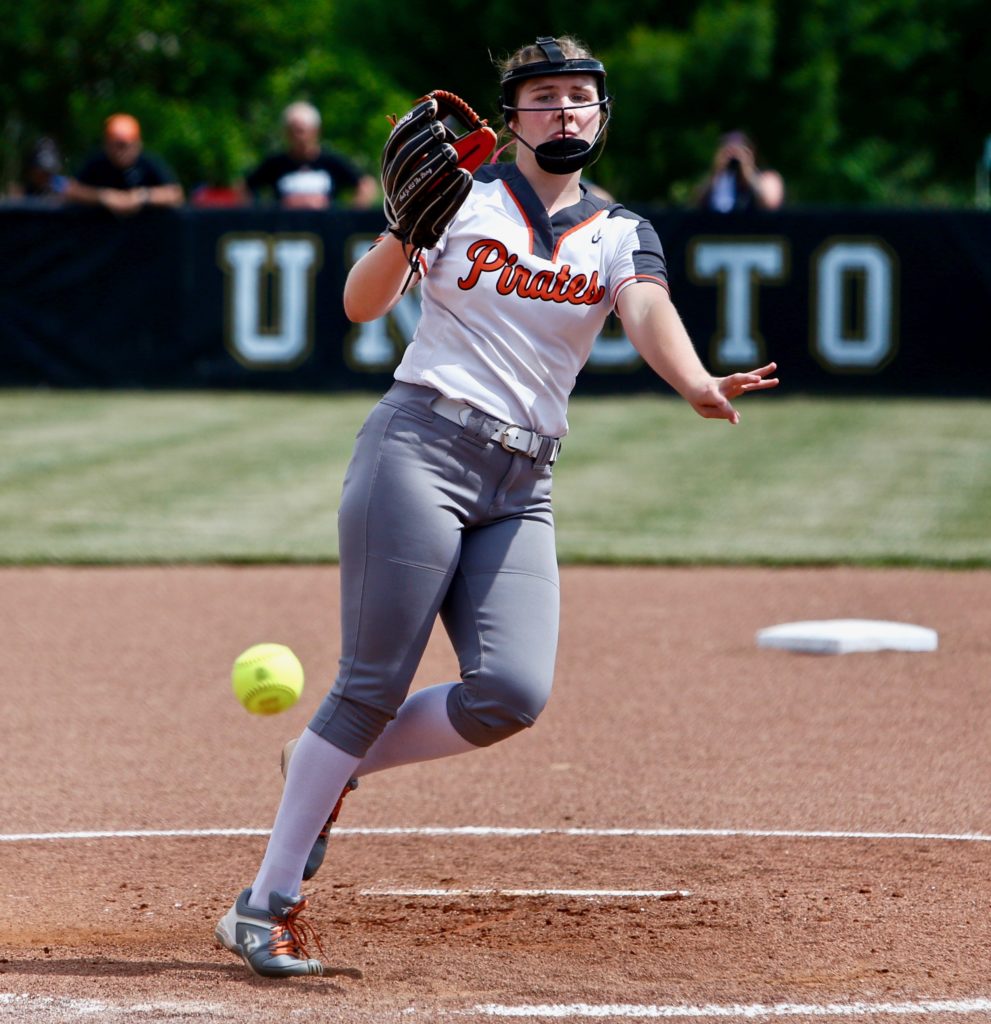 The Pirates (23-1) pounded out 11 hits and took advantage of three errors as they breezed their way to a 10-2 victory over Wellston in a Division III district championship game at Unioto High School.
"The girls who were a part of that 2019 loss have talked this whole week about having unfinished business," Wheelersburg coach Teresa Ruby said. "It always leaves a bad taste in your mouth when you lose the final game of the season, even more so since we had to wait almost two years to try and avenge that. But the girls came ready to get the job done."
"Because we have such a young team, it's so important for us seniors to cheer on the younger players and they all made some incredible plays," Wheelersburg's Boo Sturgill said. "I'm beyond proud of my team. We leave our heart out on the field every single time we play."
Although Wheelersburg began the game with two runners on base, nothing materialized from the Pirates' first scoring chance when a ground out ended the threat.
But that was the only time during the game Wheelersburg didn't cash in on a scoring opportunity. With the runner on in the bottom of the second, Brynley Preston smoked an RBI single to left field to put the Pirates ahead 1-0.
"That was a huge hit for Brynley, and one that allowed us to take a deep breath and exhale," Ruby said. "All of our kids in the lineup are dangerous, and she stepped up big in the moment just as she has in the past few games as well. We settled in from that point."
With the Pirates finally a little relaxed, Kiera Kennard added to the comfort zone in the next inning and ripped a two-run double to center field that extended the lead to 3-0.
It was off to the races from that point on.
A throwing error followed by a passed ball plated two more runs, pushing the lead up to 5-0, and the Pirates were far from finished in the inning.
---
---
After another passed ball scored a run, Macee Eaton drilled a two-run double to center field that took any wind that was left completely out of Wellston's sails.
And as her Pirates piled up the runs, pitcher Andi Jo Howard continued to settle in and make it look effortless in the circle.
Although Wellston (19-7) made solid contact at times, it resulted mostly in pop outs or line outs of some sort. But Howard also flashed the ability to blow her fastball by batters or use her off-speed pitches to get them chasing.
In turn, it led to her going the distance for the win, allowing just two earned runs and striking out five in the process.
"I wasn't really sure what to expect from such a young team at this stage of the tournament," Ruby said. "But I was really happy with our focus and we had some quality at-bats in the first five innings. Jo pitched an excellent game, and defensively we were solid and didn't open the door for Wellston to capitalize on any mistakes."
Wellston got on the board with an RBI single from Sadie Henry, only for the Golden Rockets to give up two more runs with a fielding error in the bottom of the sixth.
The final run came on an RBI double in the top of the seventh from Jenna Johnston, but the Pirates nailed down the final out to put the game on ice.
"We struggled with communication in the beginning of the season and faced some challenges, but we've gotten so much better and fought back every single time," Wheelersburg's Laney Eller said. "We've come so far, and even though I'm in the dugout, I'm still cheering and coaching players up. We just have to keep having a positive attitude going forward."
Eaton finished the day 3-for-4 with two doubles and two RBIs, followed by Kennard going 2-for-3 with a double and two RBIs. Preston was 1-for-3 with an RBI, while Howard was 2-for-2 with three runs scored on top of her pitching performance.
For Wellston, Johnston finished 3-for-3 with a triple, a double and an RBI, while Henry was 1-for-3 with an RBI as well.
Wheelersburg returns to action against Tuscarawas Valley in a Division III regional semifinal at 5 p.m., Wednesday at Unioto.
"Losing that district title two years ago, I don't think we were ready to bounce back when someone scored a run on us and now this year, we've been down that road," Sturgill said. "We've trailed in the bottom of the seventh and won. We're not satisfied with anything and you can see it with the way that we play. We're not overlooking anyone by any means, but we have one goal in mind and everyone knows what it is."