Derrick Webb, Staff Writer
FRANKFORT — Sydney Foglesong is seeing beach balls at the plate.
That's Adena coach Brad Jadwin's best guess at least.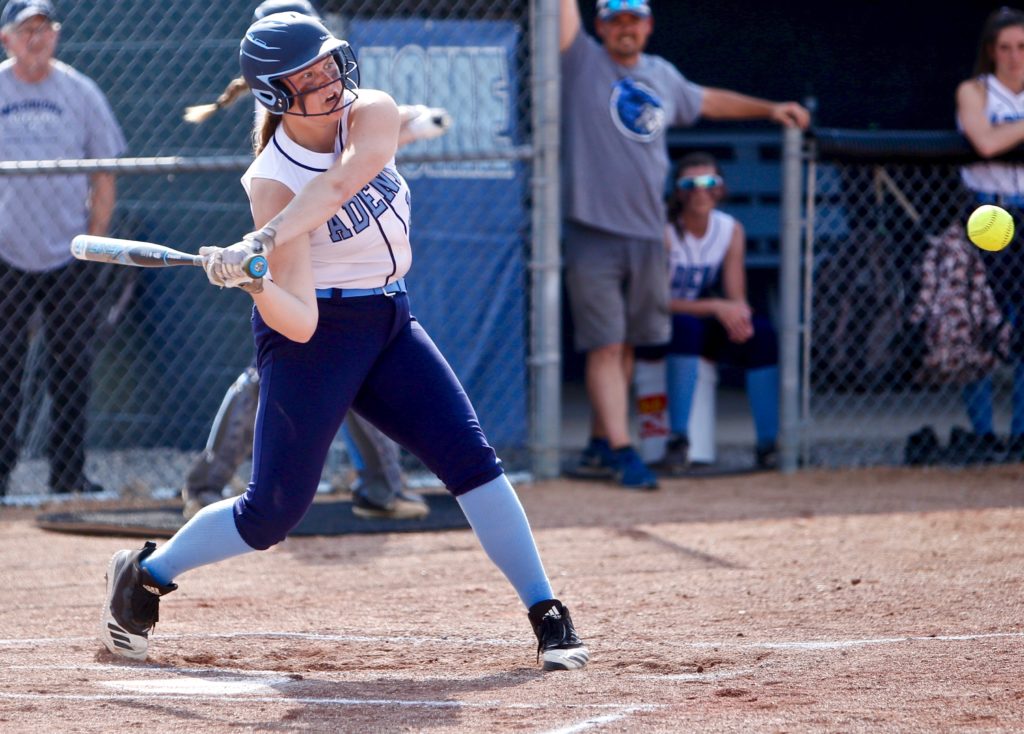 But it makes sense. The sophomore first baseman has been on quite the tear over the past week, finding the outfield fence and depositing pitches over it.
That didn't change on Wednesday.
Following a double from Caelan Miner in the bottom of the first inning, Foglesong unloaded on a pitch and drove it deep into center field. It's landing spot was the team's scoreboard and, after a loud "klank," the Warriors had a 2-0 lead.
That was the jumpstart that Adena desperately needed in a 5-2 win over Minford in a Division III district semifinal.
"We talk about scoring first all the time," Jadwin said. "We've been behind the 8-ball a lot this season. We're always battling and battling, and by the time we catch up, we've spent so much energy that it's hard to get ahead. So we talked about getting on top first tonight."
Foglesong's first inning home run came after her heroics in the Warriors' sectional title game against Oak Hill. With her team trailing the Oaks 5-3 in the bottom of the seventh inning, and two outs on the board, Foglesong hit a two-run bomb that tied the game.
That home run allowed the Warriors to climb back into things and, eventually, win a 6-5 decision in nine innings.
"I think the momentum from that game carried over into tonight," Jadwin said. "Sydney is playing with a lot of confidence right now. She's hitting absolute rockets. She's seeing beach balls."
After Foglesong played long ball, the Warriors (17-7) tacked on three runs in the fifth.
A fielding error, an RBI double from Cheyenne Ater and an RBI single from Foglesong allowed Caelan Miner, Maddie Halcomb and Ater to cross home plate for a 5-0 lead.
---
---
Minford (10-15) finally cracked Adena pitcher Greenlee Bossert's code and got on the scoreboard in the bottom of the seventh.
The Falcons scored on an RBI double and an RBI groundout, but it was too little, too late.
"We talk about walks all the time. A walk is the same as a base to us, defensively," Jadwin said. "And if you put someone fast on, then things start to happen for the other dugout. So we try to stay as walk free as possible. I think [Bossert] got tired a little bit in the seventh inning and that's against a tough-minded ballclub. But we made plays behind her and she got the job done."
Foglesong finished the night 2-for-3 with a home run and three RBIs, Miner was 2-for-2 with two doubles and two runs, and Ater went 2-for-4 with a double, a run and an RBI.
Bossert's final pitching line consisted of seven innings, two earned runs on seven hits and three strikeouts.
As for the Falcons, Andi Blevins finished 1-for-3 with a double and an RBI while Megan Johnson went 2-for-3 with a double.
Adena advances to a Division III district championship game at 2 p.m., Saturday at Unioto. The Warriors will face Ironton and Ohio Ohio University commit Keegan Moore in the circle. In a 4-0 win over Alexander in a district semifinal, Moore allowed four hits and struck out 12.
"We can't swing at bad pitches and we can't fall behind in the count," Jadwin said. "If [Moore] gets you down 0-2, she's going to bring it up the ladder. And 60-whatever miles per hour, it's going to start as a strike and it isn't going to end that way. So we have to attack her early, get the bunt down and make the corners play. We can't let her dictate the ballgame. We have to make [Ironton's defense] play and we'll see what happens."