Derrick Webb, Staff Writer
CHILLICOTHE — At the beginning of the season, Fairfield coach Mark Dettwiller didn't expect freshman Katelyn Chambliss to be in the circle.
But when Caitlyn Quickle, who was penciled into the starting lineup at the time, tore her labrum, Chambliss' varsity pitching career came to the forefront of the team's potential success.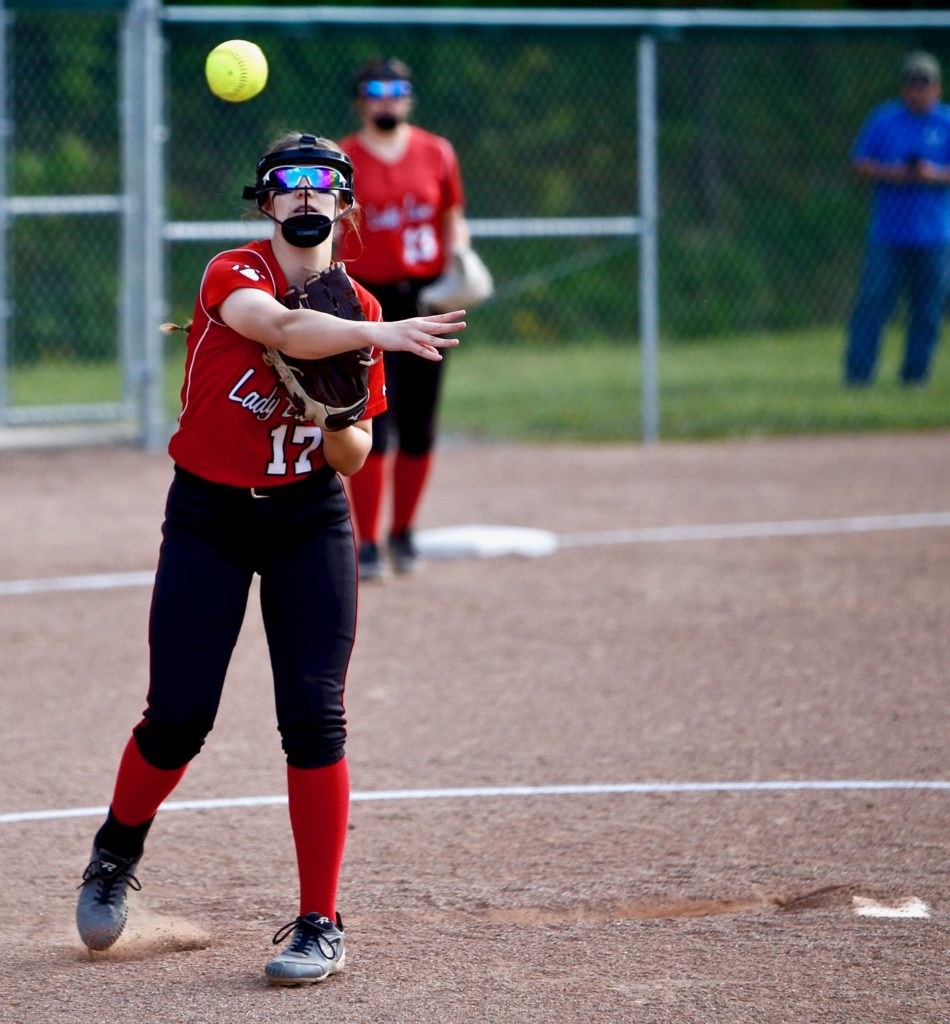 To put it simply, the Lions didn't miss a beat.
After sharing the Southern Hills Athletic Conference II title with Fayetteville, Fairfield put a bow on the program's 34th sectional championship on Friday with a gritty 4-3 win at Huntington.
"It's pretty humbling," Dettwiller said. "It's a testament to how good our lower level programs are. That goes all the way down to little league. We play little league on our varsity diamond in the summers. We have outstanding coaches there and the high school staff talks to those coaches all the time about what we want. Then, when they get here, we can work on other things."
Chambliss' final pitching line included seven innings of six-hit softball alongside seven strikeouts. The youngster worked out of jams when Fairfield (17-5) needed it the most and held an above average offense to three runs — only two of which were earned.
"Kate has really stepped up this year," Dettwiller said. "That's her 15th win this season, and just a freshman. I'm just super proud of her. Her work ethic is unbelievable. She absolutely loves this softball stuff. It's paying off."
Huntington (12-11) took the game's first lead in the bottom of the first inning when a hot-hitting Haley Wilburn logged an RBI double. That edge would grow to 2-0 in the fourth when Brandee Detillian placed a ball into the right field grass to score Cindy Hopkins.
Fairfield, however, provided an answer in the top of the fifth.
After two fielding errors allowed two runners to reach base, Layla Hattan and Jaylie Duncan tied the game with RBI singles. Caitlyn Quickle then followed suit, giving the Lions a 3-2 advantage.
The Huntsmen provided a counterpunch in the sixth when Allison Basye scored on an RBI single off Wilburn's bat.
---
---
But Duncan delivered the final blow in the top of the seventh.
With the bases loaded, Duncan singled to score Hattan and put the Lions ahead for good. In the bottom half, Chambliss allowed two runners to reach but induced a groundout to end the threat.
"Jaylie was clutch tonight," Dettwiller said. "She's playing really well for us and she's in a groove. She's really just a sophomore because she didn't play last year because of the COVID deal. She's still trying to figure out exactly where she fits in. But she's come a long way."
It should be noted that three of the Lions' four runs were unearned. That points to yet another top-level pitching performance from Huntington senior Kylee Kellough.
The Rio Grande commit fired all seven innings, allowed just six hits and whiffed 12 batters.
"Kellough is tough. That's all there is to it," Dettwiller said. "12 strikeouts is a huge number for us. We just don't strike out that much. Kylee is a quality player, she's been All-Ohio a couple of times and that'll be well-deserved this year again, based off what I've seen in the circle."
Duncan finished 1-for-2 with a walk and two RBIs while Hattan was 2-for-4 with an RBI and two runs. Quickle also helped out by going 1-for-3 with an RBI and a walk.
For Huntington, Wilburn was 2-for-3 with a double and two RBIs, Basye finished 2-for-4 with two stolen bases and a run, and Kellough went 1-for-3 with a walk.
While Huntington's season comes to an end, Fairfield advances to a Division III district semifinal contest against top-seeded Wheelersburg.
Beating the Pirates will be a tall task to say the least. But crazier things have happened.
"We're just going to go in and work on the little things," Dettwiller said.