Derrick Webb, Staff Writer
FRANKFORT — The road to the Scioto Valley Conference softball title still runs through Williamsport.
And it's been that way for quite some time now.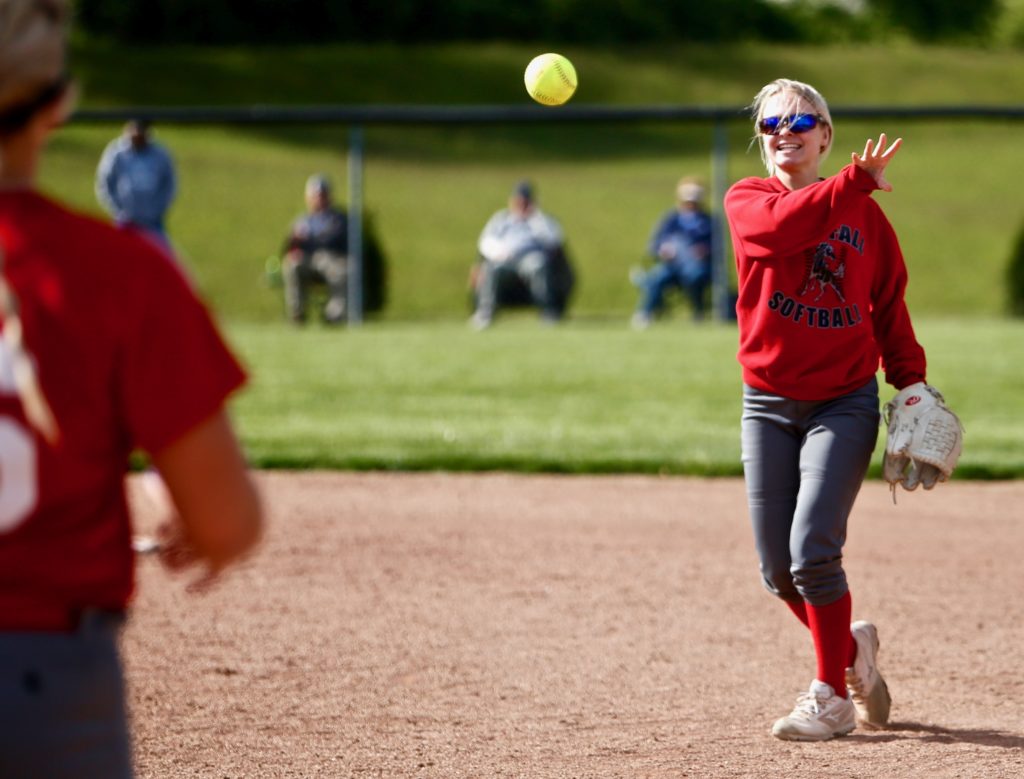 With a 7-1 win over Adena on Wednesday, Westfall separated itself from the rest of the conference pack and captured a fourth consecutive league crown — dating back to 2017.
"I'm very proud of my team," senior Maddie Mullins said. "We're a young team and we definitely stepped up this year. Our freshmen are great and our sophomores are great, especially our pitcher. It just feels great to win again."
The Mustangs' senior class of Mullins, Kylee Henry and Leah Ragland can now say they're a part of three different conference title teams. That number could've been four had last season not been cancelled due to COVID-19.
Having said that, there's been a lot of changes within the program since the trio won the league as sophomores.
Westfall coach Lance Heath replaced longtime skipper Fred Redman this season and the team welcomed an abundance of new faces into the starting lineup, most of whom had little to no experience at the varsity level.
But still, they took care of business.
"With the amount of talent that we had last year and the senior class that didn't get to play, it's great to win for them. It's like we won it for them," Henry said. "And we won with our team here, even considering the fact that we're so young. It's just great for us."
As for Wednesday's contest, Westfall (21-5, 12-2 SVC) wasted no time in taking a lead.
Delana Landefeld singled to begin the contest before stealing second base. That's when Maddie Mullins knocked her in for a 1-0 lead. Then, in the top of the third, Mullins and Olivia Dumm each drove in a run to put Westfall ahead 3-0.
And that's all the cushion the Mustangs would need.
The advantage grew to 5-0 in the fourth when Landefeld and Dumm each logged RBI singles before Makayla Cook and Abbie Bickenhauser followed suit in the fifth, making it 7-0.
---
---
Adena (15-7, 9-5 SVC) scored its only run when Sarah Posey crossed home plate in the sixth. But throughout the duration of the ballgame, Westfall pitcher Olivia Dumm had her way with the Warriors' offense.
"Our motivation and our determination [were the key]," Mullins said. "That's especially true with us three seniors. With us never losing [a conference title], we wanted to win the SVC title again and motivate our young girls as well. We set their limits high. We made them want to win this."
Dumm's final pitching line included seven innings of four-hit softball while she struck out three. The run charged against her was unearned.
Bickenhauser was 3-for-5 at the plate with a run and an RBI while Dumm and Mullins were each 2-for-4 with two RBIs. Cook was also 2-for-4 with an RBI while Maddison Kearney went 2-for-4 with a run.
"For the past three years, we didn't feel like we had competition [in league play]," Henry said. "This year, we came out and we lost our first SVC game. We felt a relief of pressure then. We just had to come back and win. That's what we did."
As for Adena, Kiera Williams, Caelan Miner, Posey and Emily Jones all collefted base hits.
Both Westfall and Adena are in tournament action on Friday. The Mustangs host Nelsonville-York while the Warriors host Oak Hill. Both games are Division III sectional finals.
"We're just going to practice hard. Every practice counts and every little ounce of effort counts," Ragland said. "We're going to add that to the games. We have to keep the pressure on."