Derrick Webb, Staff Writer
PORTSMOUTH — 23 innings in 48 hours.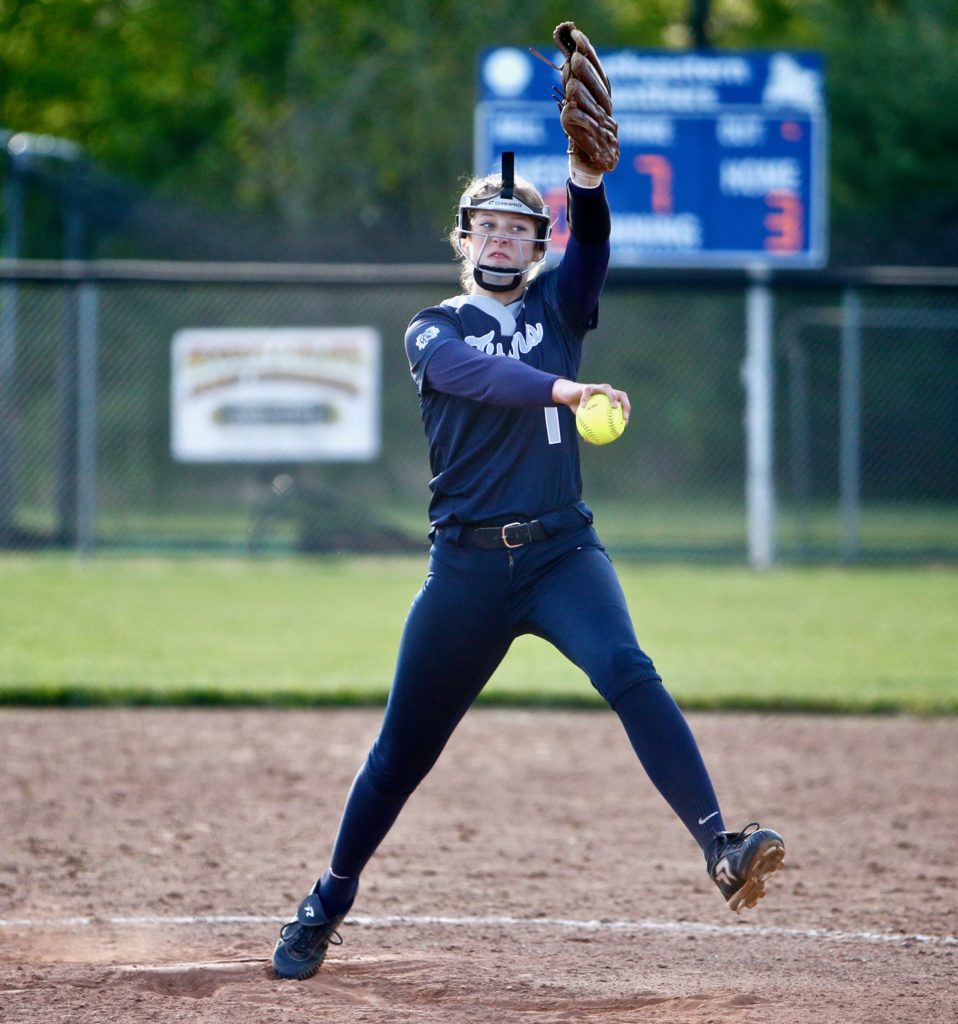 That's almost unheard of, it's ultra rare and it's what Notre Dame's softball program has endured this week. But still, through that grind, the beat has gone on for the undefeated Titans.
After a dramatic 2-1 win over Ironton on Monday in 16 innings, Notre Dame traveled an hour north to Southeastern on Tuesday and handed the Panthers a 10-3 loss — moving to 20-0.
"I thought early on, we didn't have the energy that we usually have. Our bats weren't as sharp," Notre Dame coach J.D. McKenzie said. "But we made a lot of good plays. We made some base-running errors and that's being aggressive, but it's good to see us come back the way we did. It's good for us to have this game as close to the tournament as we are."
The victory marks the first time in program history where the Titans have finished the regular season undefeated — a year after COVID cancelled an entire season and two years removed from losing a talented senior class, including All-Ohio pitcher Cassie Schaefer.
"It's awesome. At the beginning of the season, you never think about finishing the regular season undefeated," McKenzie said. "But once you start stacking 'em up, it's hard not to think about how special that is. Undefeated seasons in any sport are special. But in a sport like softball, where you may have one bad inning or one bad night, that's extremely special. We've won games in so many different games this year. There's a lot of resiliency with this group."
Southeastern (16-9) took Tuesday's first lead in the bottom of the first inning.
Panthers leadoff hitter Lexi Lockwood singled and stole second base before scoring on an RBI groundout off the bat of Erin Richendollar.
"[Southeastern] is one of the better hitting teams we've seen all year," McKenzie said. "They put the ball in play a lot. We probably made more plays in the field tonight than we have all year. We got some game reps that we can't get in practice. It was good to see that."
Notre Dame answered in the top of the third, and in a resounding way.
Annie Dettwiller tied the game with a sacrifice fly that scored Katie Strickland before a fielding error allowed Madison Brown to cross home plate and give ND a 2-1 lead.
---
---
The Titans took a 3-1 lead when Ava Hassel singled into left field before Maddy Suter logged a two-run single into the outfield green, making it a 5-1 tally.
That four-run edge would turn to five in the fifth when Hassel grounded out to short, plating Isabel Cassidy, just before a throwing error sent Kaylor Pickleseimer home.
Southeastern had a last ditch effort in the sixth when Erin Richenhollar and Kynsi Popp drove in runs but it was much too little, too late. Notre Dame's next two runs came in the top of the seventh when Dettwiller and Cassidy each logged RBIs to round out the final.
"As long as we don't give up unearned runs, we're going to be in every game," McKenzie said. "That's the biggest thing we're looking to clean up. We have to limit the errors."
Suter finished the night 3-for-4 with two doubles, an RBI and a run scored while Dettwiller was 2-for-5 with a run and two RBIs. Hassel went 2-for-4 with a run and two RBIs, Cassidy was 2-for-4 with a run and an RBI, and Strickland finished 1-for-3 with a double and a run.
In the circle, Kyndall Ford went the distance while surrendering eight hits, an earned run and striking out eight.
As for Southeastern, Lockwood was 2-for-3 with three stolen bases and two runs while Popp finished 2-for-3 with an RBI. Richendollar tossed seven innings, allowing three earned runs on 10 hits and whiffing seven.
Both teams are in tournament action later this week. Notre Dame hosts Whiteoak on Thursday while Southeastern welcomes in Minford. Both games are sectional championship matchups.
"We're not underestimating Whiteoak by any means. They caught our attention early one when we saw the seeding," McKenzie said. "We need to get on them early and take momentum away. If we let them hang around, one thing here and one there happens, and you're done. Being the top seed, we have a big target on our back. We know that. We want to go as far as we can until we simply meet a team that's better than us. That's always the goal."