Derrick Webb, Staff Writer
WHEELERSBURG — With no outs in the bottom of Friday's first inning, Wheelersburg had runners on second and third.
The Pirates, hosting conference rival Minford, began the inning with a walk and a single — courtesy of Eric Green and Case Dyer.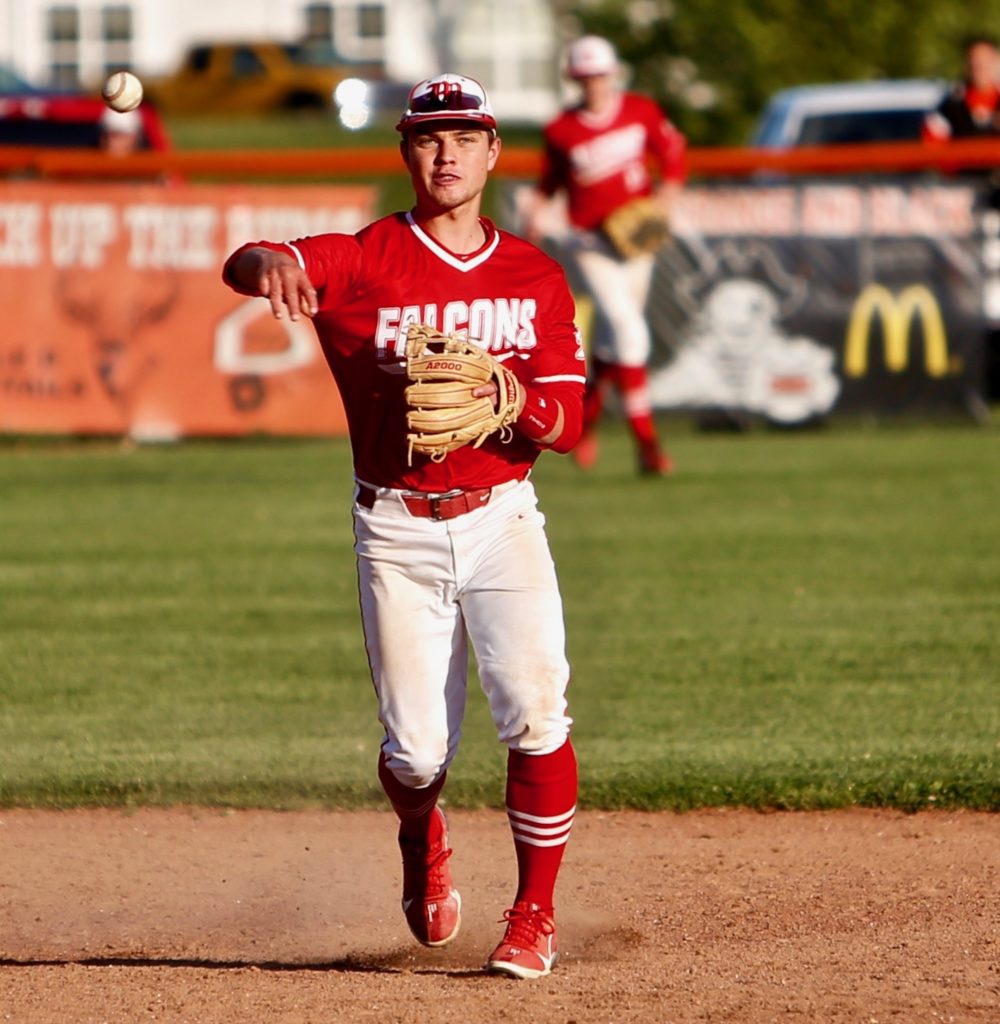 But the threat to score was short-lived.
The next three hitters fell victim to Falcons hurler Elijah Vogelsong … something that would become a trend in the contest. Vogelsong got Cooper McKenzie to fly out to left before striking out Ethan Ison and Mason Montgomery.
And, to put it simply, that's the last chance Wheelersburg (15-4, 11-2 SOC II) even sniffed a score.
Vogelsong cruised throughout the next six innings, allowing a total of just three hits while striking out nine. The southpaw's performance was the centerpiece of a 3-0 victory — one that gave Minford (17-2, 13-1 SOC II) sole possession of first place in the SOC II.
"I was just trying to throw strikes. I was focused on every pitch count and if you let a runner get on against this good of a team, they're going to score," Vogelsong said. "We got out of some jams, and we didn't hit the ball well, but we found a way. That's what matters."
Vogelsong is correct. While the Falcons did pound out seven hits, they had trouble stringing them together. In fact, the only time Minford collected back-to-back base knocks was in the seventh inning.
But that's when it mattered the most.
Leading 1-0, after Aodhan Queen began the inning with a single, Matthew Risner followed suit. Then, with one out, Adam Crank singled to load the bases.
Vogelsong proceeded to reach via error, allowing Queen and Risner to cross the plate and, ultimately, put the game away for good.
---
---
"I'm super, super proud of this team," Crank said. "Like coach [Anthony Knittel] says every game, great teams win late. We kind of focused on that. If we're not doing well, we just try to refocus and try to put the ball in play."
On the other side, Wheelersburg starter Ethan Ison didn't pitch poorly by any means.
The right-hander tossed all seven innings, allowing two earned runs and striking out 11 hitters. But when the Falcons saw him a second time, something started to click.
"We started seeing [Ison's] curveball real well and he's got a good breaking pitch," Vogelsong said. "But once we went through [the lineup] twice, we started seeing it and putting the ball in play."
And that's all it took.
Meanwhile, Vogelsong continued to hang zeroes.
"It's amazing. [Vogelsong] is a guy you can really rely on to just throw strikes," Crank said. "His offspeed was also pretty good today. It was kind of cool because right towards the end there, he looks and points at me and says, 'Hey, be ready.' And like he said, it was a ground ball right to me."
Crank led the Falcons' offense, going 2-for-4 with an RBI while Risner was 2-for-3 with two runs. Queen, Branson Alley and Grant Wheeler also had base hits.
Wheelersburg was led offensively by Hunter Thomas, who was 2-for-3. Case Dyer collected the other Pirate hit while Eric Green and Braden Horr drew a walk each.
The Pirates are back in action on Saturday at Greenup County (Ky.) while Minford gets back to it on Monday, hosting Minford — after winning two games on Saturday against Cabell Midland (W. Va.) and Greenup County.
A win against the Indians would clinch at least a share of the SOC II title.
"We go game-by-game," Vogelsong said. "We don't look ahead and we practice like we play. If we focus in practice, we know we're going to have a good game."