Brock Netter, Staff Writer
CHILLICOTHE — The last time Westfall and Unioto squared off, it took extra innings to decide a winner, and Unioto's Megan Miller was a hero, hitting the go-ahead home run in the top of the ninth.
This time around, Westfall struck quick and finished with a statement.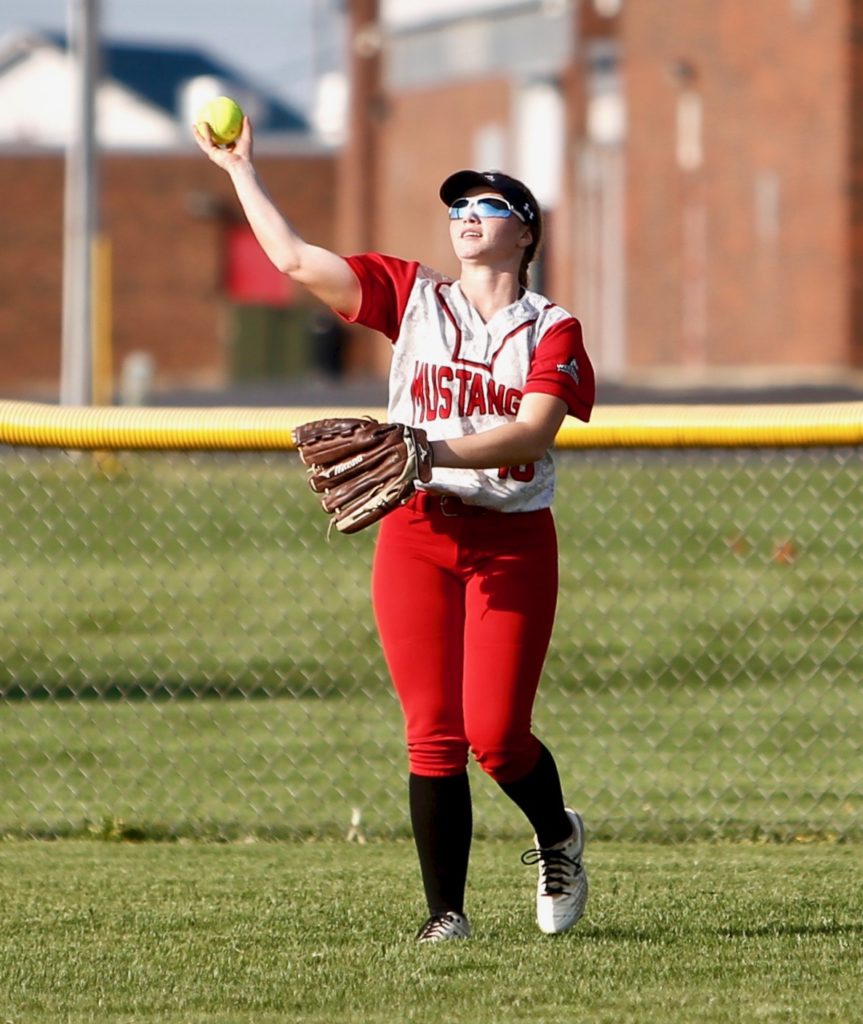 The Mustangs (19-5, 10-2 SVC) scored the final seven runs of Friday's contest, including a five-run fifth, and avenged the aforementioned loss with a resounding 11-4 victory over the Shermans.
"Determination. Just getting off the bus, you could see the look of determination on their faces," Westfall coach Lance Heath said. "They were ready to play. We know Unioto is a team loaded with talent, and it was going to be a great competition. But we came ready for a battle and the girls showed up."
New coach, new players and new philosophies. One thing that still remains the same: Westfall atop the SVC standings.
And now with games left against Zane Trace and Adena, the Mustangs have a one-game lead and have positioned themselves to secure another potential outright SVC crown.
"We came in with the mindset that we were going to compete and prove why we're the best," Westfall's Leah Ragland said. "We showed up and it was a great win. We just have to continue taking everything one game and one pitch at a time."
Westfall wasted literally no time striking first. After a first-pitch single from Lana Landefeld, Abbie Bickenhauser took the next pitch and drilled it over the center field fence for a two-run homer, putting the Mustangs ahead 2-0.
They later scored again on a fielding error before Makayla Cook notched an RBI single to left field that pushed the lead to 4-0.
However, Unioto (14-6, 9-3 SVC) weathered the early storm and immediately answered. Following a fielding error to score a first run, Alexis Book sent a two-run screamer over the center field fence to pull the Shermans to within 4-3.
Book continued swinging for the fences in her next at-bat and sent a deep fly ball just over the left field fence in the bottom of the third to tie the game at 4-4.
The run of the game belonged to Westfall once the top of the fifth rolled around. Unioto committed a throwing error before Maddie Mullins smoked an RBI single down the left field line for a 6-4 Mustang lead.
With two runners on base, Cook registered a sacrifice fly to deep left field followed, by an RBI single from Ragland. Unioto then committed its third error of the night, plating another Westfall runner as the lead was pushed to 9-4.
"That was huge security. They had my back so I had to have theirs," Westfall pitcher Olivia Dumm said. "I have great teammates behind me and that inning showed us that we had it, so I just had to keep fighting for my team."
Though the game was well in hand, Mullins decided to add an extra layer of insurance when she ripped a two-run bomb over the left field fence in the sixth, putting the final nail in the coffin.
"This was such a huge win for us, especially having such a young team," Mullins said. "We came out great, and Unioto did as well. But I think we were a lot more determined than we have been in the past few days. We brought our A game."
Mullins finished 3-for-4 with a home run and three RBIs while Bickenhauser was 1-for-2 with a home run and two RBIs. Cook went 1-for-3 with two RBIs, while Ragland added an RBI. Dumm tossed a complete game for the win, allowing six hits and striking out three batters.
For Unioto, Book finished 3-for-3 with a pair of home runs and three RBIs.
Westfall returns to action on Monday at home against Zane Trace while Unioto travels to play at Adena the same evening.