Derrick Webb, Staff Writer
KINNIKINNICK — Ask Alexis Book for run support and you shall receive it.
Unioto's center fielder has been on quite the tear over the past three weeks, feasting on first-pitch fastballs and making the longball look easy to come by.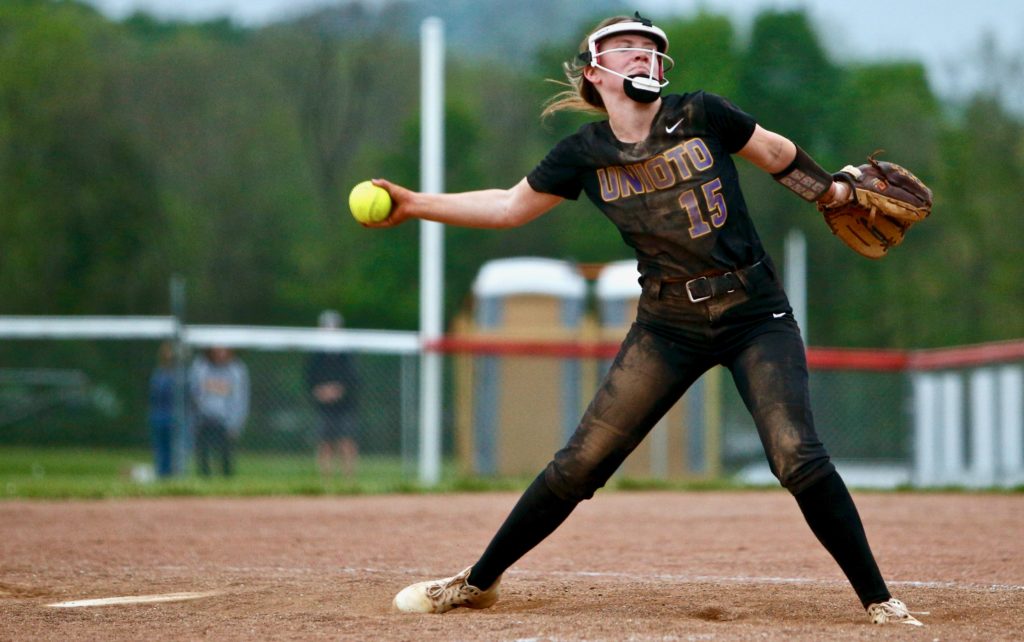 That didn't change on Wednesday night. The freshman continued to cement herself as one of the area's best power hitters with two round-trippers — the last of which gave the Shermans (14-5, 9-2 SVC) their first lead of the night in a 12-9 win at Zane Trace.
"It's the best feeling in the world," Book said of hitting home runs. "[My teammates] just getting hyped up, jumping and everything, it's literally the best feeling ever. Jogging around the bases, the momentum going up, everything jumping in and cheering, it's just great."
Book's home run solidified a bonafide comeback and completely erased a seven-run deficit.
Zane Trace (13-8, 5-6 SVC) tagged the Shermans for seven first-inning runs, going ahead 7-0, before taking a 9-4 lead into the sixth inning.
That's when Book and fellow freshman Megan Miller decided to take matters into their own hands.
Miller hit a two-run homer to force a 9-9 tie in the top of the seventh before Book produced the 12-9 final with a three-run bomb in the top of the eighth.
"It's amazing to see all five of our freshmen playing the way they are," Unioto coach Rob Hull said. "They're growing up in front of our eyes. They have great resolve and they don't let anything get them down. Tonight was an absolute team victory."
Gracey McCullough and Alexis Guffey each logged a base hit to begin ZT's first trip to the plate. But Guffey's single ricocheted off Unioto pitcher Hannah Hull's knee cap. Hull stayed in the game and tried to tough things out, but the Pioneers capitalized on an earned opportunity.
After Briana Fetters walked to load the bases, Alayna Butler gave the Pioneers a 1-0 lead with an RBI single. Kinley May, Mikki Wooten, Abby Guffey and Lexi Betts then all proceeded to draw bases loaded walks, putting the Pioneers ahead 5-0 and knocking Hull out of the circle.
Enter Megan Miller.
---
---
McCullough, batting for the second time in the first inning, logged a two-run single to make it 7-0. But that's when Miller began to find a rhythm. She retired the next two hitters to get out of the inning and allow Unioto to begin a comeback attempt — one she had a significant hand in.
"Megan was put in a tough spot in the first inning and she came in and closed the door," Hull said. "She gave up a couple more runs late but for her to hit the game-tying home run, that just shows what type of character she has. I'm definitely proud of her."
Unioto's first run came on an RBI single via Halle Uhrig. Then, in the top of the third, Book went deep with a two-run homer that cut ZT"s lead to 7-3.
"Alexis is swinging a hat bot," Hull said. "For her to put two of them out of here tonight and, ultimately, the game-winner, that's something else. I can't speak enough words right now of how proud I am of these girls."
Zane Trace struck back with two runs in the bottom half of the fourth, making it 9-4, when Fetters deposited a two-run single into right field, scoring McCullough and Lexi Scott.
But that was the last time the Pioneers sniffed a score.
While Miller dealt in the circle, Avery Miller made it a 9-4 tally with an RBI single in the fifth. Then, in the sixth, Hull and Amber Hice both drove in runs to inch closer at 9-6.
Book made it a 9-7 score in the top of the seventh with an RBI double before Megan Miller tied the game with her home run. That set the stage for Book's extra innings heroics.
With a runner on second and two outs, Zane Trace chose to intentionally walk Avery Miller, creating a force. Book took that personally and put a 2-1 offering over the center field fence.
That made it a 12-9 ballgame before Megan Miller pounded the nails in the proverbial coffin.
"Hats off to Zane Trace. They fought. We did play a little uncharacteristic in the first inning," Hull said. "But there was no quit in us. We just kept telling them to fight back and take it an inning at a time. They believed in that. Once they got a little taste, they took off."
Book finished the day 3-for-5 with two home runs, a double, three runs and five RBIs. Meanwhile, Miller went 3-for-5 with a homer, two runs and two RBIs. Avery Miller also helped out, finishing 2-for-4 with a walk, a double and two RBIs, and Hull was 2-for-4 with an RBI.
Miller tossed 6 ⅔ innings, allowing two earned runs on six hits while striking out four.
As for Zane Trace, McCullough ended the night at 3-for-5 with a double, two runs and two RBIs. Alexis Guffey was 2-for-4 with a run, and Fetters went 1-for-2 with a walk, a run and two RBIs.
Both teams will be back in action on Friday in SVC play. The Pioneers travel to Paint Valley while Unioto hosts Westfall with sole possession of first place in the conference on the line.
"It's huge. This win is huge. It shows that we battle and that we're battle-tested," Hull said. "Emotional games like this take a toll on you. So I'm kind of happy we have tomorrow off. But it's keeping momentum. With this group, it's been tough at times to get them motivated. But I think they're finally seeing things clearly and we're making headway."