Brock Netter, Staff Writer
CHILLICOTHE — Huntington's Allison Basye is truly a jack of all trades.
She can get you a kill on the volleyball court, she turns into a Division I recruit on the basketball court, and she also has the ability to beat you in a foot race on the track.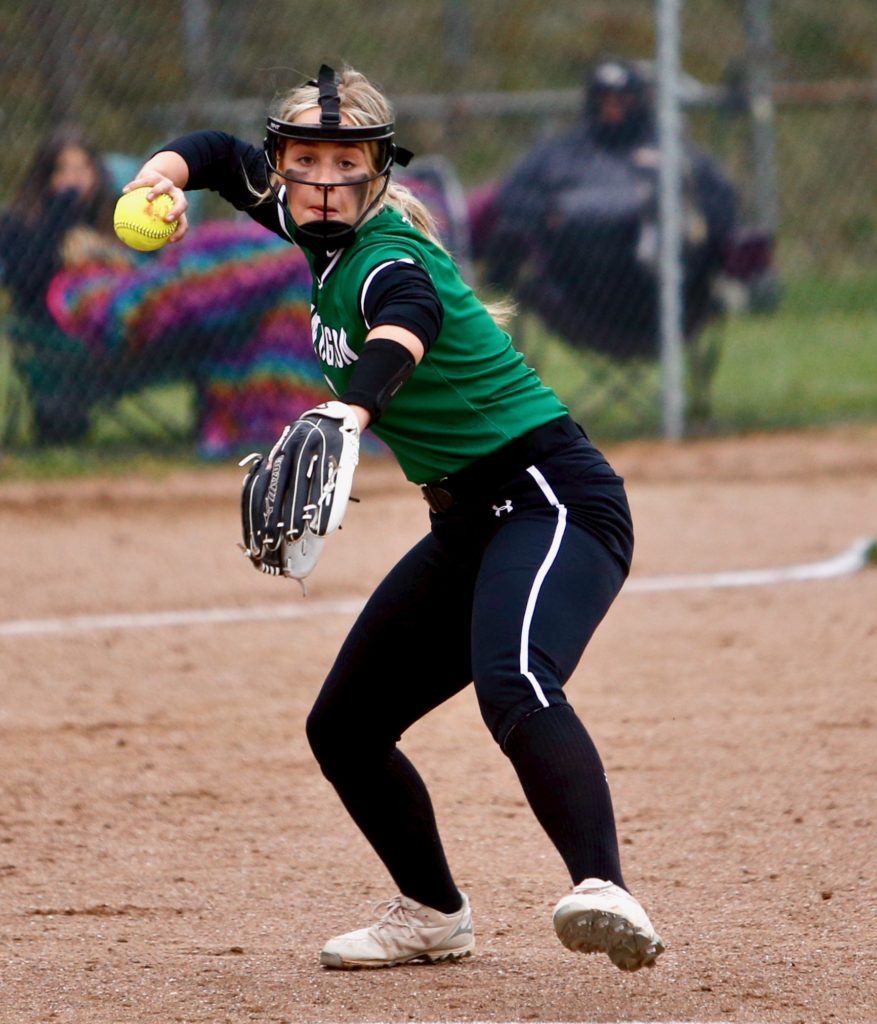 However, this spring, she decided to add another dimension to her already impressive deep bag of tricks … the long ball.
She went deep twice over left field fence Tuesday, including a walk-off two-run bomb that gave Huntington a 6-4 victory over Southeastern in SVC action.
"It was a tie game going into the final inning so I just prepared myself mentally to go up and swing. The first pitch came right at me and I knew that was the one," Basye said. "As soon as I hit it, I knew it was gone and just like that, game over."
Although Basye's final swing was the ultimate highlight, the bigger storyline was that Huntington (9-3, 6-1 SVC) currently stands alone atop the SVC standings.
"This is a big week for us considering we play Westfall and Adena, but to get this one is huge and it's a great start," Huntington coach Spenser Smith said. "We feel a little disrespected in the league and we're going out each and every day trying to win the SVC. That's our goal and being in first place for the time being feels great."
However, not to be swept under the rug either, both Huntington's Kylee Kellough and Southeastern Erin Richendollar were stellar inside the circle.
Kellough earned the win with a complete game and struck out 15 batters, while Richendollar sat down nine hitters in a fight to the bitter end.
"Southeastern is a really good team. They hit the ball well, field the ball and they're very well-coached," Smith said. "We each had our share of mistakes, but getting to coach this group makes things a lot of fun every day and they've been great all season."
Southeastern (11-3, 4-3 SVC) struck first with an RBI single off the bat of Audrey Scott for a quick 1-0 lead. It was short-lived though as Huntington's Haley Wilburn responded in the bottom half with a two-run single to center field, giving the Huntsmen a 2-1 advantage.
Two innings later, Southeastern had runners on bases following back-to-back fielding errors. Then Richendollar came up and smoked a two-run single to center that gave the Panthers a 3-2 lead.
In the bottom of the fifth, it was Basye's turn to show off the power and she took a two-strike offering for a ride over the left field fence for a two-run blast that put Huntington back on top at 4-3.
"I knew I had to step up in that moment and create something," Basye said. "I sat back patiently and just waited for my pitch. Once I saw it, I swung and I knew it was gone. I had to watch it travel for a minute. It was the best feeling ever."
Southeastern had an answer in the top of the sixth with an RBI single to right field from Cidney Huff to tie the game. But that set the stage for Basye's bat to unleash on the first pitch she saw in the bottom of the seventh for the win.
"We have such a good team chemistry and I think it's important that all of the girls get along incredibly well," Smith said. "They all want to win regardless of how the win comes and we're all working towards the same goal. We've developed a routine that's been very comfortable and relaxing enough that it doesn't force them to think about anything. I think that's been a key to our success so far."
Basye finished 2-for-3 with a pair of long balls and four RBIs, followed by Wilburn, who went 1-for-3 with two RBIs.
For Southeastern, in addition to her nine strikeouts, RIchendollar went 2-for-3 with two RBIs, followed by an RBI each from Scott and Huff.
After handing Piketon a run-rule loss on Wednesday, Southeastern will now host Zane Trace on Friday while Huntington looks to continue building positive momentum the same evening, hosting Adena.