Derrick Webb, Staff Writer
CHILLICOTHE — Kiera Williams doesn't feel pressure. She feeds off it.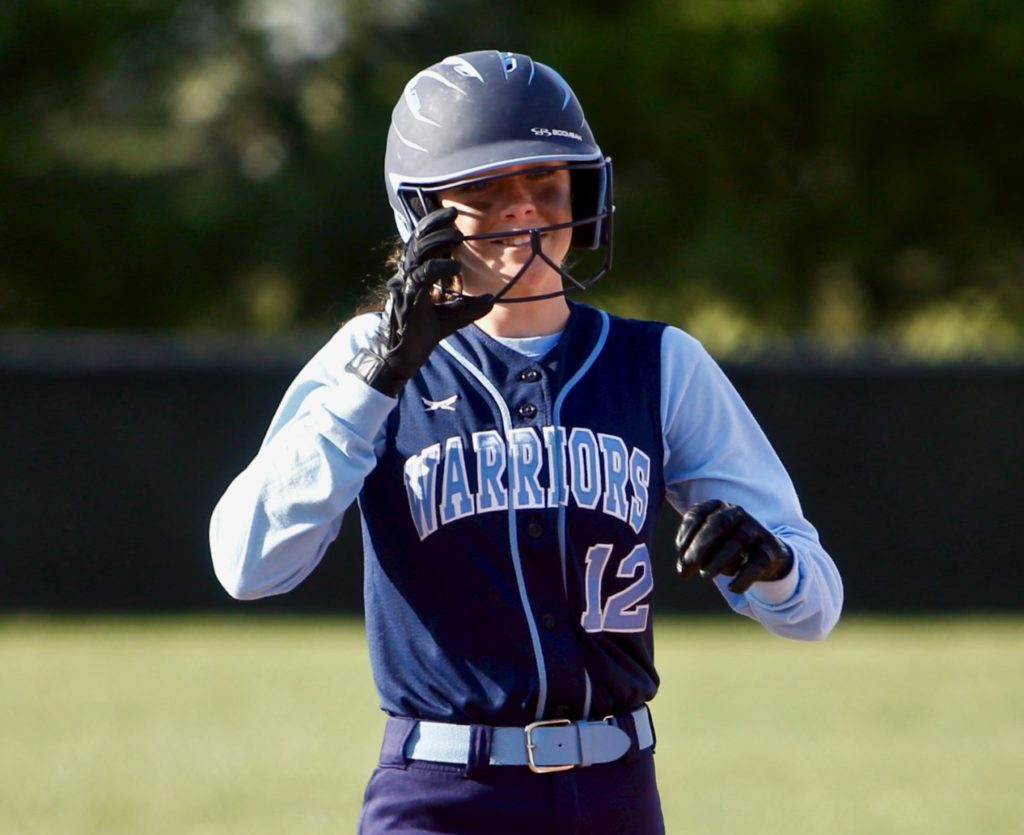 Adena's freshman leadoff hitter undoubtedly has a successful career ahead of her. But she may have already provided the climax for the first chapter of that story.
With the bases loaded and her Warriors trailing Unioto by a 3-2 count in the top of the fourth inning on Friday, Williams flexed her muscles and sent an offering over the right-center field fence to put Adena ahead 6-3.
It gave the Warriors new life, it was the eventual game-winner and it showed once again just how much ice Williams has in her veins.
"My whole team had their trust in me. They were really proud of me and it was really a turning point," It really sucked out all the life that [Unioto] was starting to build up."
Adena coach Brad Jadwin made the decision to move Williams from the two-hole into the leadoff spot earlier this season.
It paid dividends when Williams crushed the first pitch she saw.
"I told her if she liked the first pitch, she could go ahead and attack it," Jadwin said. "With us having the bases loaded, I figured [Unioto pitcher Hannah] Hull was going to try to get ahead of her. So I told her to hit the first pitch if she liked it. That's the one time I'll give the green light. She got the barrel out on it. She doesn't feel pressure. I asked her if she would feel pressure going into the leadoff spot and she said, 'I don't feel pressure.' And honest to God, she really doesn't."
While Williams did her damage with one big hack, Adena pitcher Greenlee Bossert was masterful throughout much of the seven innings she tossed.
Bossert kept Unioto's offense, as dangerous as they come, off-balance all night long. She mixed speeds well, threw strikes and hit her spots when she needed to the most.
In fact, throughout the last four innings, Bossert didn't throw more than 13 pitches in any frame.
"I just try to get ahead in the count. That's really important," Bossert said. "I try to get into a routine and take my time. When I start rushing, that's when things start going south."
Adena (10-2, 5-1 SVC) graced the scoreboard quickly. After Emma Garrison and Caelan Miner drew a walk and singled, Sydney Foglesong doubled both in for a 2-0 lead in the first inning.
The Shermans (8-4, 5-1 SVC) provided an answer in the bottom half when Alexis Book tripled and was awarded home plate after the throw wandered into Unioto's dugout.
The Warriors held that 2-1 lead until the bottom of the third.
---
---
That's when another freshman, Unioto's Megan Miller, made her mark on the game. Following a single from Hull, Miller pushed a 1-0 offering over the right field fence to give the Tanks a 3-2 lead.
"[Bossert] threw a fastball and [Miller] did exactly what she was supposed to do with it. She hit it out of the park," Jadwin said. "It was a mistake on our part and we'll learn from it. We'll get better and she won't see it again."
Of course, Williams then took advantage of her own opportunity in the fourth.
Emily Jones singled before Cheyenne Ater laid down a bunt and beat out the throw. With two on the base paths, Makayla Baxter also bunted and spotted it perfectly between Hull in the circle and a charging Ava Dettwiller at first base.
That's when Williams came to the plate and provided a final thunderous swing.
"I pretty much knew it was gone when I hit it," Williams said. "It came off the bat really nicely."
From there, both pitchers took over.
Hull didn't make another mistake and threw a total of 23 pitches through the last three innings. But Bossert matched her every move, retiring the side in the seventh in order.
"Coming back from a loss on Wednesday, we had to bounce back. Now we're tied for first place again," Williams said. "Now we have a tough game coming up on Monday. We have to beat Westfall."
Williams finished the game 1-for-4 with a homer and four RBIs, Foglesong finished 1-for-3 with a double, a walk and two RBIs, and Ater was 3-for-3 with a stolen base and a run. Bossert's final pitching line included seven hits allowed and six strikeouts.
As for Unioto, Book ended the day 2-for-3 with a double, a triple and a run while Miller went 1-for-5 with the two-run dinger. Hull allowed 10 hits and struck out five hitters.
After a 13-3 win over Washington on Saturday, Adena now looks to a pivotal conference matchup at Westfall on Monday.
"Westfall is a good softball team," Jadwin said. "We're pretty particular and we missed a couple of opportunities tonight. There were two times we couldn't get the bunt down with runners on second and third. We should've scored there. So we didn't execute. Those things irritate me. We have to score when we're supposed to score. But other than that, we're playing pretty well."