Brock Netter, Staff Writer
WILLIAMSPORT — Both Westfall and Wellston will admit they didn't play their best on the defensive side Tuesday night, but winners still find ways to win.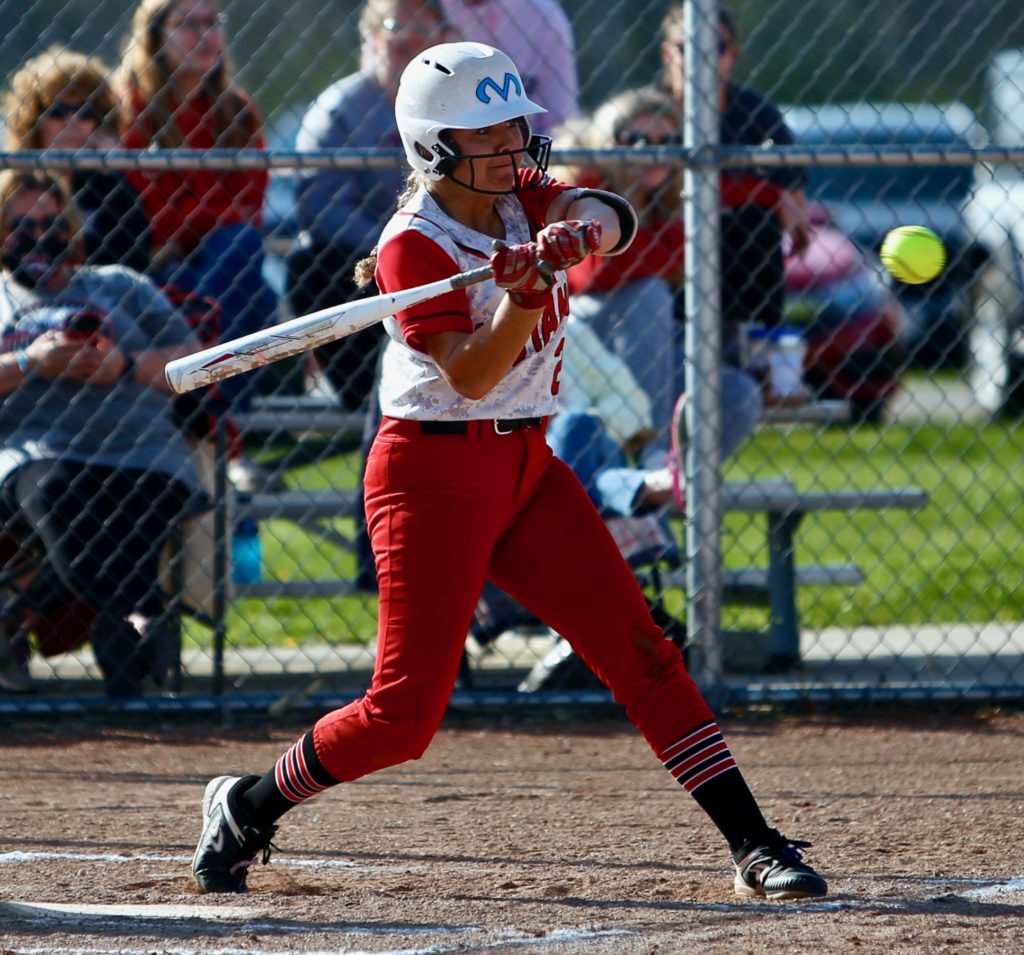 Despite committing three fielding errors that led to a pair of opposing runs, Westfall remained focused and scored the final three runs of the game to pull out a 6-4 victory over the Rockets.
"We still have some work to do, that's for sure," Westfall coach Lance Heath said. "We made errors that we never should, and it's definitely something we'll work on. We're not being selective at the plate and jumping too early on pitches. But luckily it didn't cost us in the end, and we continued to be scrappy to find a way to win."
Wellston wasted no time putting early pressure on Westfall as Jenna Johnston smoked an RBI double into center field. The next at-bat, Kamryn Karr notched an RBI single to score Johnston and the Rockets quickly went ahead 2-0.
The Mustangs answered back in the bottom half, though. Following back-to-back singles, Makayla Cook found a hole and ripped an RBI single, trimming the deficit to 2-1.
Two innings later, with runners on second and third, Wellston committed a fielding error that allowed the tying run to score. Two batters later, Leah Ragland got a bloop single to fall into right field to give Westfall its first lead at 3-2.
After back-to-back singles from Neveah Ousley and Johnston, Westfall committed a fielding error that allowed both runners to score as the Rockets took back the lead at 4-3 in the top of the fifth.
"It's something we talk about daily. The errors are going to happen. It's how you respond afterwards that matters," Heath said. "It's a part of softball and we continue to work on it. As long as you still contribute and keep making plays, we can move past those mistakes."
Westfall didn't wait long to answer. In the bottom half, with a runner on base, Olivia Dumm delivered an RBI single to tie the game. Three batters later, with runners on second and third, Maddie Mullins came through with the biggest hit of the game … a two-run single to right field that gave the Mustangs a 6-4 nod.
---
---
"I was looking for a pitch just below my stomach, but not at my hands. Before going up to bat, I told myself to just keep my head on the ball," Mullins said. "I knew we had two runners on base, so I made it a point to get those runs in somehow and come through for my team."
Lana Landefeld earned the win by tossing five innings, allowing just two earned runs and striking out three batters. Dumm took over to get the save in the final two innings, striking out four batters.
"Both pitchers did a really good job and produced in the circle for us," Heath said. "Lana did exactly what she needed to do, and Olivia closed it out. We left too many runners on base and that's something we have to figure out as we get back into conference play."
Mullins finished 1-for-3 with two RBIs while Cook went 2-for-4 with an RBI. Dumm had a double and an RBI, and Ragland added an RBI.
For Wellston, Jenna Johnston finished 2-for-3 with a double, two runs scored and an RBI, followed by a hit and an RBI from Kamryn Karr.