Derrick Webb, Staff Writer
CHILLICOTHE — Just six games in, at least one thing is for certain. The Unioto Shermans can make a lot of opposing pitchers have lingering nightmares.
Coming into Friday's Scioto Valley Conference with unbeaten Southeastern, Unioto knew it had to take advantage of scoring opportunities when given — something coach Rob Hull said his team wasn't doing enough of just a week ago.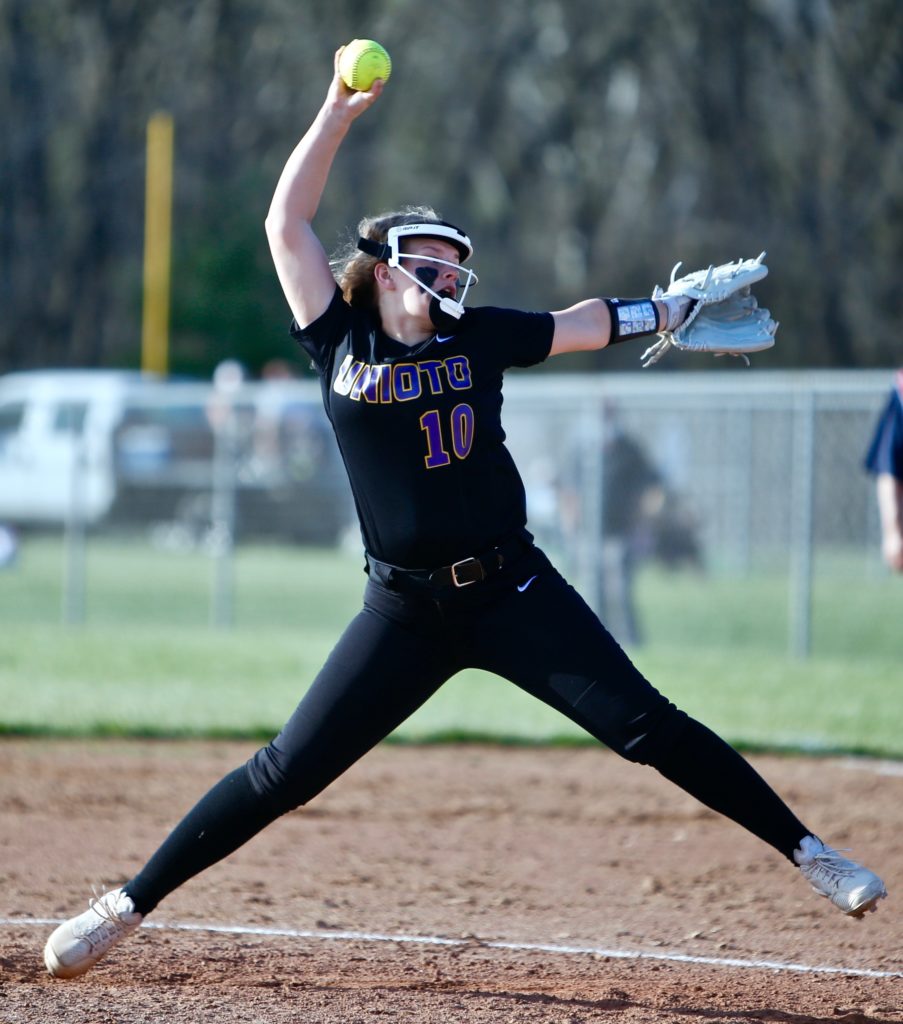 But that was far from an issue in an 11-3 win over the Panthers. And as the Shermans gain experience, Hull hopes that hitting in pressure situations is a problem of the past.
"As an offense, we've had some struggles," Hull said. "This is definitely a great hitting team. But it's a young team, so they're learning in the process. We have some leadership in the older classes and that's helping us out a lot. The younger girls see the work that's needed."
Unioto (5-1, 3-0 SVC) was on the board after just two batters. Freshman Megan Miller tripled to begin the game before Alexis Book brought her home with an infield single.
After Book stole second, Avery Miller knocked her in with an RBI single before Ava Dettwiller doubled home Miller. Before the Panthers (9-1, 2-1 SVC), they were in a 3-0 hole.
But Southeastern got two runs back in the bottom of the second, thanks to a two-run single from Tamra Elliott that scored Cidney Huff and Kynsi Popp and cut Unioto's lead to 3-2.
"Southeastern is very solid," Hull said. "They've got some good pitching in the circle and they step up and they hit the ball, too. Defensively, they've improved tenfold [from two seasons ago]."
But the Tanks had an answer … and then some.
In the third, Detwiller doubled to score Carissa Wheeler, who had earlier tripled. Wheeler would triple once more in the fourth, plating two runs, before she scored on a passed ball, making it a 7-2 tally.
That lead grew to 9-2 when Wheeler knocked in her third run before an error allowed another run to cross in the top of the sixth.
---
---
Southeastern's Audrey Scott logged an RBI single in the bottom half of the sixth to bring Lexi Lockwood home. But the Shermans insured the win with two additional runs in the top half of the seventh to seal the deal.
As a unit, Unioto's offense pounded out 11 hits and continually put pressure on Southeastern hurler Erin Richendollar.
That's something each opposing pitcher should expect when facing the Shermans. Each slot in Unioto's lineup has proven to be dangerous throughout the team's first six games.
"It's unrealistic honestly," Wheeler said. "I don't have words to describe how much fun it is playing for a team like this. I feel like we had our bats going today. We played flawless defense and that really helped, too. The plays we made … we had solid pitching and solid defense. That's all you can ask for."
Book finished 3-for-3 with two walks, a stolen base, three runs and three RBIs, Wheeler was 2-for-4 with two triples, two runs and three RBIs, Dettwiller went 2-for-4 with a double and a pair of RBIs, and Miller finished 1-for-4 with an RBI.
In the circle, Hannah Hull fired a complete game, gave up five hits and struck out a pair.
As for Southeastern, the Panthers' offense was led by Elliott, who finished 1-for-2 with two RBIs, followed by Lockwood, who was 1-for-3 with a stolen base and a run. Scott also chipped in, going 1-for-3 with an RBI, and Huff and Popp both finished 1-for-3 with a run.
Unioto has a doubleheader scheduled against Logan Elm on Saturday while Southeastern gets back to action on Monday, hosting Westfall in SVC action. After their meeting with the Braves, the Shermans will then take on Zane Trace, Westfall and Adena.
It never gets any easier in the SVC.
"Coming into the season, we kind of struggled hitting the ball with runners in scoring position. Then we got Avery [Miller] back and she's really been electrifying for us," Hull said. "But the entire SVC, from top to bottom, is tough to play. It's one of the best conferences around. I'm excited that we're getting going. But we've got to be on our game every single day."