Derrick Webb, Staff Writer
WHEELERSBURG — If you've watched Wheelersburg play in any of its three games this season, you may have forgotten that the Pirates' freshman and sophomore classes are brand new to varsity softball.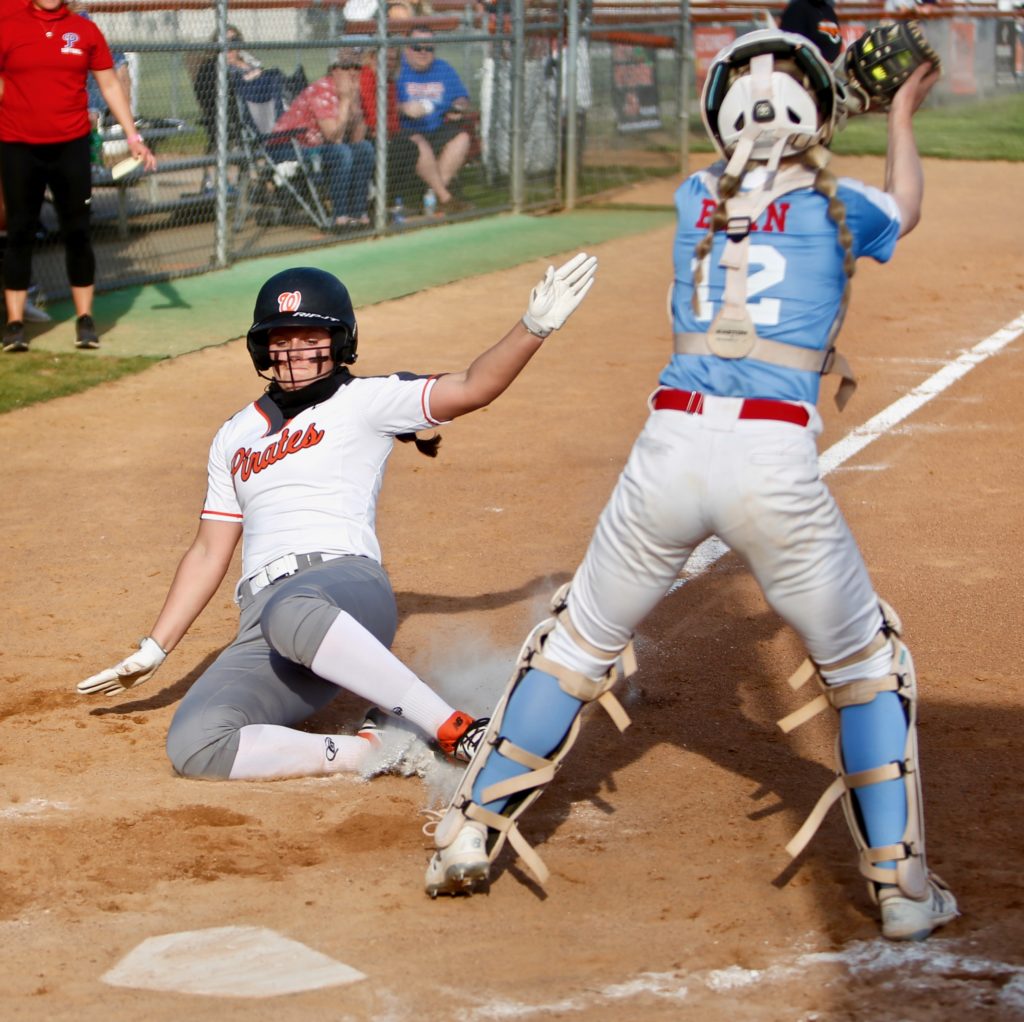 It's easy to overlook that fact because every member of those two groups have played like seasoned veterans so far.
That didn't change on Tuesday in a 12-3 win over Portsmouth in non-league play — a win in which the Pirates' younger players carried the brunt of the workload.
That's specifically true in spots two through six, which consisted of Haley Myers, Rylie Hughes, Macee Eaton, Sydney Skiver and Andi Jo Howard. Those five names combined to go 14-for-19 alongside 11 runs and eight RBIs.
A modern day Murderers' Row.
"It's a tough part of the lineup. I'd put that up against any other lineup in those spots," Wheelersburg coach Teresa Ruby said. "Macee Eaton didn't have her best night tonight but she hits with a lot of power. We've got her behind Rylie, so it gives teams a choice. Pick your poison. People are going to get to know Sydney Skiver and I'm thrilled with her development. I'm happy with all of those girls tonight."
Meanwhile, Howard held down the fort in the circle.
The freshman threw seven innings, allowed seven hits, struck out five and walked four. She had to work out of jams at times but, in the long run, did what she needed to do to keep the Trojans (6-3) at bay.
"She didn't have her best stuff tonight and she kept battling. I was proud of her for that," Ruby said. "I think she got a little tired. It's the first time she's thrown seven innings in probably five months. We knew coming in that building up her strength was part of what we needed to do. But I appreciate the fact that she battled. We know what she needs to work on and we'll do that."
Wheelersburg (3-0) struck the scoreboard first with a pair of runs in the bottom of the first, thanks to RBIs from Eaton and Skiver. But Portsmouth got both runs back in the second inning, thanks to a pair of errors.
---
---
The 2-2 tie stood until the bottom of the third when Eaton, Skiver, Howard and Kiera Kennard all drove in runs to give the Pirates a 6-2 edge. In the fourth, Portsmouth's Madison Ankrom logged an RBI single to cut the deficit to 6-3, but that was the last time the Trojans sniffed home plate.
In the fifth, Howard laced a two-run double into left-center field to make it an 8-3 count, before Skiver sent an RBI double into the gap for a 9-3 score.
The Pirates' final three runs came in the sixth, thanks to an error and a two-run double off the bat of Rileigh Lang.
"Definitely not our best effort but I give Portsmouth credit. They played a good game and their pitcher kept us off balance," Ruby said. "I didn't think we had the patience at the plate we needed. We reached a lot. But it's nice when you can walk away and say, 'Hey, we didn't play our best game but we took away a win.' We'll always take a win."
Skiver was a perfect 4-for-4 at the plate with a trio of doubles, two runs scored and three RBIs. Myers was also 4-for-4 with two doubles and three runs, Hughes finished 2-for-3 with a double and three runs, and Howard was 3-for-4 with a double, two runs and three RBIs to help her own cause.
Leading Portsmouth statistically was Faith Phillips, who finished 2-for-3 with an RBI, followed by Olivia Dickerson, who was 2-for-4 with a run. Madison Perry added a hit, Madison Ankrom had an RBI, and Katie Born drew two walks and scored twice.
Wheelersburg's undefeated start is no surprise and it's a streak that has a chance to go on for quite some time. Those high expectations are warranted for a program with a track record of abundant success.
But no team is ever perfect. Ruby knows that better than anyone.
"We're facing high expectations and I don't know that they're fair," Ruby said. "We've got some young kids and they're just now playing high school ball. You've got two groups that haven't played. We've just talked about relaxing and enjoying the game. We've just told them to have fun and quit feeling the pressure of the world on their shoulders."
The Pirates are back in action on Wednesday, hosting Northwest in SOC II action, while Portsmouth tries to get back in the win column in OVC play, traveling to South Point.
"We have a lot of talent. How far we go will be determined with how we develop," Ruby said. "We obviously have some work to do. But the talent is there."