Derrick Webb, Staff Writer
WAVERLY — Just three days into a new season and one thing is already clear about the Waverly Tigers … they like to live on the edge.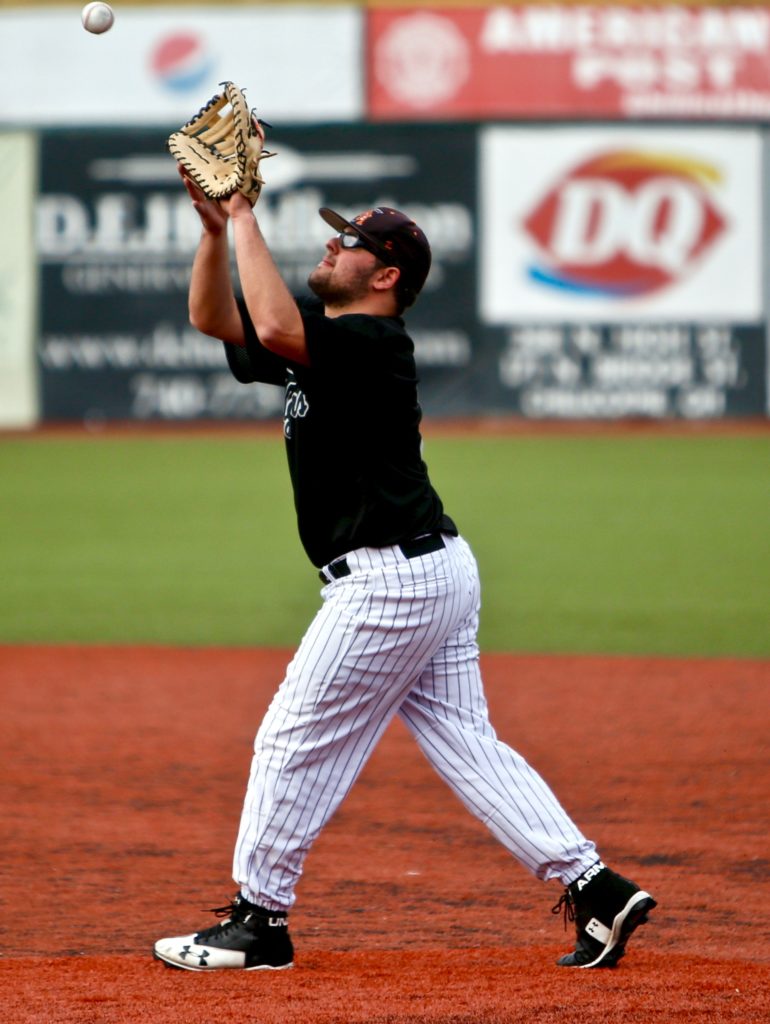 For the second time in four days, Waverly entered the latter stage of a game trailing. But for the second time in that time span, the Tigers (3-0) rallied for a victory.
Trailing Huntington by a 5-2 margin heading into the top of the seventh inning, Waverly rallied for six runs to take an 8-5 lead before clinging to an 8-6 victory in the First Pitch Classic at VA Memorial Stadium.
"You never expect to start a season winning close games like that with some inexperienced players," Waverly coach Jeff Noble said. "But as you've seen, we have just competed and competed. That's especially true in the last few innings. It was a team effort. It's fun to coach in these games and the experience the kids get in these types of games is invaluable."
While Waverly, for the most part, relied on its veterans during crunch time, Noble was happy to see some of his younger players step up when their names were called as well.
You can only practice so much. When it comes down to it, you simply can't simulate in-game experience.
"Alex Boles and Derek Eblin led the way at the plate tonight, Weston Roop came up with a big hit and JT Barnett is playing the best baseball he's ever played," Noble said. "So yes, we have some veterans that are stepping up and leading the way. But you saw some of the youngsters step up and chip in today. We've got a good mix of older guys and inexperienced ones."
Huntington's Gavin Free and Waverly's Ben Flanders had a pitcher's duel going through two innings. But in the top of the fourth, the Tigers took a 2-0 lead when Eblin tripled before scoring on error, followed by an RBI single from Dawson Shoemaker that scored Barnett.
The Huntsmen (1-1) responded with five consecutive runs, four of which came in the bottom half of the fourth.
Free and Caleb Smith each logged RBI singles before Emery Woods and Dalton Black both scored thanks to fielding errors. Huntington then added an insurance run in the next frame when
DJ Crocker flew out, allowing Alex Broughton to tag home for a 5-2 lead.
But the Tigers got their chance to retaliate in the top of the seventh.
With Free off the hill, Waverly's offense feasted on a new arm. Boles and Roop each dropped RBI singles into the outfield grass and Huntington's defense committed a costly error, allowing the Tigers to tie the game at 5-5.
Eblin then gave Waverly the lead for good with an RBI double before Shoemaker drove in an insurance run. When the dust had settled, Waverly had a commanding 8-5 lead heading to the bottom of the seventh.
Huntington's Braylen Leach logged an RBI single for his own in the final at-bat but the Huntsmen left him stranded on the base paths to end the contest.
"Free did a heck of a job against us," Noble said. "We've been struggling swinging the bat. But they all have the capabilities and can make good contact. But we battled to get back into things. We're obviously tickled to be 3-0 right now."
Boles finished 3-for-4 with a triple, a run and an RBI, Eblin was 2-for-4 with a double, triple, two runs and an RBI, Shoemaker ended the night 1-for-3 with two RBIs and Roop went 1-for-4 with an RBI and a run. Roop also picked up the pitching win in three innings of work, striking out four.
Free took a no-decision for Huntington but pitched brilliantly when he did have the ball. The senior tossed six innings, gave up a single earned run and struck out eight. He also went 2-for-3 at the dish with an RBI and a run.
Smith also chipped in with 1-for-3 effort that included an RBI and a run while Leach was 2-for-4 with an RBI.
Huntington is back in action on Thursday, hosting McClain, while Waverly returns to the diamond on Wednesday at South Webster in SOC II action.
"All three games have been close this year," Noble said. "We have battled. It's exciting to see the whole team battle and stay in the game. But we need a couple of practices."