Derrick Webb, Staff Writer
CHILLICOTHE — According to Jaylen Murta, he usually can't throw his curveball for a strike. But that was certainly not the case on Monday night against North Adams.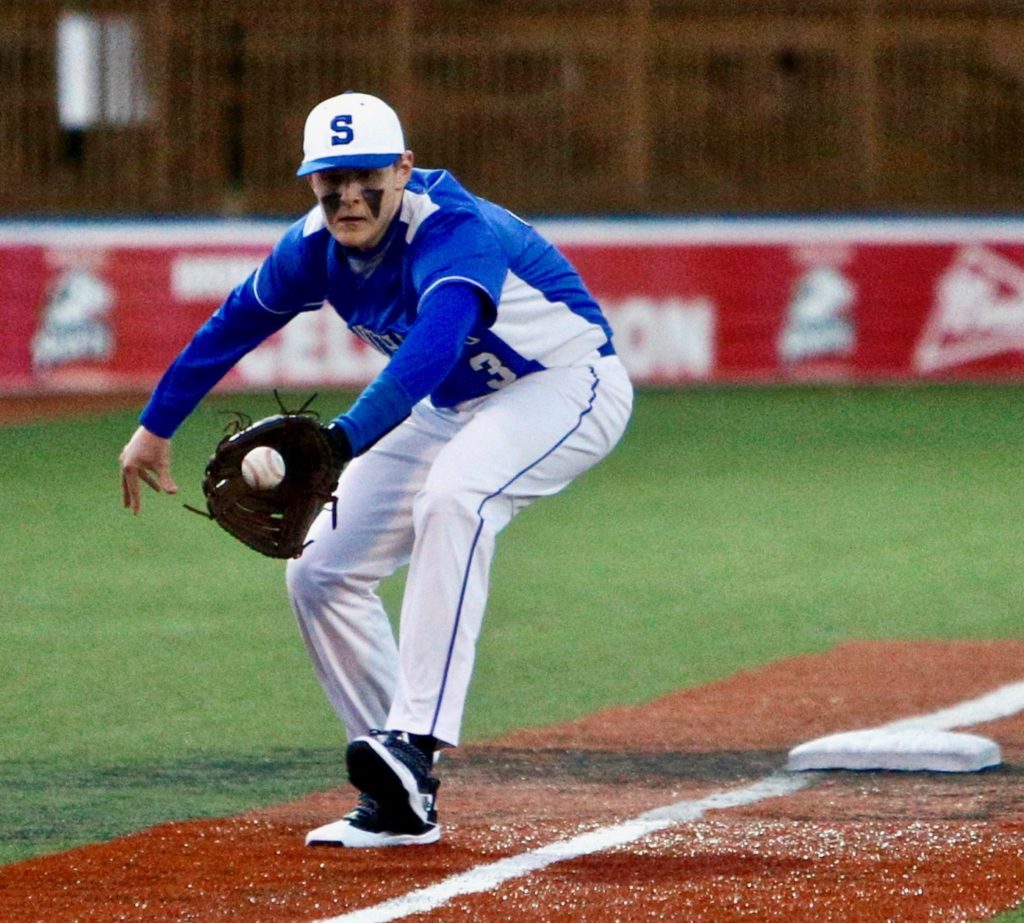 In fact, the senior hurler said the pitch had the exact opposite effect … he couldn't miss the zone if he'd tried.
Murta's strong performance on the hill, and his work with a bat in his hands, helped Southeastern pick up a 15-4 victory over the Green Devils in the First Pitch Classic at VA Memorial Stadium.
"Usually I can't throw my curveball for a strike. I couldn't miss a strike with it today," Murta said. "My fastball was working, too, and my team had my back."
Murta was the only senior that started for the Panthers (1-1). With a future as bright as any, the team got the monkey off its back, earning its first victory with a total team effort.
"Our pitching has really been doing pretty well and we've been working on hitting," freshman Connor Smith said. "We just need to work on bunting [and situational hitting] a little more and I think we could be at the top of the SVC."
That's a bold statement early. But if the rest of the seasons goes anything like the latter innings of Monday's contest went, Smith could be onto something.
Southeastern's offense wasted no time in getting on the scoreboard. Leadoff hitter Jarrett McWhorter was hit by a pitch, stole second, tagged to third and scored on a wild pitch for a 1-0 lead in the bottom of the first.
North Adams (0-1) retaliated with a run of their own in the bottom half of the second when Cade Meade singled and scored on an error.
But Murta helped himself in the third, logging a two-run double to score Tyler Brown and Jacob Lenox and put Southeastern back in front at 3-1.
That score would hold until the fifth when Murta repeated that process. He looped a two-run single into right field before RJ Cartwright logged a sacrifice fly, pushing the edge to 6-1.
North Adams, however, wouldn't go away.
In the only inning that Murta faced any sort of real danger on the rubber, the Devils managed to cut the lead to 6-4 in the bottom of the fifth— thanks to an RBI triple from RJ Taylor, an RBI single from Meade and a wild pitch.
But when the Panthers had another shot to hit, they took full advantage of the opportunity.
Southeastern tallied nine runs in the top of sixth, an outburst aided by multiple walks issued and wild pitches, putting the game away for good with a 15-4 lead. In the bottom of the sixth, Murta slammed the door shut on a run-rule victory.
"We've played a couple of good scrimmages. We played with Wellston for about five innings and then had a blowup inning. Then we played South Webster and were winning the whole game until the last inning," Murta said. "It's just been hard to finish out. But we did that and played as a team."
Murta's final pitching line was six innings of four-hit baseball alongside nine strikeouts and a pair of earned runs. He also finished 2-for-3 at the dish with a double and four RBIs and two runs. That effort was aided by Smith, who was 1-for-2 with a pair of walks and three stolen bags.
Brown also chipped in for Southeastern, logging three hits, three runs and an RBI, while Lenox went 1-for-2 with two walks and three runs scored.
For North Adams, Caleb Rothwell suffered the pitching loss in four innings of work. He surrendered two earned runs on three hits and struck out three. At the plate, Meade was 2-for-3 with an RBI and a run while Taylor finished 1-for-2 with a triple, a run and an RBI.
North Adams gets back on the diamond Tuesday at Whiteoak while Southeastern hosts Green at the same time.
"Our outfielders can cover as much ground as the next, our infielders are solid and it doesn't make many mistakes," Murta said. "We're working at it. I think we have a chance to pretty good."