Brock Netter, Staff Writer
It doesn't seem real, does it?
After COVID-19 forced our area's athletes to sit last spring out, we're finally getting back to regular-ish. Sure, there will be masks in the stands. And social distancing is still being required.
But the fact remains that we indeed will have a spring sports season. And that's the most important detail.
So as we get reacquainted with the baseball diamond, here's a list of 10 players in our coverage area, and in no particular order, to keep an eye on this spring if they get the chance to compete.
NOTE: This certainly does not mean there aren't other players who will have great seasons. This is simply a list of 10 players we've randomly compiled. 
Elijah Vogelsong, Minford
He's signed to Marshall University. I think that says more than enough about the type of talent Vogelsong possesses on the diamond. As a sophomore, he hit .426 with three home runs, 38 RBIs and 36 runs. Additionally, he went 8-1 on the mound with a 1.41 ERA in 54 1/3 innings. He'll be at the forefront as the Falcons look for another SOC II title alongside a deep tournament run.
Lucas Blackburn, Westfall
Blackburn has been an emerging talent in the area since he stepped foot onto the mound at Westfall. He's been the Mustangs' workhorse, no pun intended, since his sophomore year when they made a run to a regional semifinal. That year, he carried a 1.75 ERA and struck out over 30 batters. Now he'll aim to repeat that success in his final season.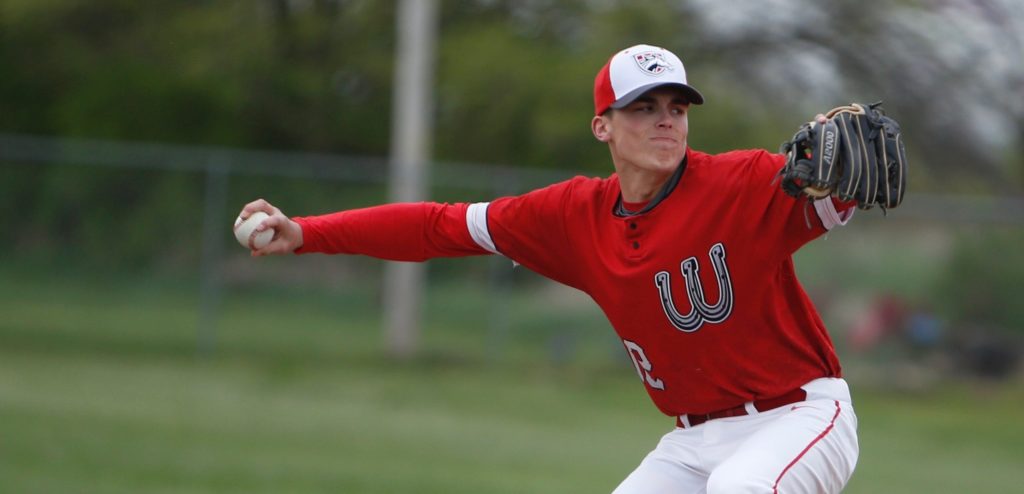 Derek Eblin, Waverly
Another Division I baseball player who has the capability of making hitters look absolutely silly at the dish. With a fastball that reaches 90-plus MPH, alongside a deadly curveball and a filthy changeup, he's a guy you want on your side. It's a near-guaranteed victory whenever he takes the mound. He's that special of a talent.
Ty Broermann, Jackson
Broermann is tough as nails on the soccer pitch, and he brings that same competitive drive to the baseball field. Part of a loaded senior class that all saw varsity time as sophomores, the experience inside Jackson's dugout should pay off. The senior catcher possesses as solid of a bat as you'll find in the area and with coach Josh McGraw returning to Jackson, the Ironmen could catch some teams off guard.
Jarrett Garrison, Adena
Garrison finally gets to step to the front of Adena's pitching rotation after a sophomore campaign that saw the Warriors reach a district final. He finished with a 6-3 record two springs ago alongside a 1.32 ERA and struck out 28 hitters. He also batted .289, scored 10 runs and logged 13 RBIs. Expect those numbers to go up as the Warriors will rely heavily on Garrison this season.
Clay Cottle, Clay
The Panthers lost a talented and productive senior class from two years ago. But they're lucky enough to have Cottle with one season left in blue and yellow. He batted .488 as a sophomore and helped lead the team to an SOC I title. He'll aim to repeat that success and more this year before heading to Mount Vernon Nazarene University.
Dax Estep, Paint Valley
Get ready to read his name quite a bit this season. A lot of talent and pitching depth was lost from the 2019 senior class in Bainbridge. But Estep is varsity ready and will pick up where his predecessors left off. One thing about the Bearcats is they always have solid ballplayers, and Estep has the tools to be the next great one. Plus, learning from one of the best in Shayne Combs and pitching behind Brock Blanton isn't too bad, either.
Gavin Free, Huntington
Free's time to take over has officially arrived. After being a major part of Huntington's first-ever boys district championship as a sophomore, he's been continuing to improve his game ever since. With the chance to further a legacy alongside being coached by another one of the best in Ed Yates, Huntington will go as far as Free takes them.
Kaden Riffe, Chillicothe
It's very possible that Riffe could be the preseason favorite to win the FAC Player of the Year award. Think about this … as a sophomore, he batted .388 with 26 hits, scored 19 runs, stole 11 bases and drove in seven runs. And now with Tom Barr taking over the program, expect those numbers to see quite an uptick as the Cavaliers hunt for a conference title.
Tanner Lemaster, Washington
No one has seen Lemaster play a single pitch of varsity baseball yet, but once he gets his chance at the dish, get your cameras ready. A standout football player at 6-foot-5, he also has the power to take any ball deep and possesses a strong arm to make any throw on the diamond. Whether he's on the hill, in the field, or at the dish, he'll be a difference-maker.