Derrick Webb, Staff Writer
Two regional finalists, three district champions and a plethora of sectional title winners made this past basketball season well worth covering.
But those were just the highlights. To really understand how special the season was, you'd have to look back on every career-defining moment, every game-winning shot, and every net that was cut down in jubilation.
Southern Ohio Sports Authority was right there every step of the way, covering individual milestones, improbable feats and wins that changed history.
After a fun-filled year, take a look at our All-Area Team, which consists of 30 area players who were at their best throughout the winter season.
NOTE: SOSA's coverage area this basketball season consisted of the Scioto Valley Conference, Southern Ohio Conference, Southern Hills Athletic Conference, Frontier Athletic Conference as well as the Mid-State League.
Allison Basye | Huntington | Forward | Junior
For the second consecutive year, Basye was named the Scioto Valley Conference Player of the Year. And for the second consecutive year, she earned that right by torching opposing defenses. The junior was a force in every aspect of the game, posting 25.5 points and 11 rebounds. If there's a best of 2022 list out there that doesn't have her on top, it can't be trusted.
Sierra Benney | Lynchburg-Clay | Guard | Senior
After a slow start to the season that included a 1-6 start, Benney got the Mustangs back on track. Behind its senior guard, Lynchburg-Clay finished the year with a 12-4 stretch. Individually, Benney led the team in scoring at 12.8 points per game alongside averages of 5.8 rebounds, 2.0 assists and 2.4 steals. She shot 74 percent from the free throw line and buried 27 3's.
Magarah Bloom | Miami Trace | Guard | Senior
If there's a better leader than Bloom out there, we'd like to meet her. The all-conference and all-district selection played with a constant energy and brought passion to each game. She led her teammates to an outright FAC title and gave opponents fits while doing so. The versatility of Bloom's skillset was hard to match and her drive-to-win mindset was even harder to simulate.
T.J. Carpenter | Jackson | Forward | Freshman
Remember when Jackson's opponents could automatically count a win when it came time to play the Ironladies? Yeah, not anymore. Carpenter cemented herself as an important part in the program's youth movement. She led the team in scoring as a freshman and is poised to improve upon 10.7 points per game. Jackson is no longer an easy out. Carpenter is a big reason why.
Paige Carter | Waverly | Center | Senior
With it all said and done, Paige Carter earned every ounce of respect she got during the past four years. She usually wasn't the biggest player on the court but she played like she was. She was as important as any part to Waverly's sectional title win and ends her career with 1,000-plus
points and 700-plus rebounds. Fierce doesn't even begin to describe Carter as a competitor.
Chloe Chambers | Oak Hill | Center | Junior
With most of the team's scoring responsibilities on her shoulders, alongside teammate Olivia Clarkson, Chambers continued to emerge as one of the area's best post players. She's almost impossible to defend inside the paint and good luck boxing her out. She'll be asked to take on an even larger leadership role as a senior. Big things are ahead for the 6-foot-2 center.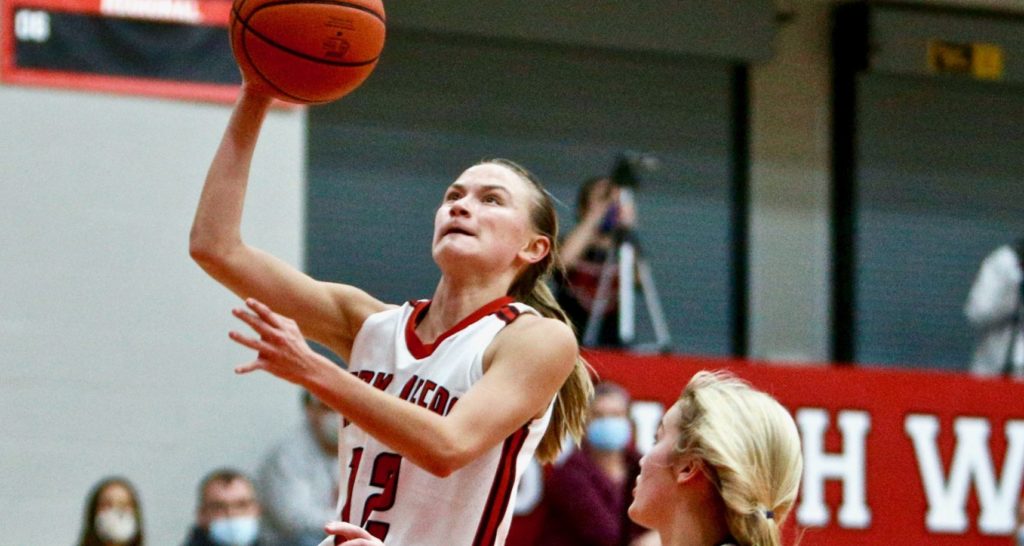 Bri Claxon | South Webster | Guard | Junior
It doesn't matter where Claxon has the ball. She's always a threat to score. Leading the Jeeps in scoring at 24.4 points per game, Claxon also added 4.3 rebounds and 3.2 steals each night to further prove her worth. She ended the year shooting 48 percent from the floor and 68 percent from the free throw line. She'll be, by far, one of the area's top seniors next winter.
Kaylee Darnell | Wheelersburg | Guard | Senior
When you begin to name the greats that have come through Wheelersburg's basketball program, make sure and include Darnell. She's one of the best to ever do it. As a junior, Darnell scored her 1,000th point and led the way towards an SOC II title. As a senior, she cemented a legacy. Behind Darnell, the Pirates reached the Elite Eight, winning their second district title with Darnell on their roster. The Rio Grande commit averaged 19.8 points and went out with a bang.
Lexi Deaver | West | Guard | Sophomore
Coming off an injury that ended her freshman season, Deaver was magnificent as a sophomore. She led a youth-filled team to a 15-win season and planted the seeds of success for the future. Always playing a balanced game, Deaver ended the year averaging 7.8 points, 3.8 rebounds, 3.4 assists and 1.5 steals each night. Look for those numbers to see a growth come 2021-22.
Claire Dettwiller | Notre Dame | Center | Senior
There's one word that completely embodies Claire Dettwiller … tough. In every single sense. Dettwiller willed the Titans to conference and sectional titles while taking on a leadership role. With eyes on her, she averaged 8.2 points, 7.5 rebounds, 2.1 assists and 2.1 steals each night. You won't find a fiercer competitor or a better role model for younger players. She's top-notch.
Mahaley Farmer | Westfall | Guard | Senior
Not many people picked Westfall to contend for an SVC title at the beginning of the year. But the Mustangs quickly proved their doubters wrong. Why? Mahaley Farmer. As quick as they come, Farmer was the maestro of the Mustangs' offense with the ability to score, find open teammates and get to the line. She led the 16-win Mustangs in scoring (11.6) and assists (3.2).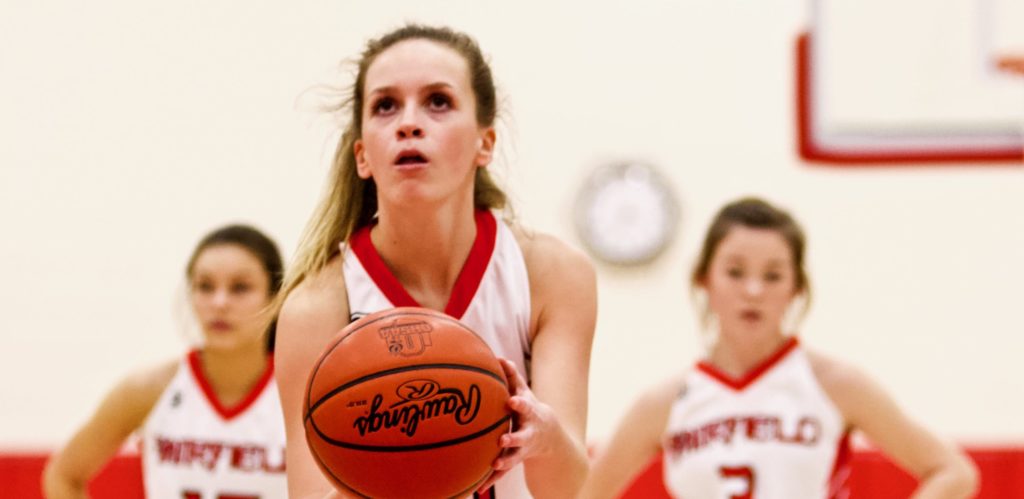 Emma Fouch | Fairfield | Guard | Junior
There were many individual accomplishments that Fouch claimed this season. But most importantly, she led her Lions to a share of the conference title while setting the foundation for one final run next season. Behind Fouch, Fairfield finished 17-5 overall. The junior broke the school's single-season 3-point record with 50 triples alongside 17.5 points per night.
Emma Garrison | Adena | Forward | Freshman
If there's a freshman in the area that you needed to watch this season, it was Garrison. She's a dynamic playmaker with a basketball IQ that's more mature than most. Garrison's intangibles are next level and you can expect the Warriors' offense to run through her for some time to come. She ended the year at 11.4 points, 5.4 rebounds, 2.6 assists and 1.9 steals per game.
Mackenzie Gloff | Eastern Brown | Center | Junior
Every good team needs a Mackenzie Gloff on its roster. Why? Because she's never afraid to do the dirty work that never gets the recognition it deserves. Gloff was a force all year long, helping Eastern capture conference, sectional and district championships. She's the cream of the crop when it comes to area post players and that won't change heading into the 2020-21 season.
Macie Graves | Southeastern | Forward | Senior
There aren't many shots that Macie Graves can't hit. It's really that simple. Graves was once again a do-it-all forward, being called upon to score the basketball and hit the glass hard. She was also imperative to Southeastern's defensive game plans, consistently altering shots. Graves was an all-conference and all-district selection and leaves a huge void to fill.
DeLaney Harper | North Adams | Center | Senior
Harper banged in the paint all year long, and won almost all, if not all, of those battles. She was an agile player for a team that played in its second consecutive district championship match. During her four years as a Green Devil, she was the ultimate competitor with a fierce passion for winning. Her final season saw her averaging a double-double, including 12.4 points per night.
Ava Hassel | Notre Dame | Guard | Senior
Legend. That's what Ava Hassel is at Notre Dame. And that's what she'll always be. For the past four seasons, Hassel has dazzled fans. This year was no different. One of the state's — yes, state — point guards led the Titans to 22 wins, a fourth consecutive conference title, and a district final appearance while averaging 20.5 points, 3.0 assists, and 4.2 steals per game.
Payton Johnson | Peebles | Guard | Freshman
The missing piece to a regional final run for Peebles seemed to be a stellar freshman named Payton Johnson. And if this year was any indication of the next three, Payton Johnson's career is going to be filled to the brim with success. She began her high school career averaging 15.2 points, 5.8 rebounds, 3.0 assists and 2.5 steals each night. She's going to be special.
Jacey Justice | Peebles | Guard | Senior
Justice was simply electric all year long. The Western Carolina-bound guard led the state in scoring at 31 points per night and added 3.8 rebounds, 4.4 assists and 4.0 steals. She ends her high school career as the school's all-time leading scorer with 2,381 points and adds 384 rebounds, 411 assists and 386 steals, and three district championships to her legendary legacy.
Alaina Keeney | Wheelersburg | Forward | Junior
For quite some time now, Keeney has been one of the SOC's premier players. She proved why that is as a junior. She was quite possibly the Pirates' best pure shooter, and coach Dusty Spradlin would affirm that statement. Keeney averaged 10.7 points per game and was simply dangerous when she had the ball in her hands. Wheelersburg will look to her to lead next year.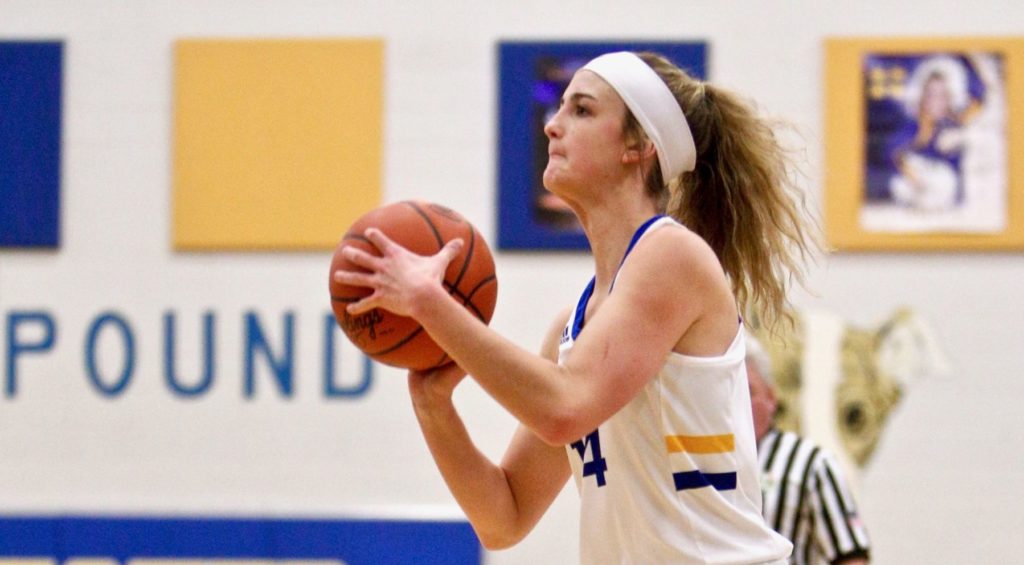 Brooke Kennedy | Manchester | Forward | Senior
While the Greyhounds' season was heavily influenced by COVID-19, when Kennedy had the chance to shine, she absolutely did so. The Thomas Moore commit averaged 16.8 points, 12.9 rebounds, 2.9 assists and 3.3 blocks per night. The 1,000 point scorer departs Manchester as one of the best to ever do it, leaving a massive hole to fill on the Greyhounds' roster.
Rylee Leonard | Eastern Brown | Guard | Sophomore
Primetime. That should be Rylee Leonard's nickname. She's not one of the best sophomores in the area, she's one of the best in the state. Leonard absolutely lit up the local basketball scene … again … leading the Warriors to an outright SHAC crown and a second consecutive district title. Leonard averaged 20.4 points per game — a 4.4 increase compared to her freshman season. Look for that number, as well as her others, to increase as she matures on the court.
Kenzie McConnell | Circleville | Center | Senior
To describe McConnell's career at Circleville, you'd have to look up each great Tiger that ever left their paw print. And when it's all said and done, McConnell still may top them all. She ends her career as the school's all-time leading scorer with 1,572 points and adds a district title and a regional final appearance during her tenure as well. Big things are on the horizon in Ashland.
Livi Shonkwiler | Minford | Guard | Senior
Pound for pound, there may not be a player in Southern Ohio that's tougher than Livi Shonkwiler. While the Falcons, as a whole, had a bit of a down year, Shonkwiler continued to show why she's an area household name. She scored in a variety of ways, kept Minford in most ballgames — single-handedly at times — and did nothing to discredit her resume in the least bit.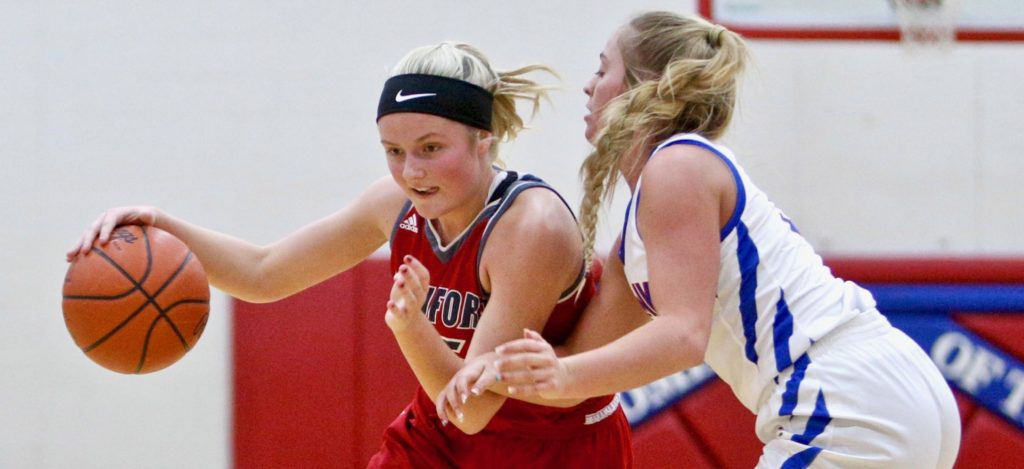 Jadyn Smith | Adena | Guard | Junior
The Warriors enjoyed one of their best years in recent memory and Smith was the engineer behind that success. The junior commanded Adena's offense at every turn and continually hit shots when her teammates needed it the most. She ended the year averaging 9.8 points, 4.2 rebounds, 2.3 assists and 1.7 steals each night. She'll be a top senior to watch next winter.
Olivia Smith | Paint Valley | Forward | Junior
Smith rewrote the history books this season time and time again. She broke Paint Valley's single-season rebound record before taking down the SVC's single-season rebounding record as well, passing Huntington's Terri Haines. Behind their star junior, the Bearcats won their first sectional title in 10 years. Smith finished with averages of 11.9 points and 15.8 rebounds.
Zoiee Smith | Waverly | Guard | Senior
When Smith was sidelined with an ankle injury late in the season, the Tigers' offense struggled. But when she made a return, Waverly did something it hadn't since 2000 — win a sectional title. The Rio Grande commit ends her career at Waverly as a 1,000 point scorer and as one of the best guards to ever come out of Pike County. She's the type of player coaches pray for.
Gracee Stewart | Miami Trace | Guard | Senior
When the Panthers needed a shot knocked down, Stewart was there to answer the call. The senior, coming off a knee injury, seemed to step up in the biggest of moments and dominate the limelight. Stewart was an all-conference and all-district selection, and made the most of her opportunities when given. The Panthers will have a hard time replacing her spot on the roster.
Haidyn Wamsley | Northwest | Forward | Senior
Throughout the past four years, Wamsley has worked hard to help the Mohawks revive their program. As a senior, she continued that trek. She brought an unmatched athleticism to the court while commanding the team's offense. The result was a 16-win year, as well as all-league and all-district nods. Her legacy is intact as the program looks to take the next step in 2021-22.
Bri Weller | McClain | Center | Senior
Grit. Tenacity. Weller had plenty of both and then some. The FAC Player of the Year helped the Tigers put away 15-plus wins and a sectional title. Weller averaged 14.2 points per game and led the team in rebounding as well. She was an almost sure double-double and was uber-efficient near the basket. Her POY award follows her FAC Golfer of the Year nod this past fall.
Honorable Mention Selections
Abbi Stanforth, Paint Valley; Bailey Vulgamore, Piketon; Avery Miller, Unioto; Marissa Mullins, Westfall; Lauren Lane, Zane Trace; Kasey Kimbler, Green; Shelby Easter, New Boston; Ellie Kallner, Wheelersburg; Eden Cline, West; Ava Jenkins, Northwest; Faith Maloney, South Webster; Olivia Clarkson, Oak Hill; Abby Cochenour, Eastern; Jacey Harding, Chillicothe; Emily Semler, Washington; Gracie Dean, Hillsboro; Mattie Walburn, Jackson; Emma Stegbauer, McClain; Kyla Burchett, McClain; Wylie Shipley, North Adams; Azyiah Williams, Ripley; Lilly Gray, Peebles; Ella Newkirk, Fairfield; Marisa Malone, Fairfield Union; Riley Schultz, Logan Elm