Derrick Webb, Staff Writer
CHILLICOTHE — "It's all I've wanted to do since I was a freshman. That's always been the goal."
A state tournament appearance has always been on Kyle Sexton's mind. He's made that abundantly clear.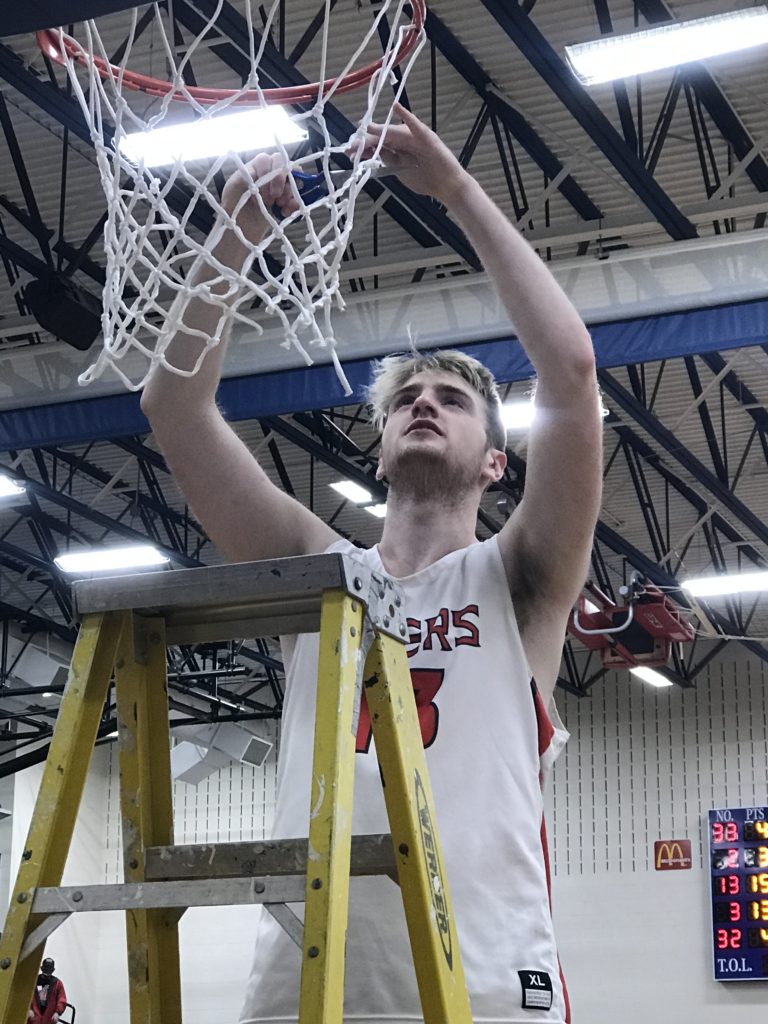 So when the clock hit triple zeroes on Saturday after a 44-39 win over Berlin Hiland in a Division IV regional final, you can imagine what ran through Sexton's head.
"It's just such a huge win for our program and for our village," Sexton said, sitting next to teammate Tanner Voiers while sporting an ear-to-ear smile. "We've been going to Glenwood games since we were in fifth or sixth grade. We've watched [the team] get blown out by thirty. We knew we were going to do something special when we got the chance. We finally did. It feels insane."
Saturday's five-point win avenged a 43-point loss to Hiland just two years ago at this very juncture.
That winter, the Tigers had claimed their first district championship trophy since 1960 before falling in the regional final.
Then, last season, they suffered heartbreak at the hands of Trimble in a district semifinal.
That path led to Saturday, where the Tigers finally made it to where they can put both losses in the rear view mirror.
It's not whether you get knocked down. It's if you get back up. New Boston is now standing tall.
"I knew we had to break some records, bring some more pride to the village," Sexton said. "Our fans and our community deserve this."
Sexton also took an individual chunk of school history with him when he scored his 15th point of the evening. The senior's final bucket allowed him to break the school's all-time scoring record at 1,707 career points — passing 19991 graduate Todd Loper.
"I knew what it was coming into my freshman year. I had to sit out six games, [New Boston] coach [Adam Cox] told me he wanted to do it, lead us and lead us to wins," Sexton said. "It's crazy. I never thought I'd be able to get it. It's a great feeling to get it and be a regional champ all in one night."
Hiland (14-8) got off to a fast start, turning an 8-6 lead into a 12-9 edge heading into the second quarter.
But New Boston continued to absorb punches before throwing haymakers of their own. With 3:53 left in the first half, the Tigers took their first lead at 18-17 before extending it to 26-21 at the break.
After eight lead changes in the first half, there wasn't another throughout the rest of the game.
Voiers hit his third consecutive 3 early in the third for a 29-24 score before Hiland cut the lead to 31-27 with 3:22 left. The Hawks continued to chip away, tying the game at 35-35 going into the final eight minutes.
With six minutes remaining, Voiers again dialed long distance for a 38-35 tally before Brady Voiers logged back-to-back buckets for a 42-37 score. Hiland took a timeout with 1:08 remaining, trailing 42-39, but couldn't convert on the offensive end.
That opened the door for Tanner Voiers to find a wide open Chase Clark on an inbound play. Clark got an easy lay-up to fall and the Tigers punched their tickets to Dayton in the process.
"This is a dream come true. We've had this goal since the beginning of the season," Tanner Voiers said. "We know there's only one team that's done this. Right before we left, we said we wanted to put ourselves up there with them. They were looking lonely."
Sexton led the way with 15 points and 10 rebounds while Voiers added 13 points of his own, paced by four 3-point field goals. De'Von Jones had five points, Chase Clark had four points and 10 boards, Brady Voiers added four points and five rebounds, and Grady Jackson tallied three points and three assists.
New Boston now heads to a Division IV state semifinal at 2 p.m., Friday at the University of Dayton Arena. There, the Tigers will meet with Columbus Grove — a 50-48 winner over New Bremen on Saturday.
"The crazy thing about this group of kids is that they're not done yet," Cox said. "They're still hungry."