Derrick Webb, Staff Writer
PIKETON — Wheelersburg sophomore Kenny Sanderlin said it best after Friday's Division III district championship game against Eastern Brown.
"When you have five guys in double figures, that's extremely impressive."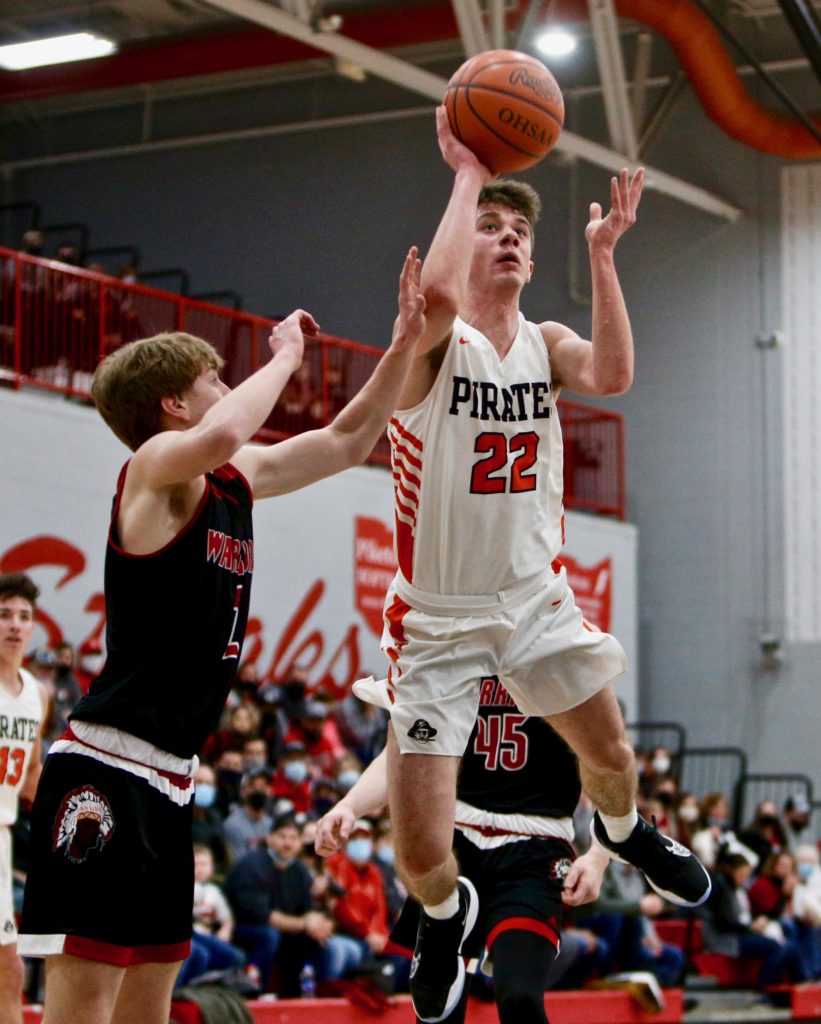 Sanderlin was indeed one of five Pirates to reach double-digit scoring figures in a 66-59 victory over the Warriors at Piketon High School — joining J.J. Truitt, Matthew Miller, Carter McCorkle and Eli Swords.
"When teams go to scout us, our balance makes it tough," Sanderlin said. "We're going to play a great team next week and that's the type of balance we're going to need."
Again, right on the money.
But before focusing on what's next, the Pirates (21-1) have the chance to savor the program's 21st district crown. It didn't come easy, although the first half seemed to be a breeze.
After trailing 40-20, Eastern Brown (23-2) clawed its way back into the ballgame and eventually cut the deficit to just two points.
"We knew that [Eastern] was a really good team and that they were really talented," McCorkle said. "We were harping on being physical all week in practice. [Eastern's] Colton [Vaughn] is a great player. So I was just making sure I was physical with him all game. I think that kind of wore him out and in the second half, I really got going."
From the jump, Truitt and Miller were in the zone.
Truitt started the night's scoring before Miller made it a 6-2 lead with 4:08 left in the first quarter, thanks to a three-point play. Truitt then hit a 3 with 1:35 left before Miller followed with a bucket to push the lead to 13-2.
Then, just before the end of the quarter, Swords dialed long distance for a 16-2 lead. Needless to say, Wheelersburg enjoyed just about as good of a start as a team could want.
The Pirates stayed hot in the second as Eastern finally awoke from its slumber.
---
---
Truitt hit another 3 with 7:30 to play before Eastern's Luke Garrett and Colton Vaughn led a 6-0 run to cut the deficit to 19-10. Sanderlin and Swords logged baskets for a 23-12 tally before Aaron Jolly scored to give 'Burg a 26-12 advantage.
With 4:27 to go, Swords hit a deep ball, followed by a put back from Sanderlin for a 31-15 score. That 16-point advantage stood at halftime, by a 34-18 margin.
"I think we just had to do a good job of cutting off their drives and limiting them to one shot," Sanderlin said. "Obviously, they're a long, tall team. So we had to hold them to one shot and boxing out was key. I thought we did a tremendous job with that. That's how we got that big league in the first half and that's what held them off late in the second half."
Truitt began the second half with a triple, pushing the lead to 37-18, before hitting again from deep to make it 40-20 with 7:08 left in the third. But that's when the Warriors had seen enough.
Vaughn teamed up with Trent Hundley, Ryan Boone and Ethan Daniels to lead Eastern on a 14-0 run to bring the deficit to six at 40-34 with 2:26 — which completely turned the tides of momentum and put Wheelersburg on its heels.
The Pirates, however, withstood the storm.
Sanderlin and McCorkle sank back-to-back shots for a 44-34 score before Truitt scored with 0.3 seconds left to put Wheelersburg on top 48-38 heading into the fourth.
The Warriors, not going away quietly, got buckets from Garrett and Vaughn at the 5:38 and 4:54 marks in the fourth, cutting the lead to 52-47. After McCorkle scored on the other end, Hundley hit a trey to bring the Warriors to within four at 54-50.
Later, with 2:44 remaining, Garrett drove to the rim and got a lay-in to fall, making it a 55-53 game. But with 2:06 left, Sanderlin hit a pair of free throws before McCorkle stretched the lead back to six, at 59-53, with a mid-range jumper.
Hundley hit another 3 with 1:03 left but Gage Adkins sank two free throws on the other end, pushing the lead back to five at 61-56. On the next possession, a 3-point attempt fell short and Wheelersburg entered crunch time at the charity stripe — where the Pirates put the game away down the stretch.
Truitt finished with team-high 20 points alongside four rebounds and three assists. Miller had 10 points, nine boards and four dimes, Swords totaled 10 points, four rebounds and four assists, Sanderlin finished with 10 points, and McCorkle had 10 points and a game-high 11 rebounds.
For Eastern, Hundley led the way with 20 points, four rebounds and three assists while Garrett finished with 16 points and five rebounds. Vaughn also helped out with 13 points and six rebounds while Boone ended with four points, seven rebounds and two assists.
Wheelersburg advances to play Worthington Christian in a Division III regional semifinal at 5:30 p.m., Wednesday at Southeastern High School.
Beating the Warriors is a tall task. But it's one that Wheelersburg will be prepared for.
"This is going to be the tallest task of our season up until this point," Sanderlin said. "We have to play a complete game, four quarters. We have to play our best game defensively and let our offense flow. That's what got us going tonight. If we can do that, I think we've got a great chance."
BOX SCORE 
Eastern Brown: 2-16-20-21 — 59
Wheelersburg: 16-18-14-18 — 66
Eastern Brown: 19-49 FG, 15-21 FT, 6-19 3pt., 27 rebounds (Boone 7), 10 turnovers, 6 assists (Hundley 3). Scoring: Hundley 20, Garrett 16, Vaughn 13, Boone 4, Daniels 4, Vargas 2.
Wheelersburg: 21-44 FG, 17-27 FT, 7-18 3pt., 37 rebounds (McCorkle 11), 17 turnovers, 13 assists (Miller 4, Swords 4). Scoring: Truitt 20, Miller 10, Sanderlin 10, McCorkle 10, Swords 10, Adkins 4, Jolly 2.