Derrick Webb, Staff Writer
FRANKFORT — Won, not done.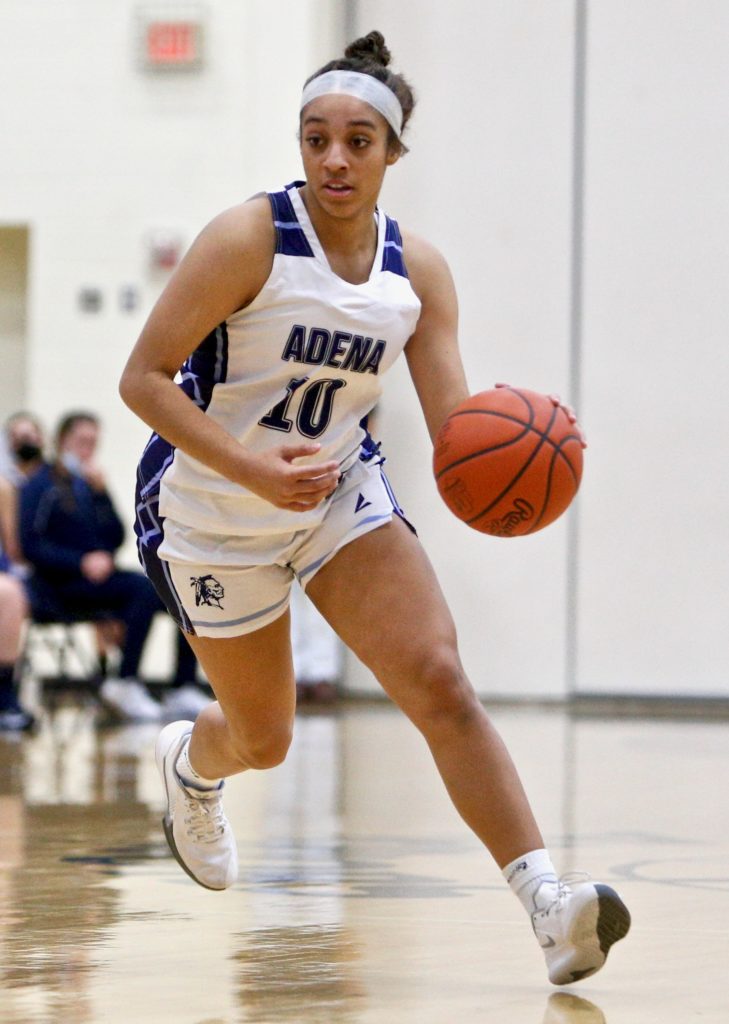 That's the motto that decorated Adena's conference title-clinching shirts just a week ago. That night, the Warriors clinched at least a share of the Scioto Valley Conference crown with a double overtime win over Huntington.
Fast forward nine days later and they've now taken care of another important piece of business while that same motto rings true.
With a hard-fought 40-33 win over Unioto on Monday, Adena (15-2, 11-0 SVC) captured the outright league title and is now seeing a potential Gold Ball show up on the horizon.
"We knew that [the Shermans] were going to come in, play really hard and play well," Adena coach Andrew Day said. "[Unioto] coach [Jeff] Miller is a fantastic coach and he does a tremendous job. I don't know that there's a team in our league that's improved as much as they have. So we knew this wasn't going to be easy. But I was really proud of our girls. We came off quarantine and it didn't look pretty at times, but we really fought and just kept grinding. We won out in the second half."
Per usual, Jadyn Smith played a huge role in the win.
Aside from leading the team in scoring, the junior guard made smart decisions with the basketball, beat defenders with dribble penetration and didn't back down from pressure.
"One thing that Jadyn did really well tonight was attacking the pressure," Day said of Smith. "They were really coming after us on the defensive end and she attacked that. That's what you have to do. It made life easier on everybody else and she was able to get some key buckets for us."
Karlee Renner gave Unioto (8-11, 6-7 SVC) the first lead of the night with a bucket at the 6:52 mark in the first quarter. Smith answered with 6:06 left before Renner hit a 3 to make it 5-2.
The Shermans took a 9-6 lead with 4:42 left in the first thanks to buckets from Carissa Wheeler and Sophie Coleman. But Adena countered with a 5-0 run, courtesy of Smith and Makaela Lovely, to take its first lead of the night at 11-9 with 3:45 to go.
Unioto then ended the quarter on a 5-2 run, thanks to buckets from Amaris Betts and Paris DeBord, to take a 14-13 edge into the second.
---
---
Both offenses cooled off throughout the next eight minutes while four lead changes took place.
Lovely hit a 3 with 3:54 to go, giving Adena an 18-16 lead, before Avery Miller tied the game with a tough-nosed bucket under the basket. Smith then hit one of two free throws before Renner drained her second triple at the 1:38 mark, putting Unioto up 21-19 at halftime.
After the break, Smith immediately nailed a 3 to put Adena ahead 22-21.
Chey Ater then scored, followed by a bucket from Miller to make it a 24-23 tally. But that's when the Warriors ripped off a quarter-ending 6-0 run, thanks to Smith and Kiera Williams, to create separation and take a 29-23 lead into the fourth.
The Shermans continued to fight, trimming the deficit back to three at 32-29, following a basket from Alexis Book. But with 1:42 remaining, Williams provided the dagger with a 3 from the top of the key to make it a 35-29 lead.
From there, Adena hit 5-of-8 free throws to put the win away.
"I think our identity is always going to be on the defensive end," Day said. "But I think what I saw tonight was, in the fourth quarter when things started to get chaotic, we didn't panic and didn't just start throwing the ball around. Kiera hit a huge shot from the top of the key, Emma had a nice dive that resulted in a bucket … It was an important win for us."
Unioto was led statistically by Miller, who finished with 12 points, five rebounds and two assists. Renner followed with eight points and Carissa Wheeler added four points and four rebounds.
Smith led the Warriors with 15 points, six rebounds and two assists while Williams added eight points. Garrison ended with six points, four boards and two assists, and Sydney Foglesong finished the night with a game-high 12 rebounds.
Adena, with the outright title in hand, now sets its focus on capturing a Gold Ball. If the Warriors can accomplish that feat, it'd mark the first such occurrence since the 2011-12 season. 
Standing in the way are three conference games against Zane Trace, Southeastern and Piketon. Up first is a matchup on Wednesday with the Pioneers.
"You talk about another team that has improved over the course of the season and that's Zane Trace," Day said. "We've got them next and we know they're going to come in, play hard and get after us. It was a really good game last time we played. We have to be ready to go."
BOX SCORE
Unioto: 14-7-2-10 — 33
Adena: 13-6-10-11 — 40
Unioto: 15-40 FG, 0-0 FT, 3-16 3pt., 20 rebounds (Miller 5), 18 turnovers, 4 assists (Miller 2). Scoring: Miller 10, Renner 8, Wheeler 4, Coleman 4, Betts 3, Book 2, DeBord 2.
Adena: 13-44 FG, 10-18 FT, 4-15 3pt., 29 rebounds (Foglesong 12), 21 turnovers, 12 assists (Garrison 3, Ater 3). Scoring: Smith 15, Williams 8, Garrison 6, Maka. Lovely 5, Foglesong 4, Ater 2.