Derrick Webb, Staff Writer
WHEELERSBURG — 43 straight.
If the regular season is indeed over for Wheelersburg, the Pirates end the year with a 43-game winning streak in the Southern Ohio Conference — a streak that includes three league crowns.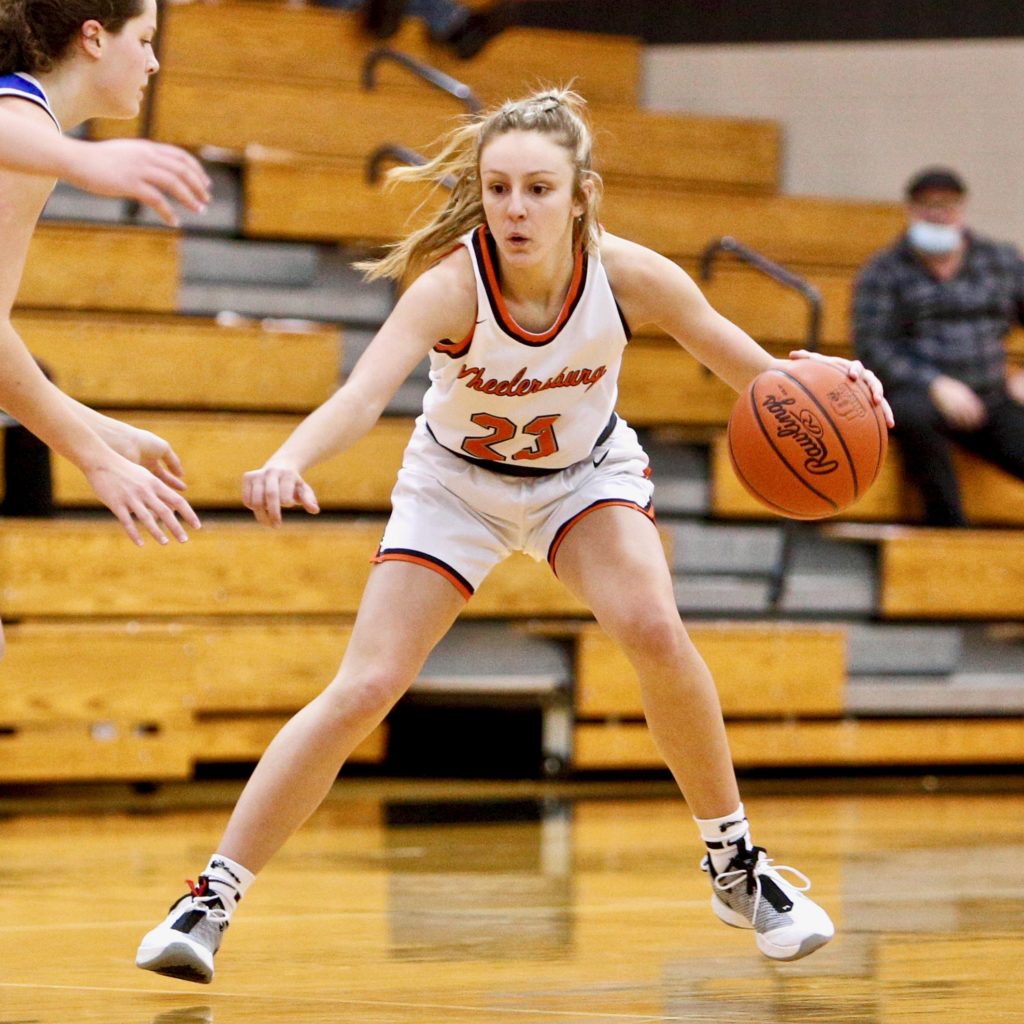 The last time Wheelersburg dropped a league tilt, this year's seniors were just beginning their sophomore seasons.
The Pirates (16-2, 15-0 SOC II) picked up No. 43 by a 57-48 final over Northwest on Saturday afternoon, a victory that was much closer than the final tally shows.
In fact, Wheelersburg saw a double-digit lead dwindle to three with less than three minutes to play. But down the stretch, the Pirates hit their foul shots and used their experience in tight games to place the win on ice.
"It really came down to who wanted it more. We took the mentality that we were going to go into the game, finish it and win it," senior Ellie Kallner said. "Defense was key. We had to stop the ball and go down to the offensive end and hit free throws. Makenna [Walker] hit some big ones and so did our other sophomore Lexie [Rucker]. It was just finishing the game and having that mentality."
Wheelersburg's defense forced 14 turnovers, guarded well on the perimeter and limited the Mohawks' second chance opportunities on the offensive end.
"It's just the little things. We have to focus on those," Kallner said. "Coach emphasizes not only defensive rebounds but offensive rebounds, and not letting them get offensive rebounds. They can't get second chances and that's a huge thing that we focus on."
Kallner and sophomore Makenna Walker led that charge. The duo combined for 12 of the team's 27 rebounds while Walker, alongside Rucker, put the game away from the charity stripe.
"Rebounding is a key detail. Everybody has to do it," Walker said. "It really starts with a team effort and energy. Once we get energy picked up, everything starts to flow."
As for the scoring, that responsibility landed on Kaylee Darnell's shoulders — the usual suspect.
The senior scored 11 points in the first quarter, pacing Wheelersburg to a 17-15 lead heading into the second. She basically matched Northwest (13-6, 9-5 SOC II) shot for shot and got some help from teammate Alaina Keeney along the way.
Darnell dialed long distance to begin the second, making it a 20-15 score, before Kallner scored to extend the lead to seven. Rucker then tallied her first bucket with 47.3 seconds left, putting the Pirates ahead 27-19, just before Northwest's Haidyn Wamsley scored for a 27-21 tally at halftime.
In the third, Walker, Keeney and Darnell led a 6-0 run to give Wheelersburg a 33-21 lead. Darnell later scored with 1:21 remaining, making it a 40-27 ballgame — the largest lead of the day.
But the Mohawks weren't going anywhere without a fight to the finish.
---
---
After entering the fourth quarter trailing 40-32, thanks to a 5-0 run courtesy of Wamsley and Valerie Copas, Northwest used a three-point play from Faith Jewett to trim the deficit to 44-39 with 5:37 remaining. 
Then, with 2:14 left, Copas scored to make it a 49-46 ballgame, forcing Wheelersburg to call a timeout.
But after regrouping, Wheelersburg's foul shooters were as cool as a cucumber, sinking 6-of-8 from the line in the final 80 seconds. Rucker, Walker and Darnell all tallied two each to put the finishing touches on a nine-point win.
"It's all mental. When you get up there in big moments like that, you just have to block everything out and be [focused]," Walker said. "That's what [Wheelersburg coach Dusty] Spradling really focuses on."
Statistically, the Mohawks were led by Copas with 12 points and five rebounds while Wamsley added 11 points, seven rebounds and two assists. Jenkins also helped out with 10 points and Kloe Montgomery ended the day with six points and seven rebounds.
Darnell led all scorers with 24 points alongside five rebounds while Keeney added 10 points. Walker finished with seven points and five rebounds and Rucker had eight points. Kallner scored two points and led the team on the glass with seven boards.
Unless there's a late add, both teams will now look towards the beginning of their tournament runs. Northwest will be in action on Saturday, hosting Minford in a Division III sectional semifinal. Meanwhile, the Pirates will await the winner of West and Southeastern on Feb. 17.
Wheelersburg earned the top seed in Division III and can win a sectional title with a victory.
"We just have to keep the energy up every game and have that mentality that everyone is going to give it their best shot," Kallner said. "We can't give up anything in stretches. We have to push the ball every single possession."
BOX SCORE
Northwest: 15-6-11-16 — 48
Wheelersburg: 17-10-13-17 — 57
Northwest: 20-49 FG, 7-10 FT, 1-9 3pt., 27 rebounds (Wamsley 7, Montgomery 7), 14 turnovers, 7 assists (Wamsley 2, Copas 2). Scoring: Copas 12, Wamsley 11, Jenkins 10, Lewis 6, Montgomery 6, Jewett 3.
Wheelersburg: 20-48 FG, 14-27 FT, 3-14 3pt., 27 rebounds (Kallner 7), 8 turnovers, 6 assists (Rucker 2). Scoring: Darnell 24, Keeney 10, Rucker 8, Walker 7, Whittaker 4, Kallner 4.