Derrick Webb, Staff Writer
MINFORD — If you went to Minford on Saturday hoping for a tournament preview, you got your money's worth.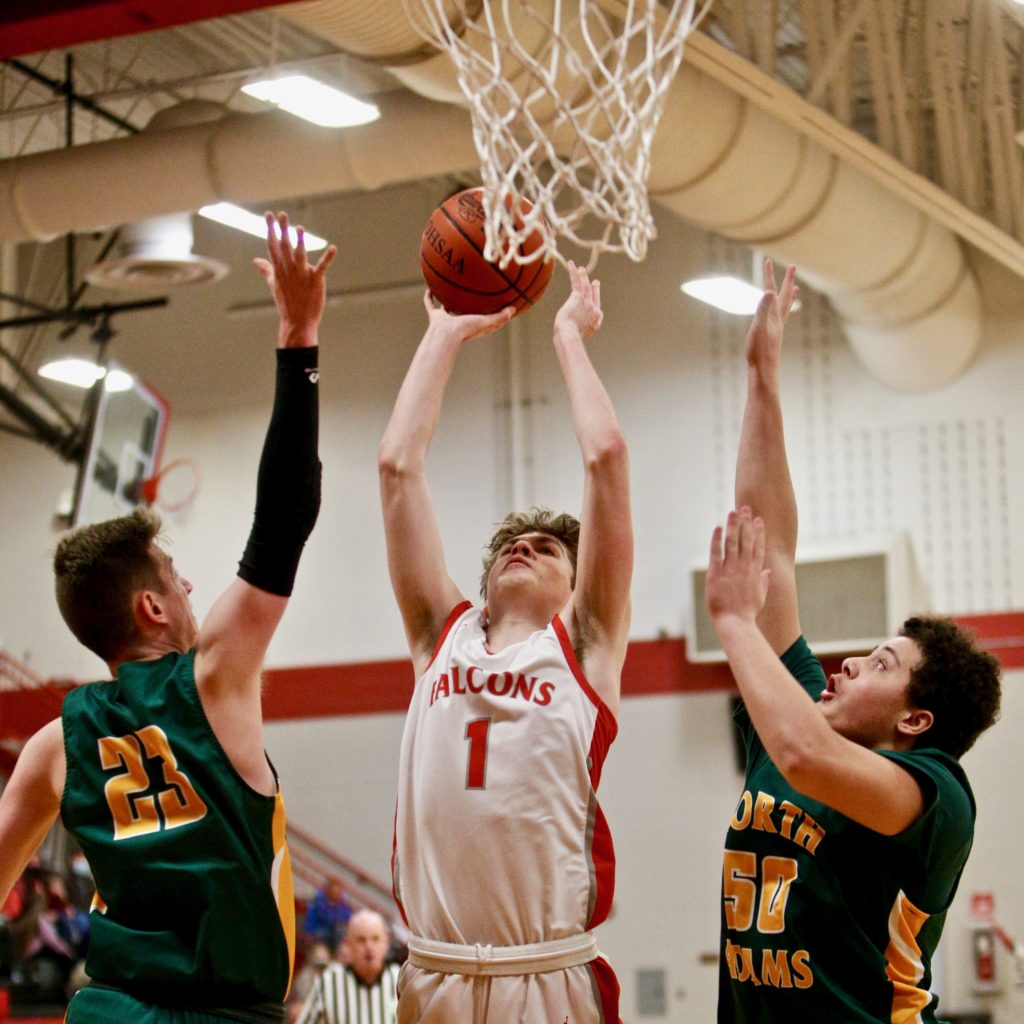 The Falcons and Green Devils needed an extra eight minutes to decide a winner after North Adams' Seth Meade sent the game into the first overtime with a 3-point heave at the buzzer.
But Meade's game-tying heroics was all for naught in the end. Put simply, Trenton Zimmerman and Elijah Vogelsong were too much for the Green Devils to handle. That duo led the Falcons (10-8) to an emotional 59-57 win in double overtime — a resume win for Minford.
"We celebrated, dumped water all over Zim … it was the best and worst game I've ever been a part of," Minford coach Josh Shoemaker said, with a smile. "Both teams made some great plays and both teams made some bonehead plays. But our guys didn't quit. We had some really bad turnovers, some missed free throws … but we finished. I'm proud of them. Adversity hit us and we could've easily tucked our tails. But we didn't. We got a great win today."
Vogelsong was a huge reason why.
While Zimmerman gave the Devils (10-6) fits inside, Vogeslong worked his magic on the perimeter. He routinely found open teammates, sparked transition buckets and knocked down shots in critical moments.
His leadership abilities were on full display for the entire 40-minute time frame.
"Elijah is going to set the tone where we're going to come to work every day," Shoemaker said. "He expects to win. There wasn't a second in this game where he thought he was going to lose. That's how he plays. He doesn't care to take the last shot, he doesn't care if it's a turnover or missed shot, whatever it is, he plays to win every second and holds his teammates to that standard."
Matthew Risner gave the Falcons a 5-0 lead in the first 30 seconds before Skyler Knore and Adam Crank helped make it a 10-2 advantage with 4:50 left in the first quarter. Knore then scored with 3:55 and 1:11 left, pushing the lead to 16-4 — the Falcons led 16-6 after one.
More of the same took place in the second as Minford seized advantages of 21-9 and 25-15 before taking a 28-17 edge into halftime.
Then, in the third, the Devils started to pick up momentum.
---
---
Behind Jayden Hesler, Bransyn Copas and Cade Meade, North Adams cut the deficit to 28-26 with 4:49 left, prompting the Falcons to take a timeout. Minford responded with a 6-0 run, via Zimmerman, before taking a 34-28 edge into the fourth.
With 5:25 left in regulation, Vogelsong hit a 3 before repeating that process at 4:30, putting Minford ahead 44-34. But that's when Cade Meade began to go to work in the post, powering North Adams on a 11-4 run and cutting the lead to 48-45 with 7.2 seconds left.
And then it was Seth Meade's turn to put the team on his back. As time dwindled, Copas dribbled to the top of the key and passed to Meade, who put up a game-tying shot. It hit nothing but nylon and North Adams was alive once again.
Seth Meade gave the Devils a 51-49 lead in overtime before North Adams took a 55-51 edge, thanks to Cade Meade and Caleb Rothwell. But Crank scored with 1:21 remaining before Risner tied the game at 55-55 with two free throws, sending the game into a second extra time frame.
Hesler put North Adams back in front with two free throws at the 1:25 mark in double OT but Zimmerman wasn't going to let his team drop a decision. The junior scored with 49.5 seconds left, forcing a 57-57 tie, before sinking two free throws with 2.6 seconds left to seal the win.
"We've got to take care of the basketball and rebound better," Shoemaker said. "North Adams did a great job of crashing and I just thought a lot of times, we didn't send five guys to the glass. We let it happen. And turnovers weren't for us. We have to get better in that regard. But we've just got to keep grinding. We've played a really tough schedule. You want to play your best basketball right now. So hopefully, we can build on this."
Zimmerman led the Falcons with 17 points and six rebounds while Vogelsong added 16 points, five boards and three assists. Knore also helped out with nine points while Risner had nine points and a pair of assists. Crank also chipped in, tallying six points and five rebounds.
Cade Meade led the Green Devils with 17 points and 23 rebounds while Hesler ended with 16 points, eight boards and two assists. Seth Meade ended the night with 10 points and Copas finished with eight points and four assists.
Minford now turns its attention towards a home date with Southeastern on Monday while North Adams looks to Tuesday, when it travels to Whiteoak for a SHAC matchup.
Both teams will learn of their postseason fates on Sunday. Shoemaker says he believes his Falcons are a No. 8 or 9 seed … and could potentially matchup with North Adams again.
"We've got a tough week ahead with games against Southeastern and New Boston, and we could very well match up with North Adams again. But we're probably going to play on the road for a sectional championship and it's going to be a great ballgame," Shoemaker said. "We look forward to it."
BOX SCORE
North Adams: 6-11-11-20 (7-2) — 57
Minford: 16-12-6-14 (7-4) — 59
North Adams: 21-64 FG, 12-17 FT, 3-19 3pt., 40 rebounds (C. Meade 23), 12 turnovers, 9 assists (Copas 4). Scoring: C. Meade 17, Hesler 16, S. Meade 10, Copas 8, Rothwell 6.
Minford: 19-46 FG, 14-20 FT, 7-23 3pt., 26 rebounds (Zimmerman 6), 14 turnovers, 10 assists (Vogelsong 3). Scoring: Zimmerman 17, Vogelsong 16, Knore 9, Risner 9, Crank 6, Parker 2.