Brock Netter, Staff Writer
JACKSON — For much of the season, Chillicothe has been on the wrong side of close games.
Saturday was its chance to change its fortunes, and it didn't waste the opportunity.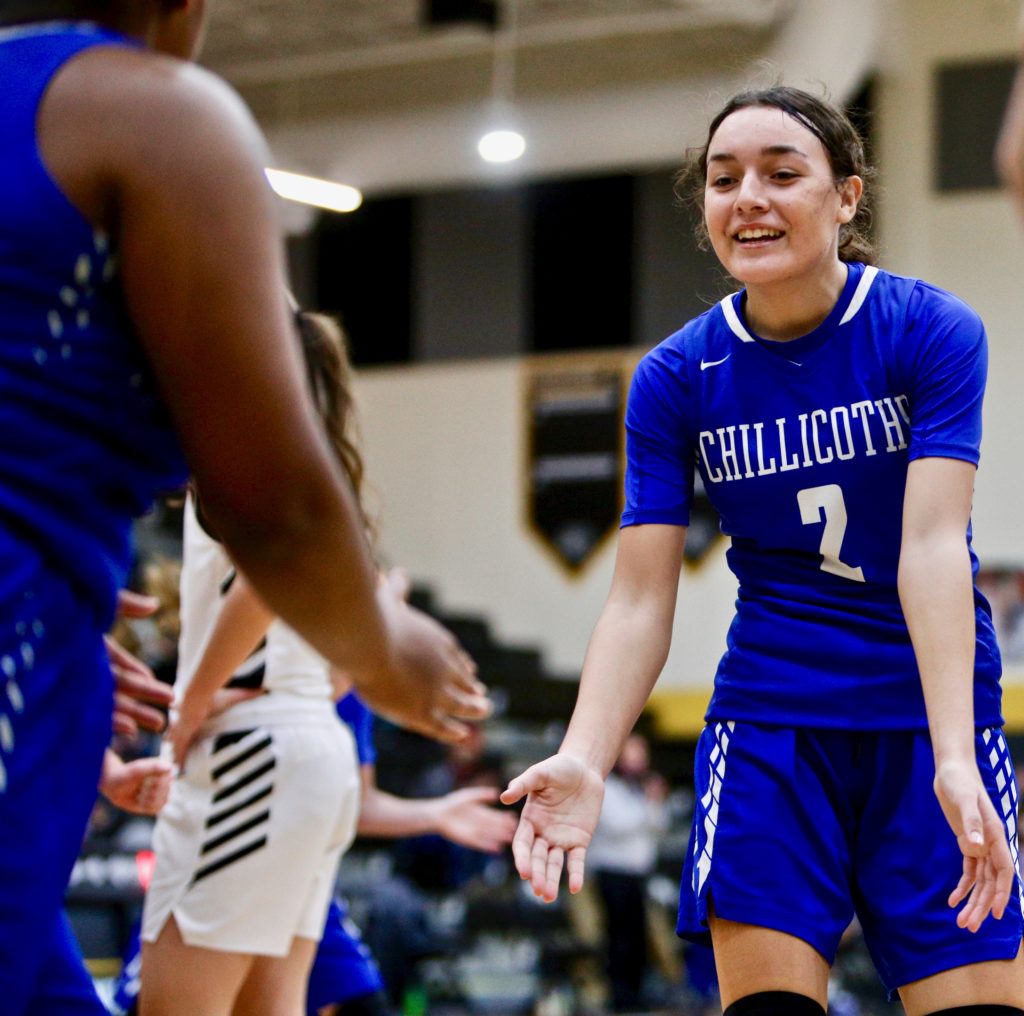 The Cavaliers (4-11, 1-8 FAC) converted 8-of-13 free throws in the fourth quarter, allowing themselves to escape with a 52-48 victory in FAC action on Saturday.
"We've had fourth quarter leads in six of our losses this season, so to finally put one in the win column is a big deal for us," Chillicothe coach Anthony Gordon said. "This makes back-to-back wins, and we still have some games left that we can compete in. Hopefully we keep this momentum going and finish out strong."
Jacey Harding set the pace all night for the Cavaliers with her dribble penetration and quick decision making. Her ability to get to the rim led to some easy buckets, but also trips to the free throw line where she converted 8-of-10 for the night, finishing with 18 points and five rebounds.
With Jackson's defense collapsing on Harding all night, it opened up the floor for Avery Erslan to take shots in rhythm. She was timely with her shot selection, connecting on three 3's and finishing with 15 points.
"Over the past five games or so, Avery has really been on fire," Gordon said. "She's had double figures in scoring and she's making open shots, which is something we struggled to do early in the season. And Jacey is putting four quarters together and playing consistent basketball. Not just offensively, but defensively as well."
Jackson (10-11, 5-5 FAC) had trouble with Chillicothe's Emma Barnes to start the game. Her energy and physicality earned her four points and four rebounds.
But Chillicothe didn't contain Jackson's Sydney Hughes on the outside as she buried a pair of 3's to help the Ironladies jump out to an 11-9 lead.
Realizing they were could be more aggressive, the Cavaliers began attacking inside through Harding and Paige Huggins.
Leading 15-13, following a bucket from Caroline Corcoran, Harding converted a pair of buckets, while Huggins earned some tough points with rebounds and put backs. But Huggins also showed unselfishness with a pair of assists in the frame as well.
In total, the Cavaliers outscored Jackson 14-7 and led 23-18 at halftime.
Keeping the momentum, Chillicothe opened the third with an 8-2 run, capped by a 3-point play from Harding for the biggest lead of the game at 31-20.
"Those first few minutes of the third quarter have given us problems. Too many times we'd go to the locker room and come out flat to start the third," Gordon said. "Part of that is on me as well to help them have that energy. But the girls came out strong, stayed aggressive and decided to bring the fight. They wanted this win."
However, Jackson had a counter punch ready. Mattie Walburn, Katelyn Webb and Kenzie Davis combined for a 7-0 run, bringing the lead to 31-27.
Then T.J. Carpenter hit back-to-back shots before Lauren Elliott buried a triple at the buzzer to complete a 15-4 run and tie the game at 35-35 heading into the fourth.
Although the tide turned in Jackson's favor, Chillicothe took back immediate control with a 7-0 run, capped by a 3-ball from Erslan for a 42-35 lead.
The Ironladies continued to battle back behind Carpenter and Walburn to cut the lead to 48-45, but were forced to foul. Harding and Emma Fromm sank 4-of-6 free throws, which was just enough to help the Cavaliers cross the finish line with the win.
"We've been playing better, but just haven't gotten the wins to show for it until now," Gordon said. "The biggest thing for us was making shots inside of four feet. The last time we played Jackson, we shot 4-of-36 inside the paint and we capitalized much better this time. We still gave up some second chance points, but we rebounded much better and hit our free throws."
After Harding and Erslan's efforts, Barnes finished with eight points and six rebounds for Chillicothe.
For Jackson, Mattie Walburn finished with 13 points, nine rebounds and four assists, while T.J. Carpenter added 10 points and four rebounds.
Chillicothe returns to action on Monday at home against New Hope Christian Academy, while Jackson hosts Alexander to end its regular season on Thursday.
BOX SCORE
Chillicothe: 9-14-12-17 — 52
Jackson: 11-7-17-13 — 48
Chillicothe: 17-36 FG, 15-25 FT, 3-9 3pt., 26 rebounds (Barnes 6), 16 turnovers, 10 assists (Harding 3). Scoring: Harding 18, Erslan 15, Barnes 8, Huggins 5, Fromm 4, Corcoran 2.
Jackson: 18-54 FG, 5-7 FT, 7-15 3pt., 27 rebounds (Walburn 9), 13 turnovers, 9 assists (Walburn 4). Scoring: Walburn 13, Carpenter 10, Webb 9, Hughes 6, Davis 5, Elliott 5.