Derrick Webb, Staff Writer
WHEELERSBURG — Trey Robertson said it best after Friday's overtime thriller at Wheelersburg.
"There's just something about that bus ride."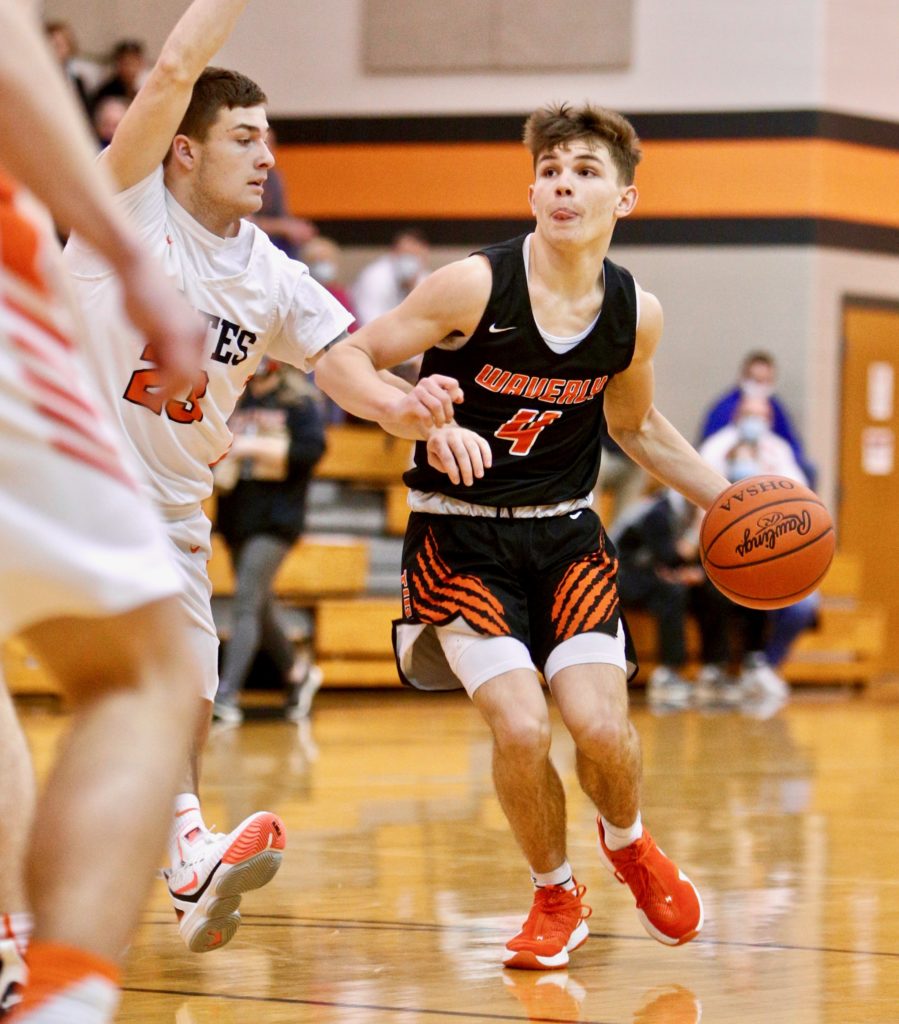 For the second straight year, Robertson led Waverly to an important victory in Pirate Country. And for the second straight year, he cooked the Pirates' defense on their home floor.
The junior scored 33 points alongside five rebounds and two assists in a 57-47 victory over the state-ranked, previously undefeated Pirates — one where the Tigers outscored Wheelersburg by a 14-4 margin in the extra four-minute time frame.
"This is when you want to be playing your best basketball," Waverly coach Travis Robertson said. "Going into the tournament, we talk about making it a goal for our guys to get better every time they step on the floor. I felt like tonight, we were able to get better. This is a big win for us."
Throughout the contest, the Tigers (13-3, 10-2 SOC II) relied on Robertson to knock down key shots. And time after time, he answered the bell.
But what else is new?
Robertson used a full repertoire of scoring options to attack the Pirates' defense, knocking down the outside shot, getting to the bucket and drawing fouls.
"Honestly, Trey hasn't shot the ball well from the perimeter this year. That's surprising with the points he's putting up," Travis Robertson said. "He's gotten a lot better at attacking the rim and putting pressure on the defense. We knew for us, moving forward into the tournament, that Trey is going to have to be really aggressive. He draws a lot of attention. If you don't give him that attention, he's going to burn you. And if you do give him it, the other guys are going to knock some shots down."
Zeke Brown was that "other guy" on Friday.
---
---
The senior gave Robertson a bonafide scoring partner, totaling 15 points. But he also teamed up with Will Futhey to grab a combined 23 rebounds — Wheelersburg had 29 as a team.
"Rebounding is always key for us and we want to get up and down," Travis Robertson said. "Really, we didn't get out and go as much. We tried to but they did a good job of getting back and making us play in front. But I was proud of our guys. We pulled through and made some plays in the half court that we needed."
Robertson scored the game's first five points, putting Waverly ahead 5-0 with 4:53 left in the first quarter. After Futhey scored his only bucket at the 2:28 mark, Robertson scored with 1:39 and 13.3 seconds left, giving the Tigers a 13-6 lead after one.
More of the same took place in the second. Robertson and Brown made it an 18-8 score with 5:35 to go before Mark Stulley added a score to make it a 20-10 count. The Pirates (15-1, 12-1 SOC II) cut the lead to 20-15 but Gage Wheeler hit a 3 to put Waverly ahead 23-15 at halftime.
"We've kind of hung our hats on the fact that nobody is going to outwork us," Robertson said. "It kind of left a sour taste in our mouths the first time we played [Wheelersburg] because I felt like they did outwork us. We came into halftime and were sitting in the same exact spot we were at our place. The difference was they outworked us in the second half that night. Tonight, we were able to take care of business."
Waverly's offense went cold in the third while Wheelersburg took its chance to get back into the ballgame. Led by Matthew Miller and Carter McCorkle, the Pirates managed to trim the lead to 28-27 heading to the fourth.
Then, with 6:43 remaining, J.J. Truitt knocked down a 3 to give Wheelersburg its first lead of the evening at 32-31. Robertson put Waverly back on top at 39-37 with a triple coming with 2:55 left. The Tigers then extended their lead to 43-39 with just over a minute to play.
But Truitt and Miller weren't ready to go home. The pair traded buckets to force a 43-43 tie and sent the game into overtime.
However, the Pirates' momentum had run its course. Phoenix Wolf put Waverly ahead 47-45 with 2:51 left before Brown hit two free throws to make it a four-point edge. From there, the Tigers hit their foul shots and limited Wheelersburg's offense to a single score, sealing the deal.
After Robertson's final stat line, Brown added 15 points and 11 rebounds while Futhey added 12 rebounds of his own alongside four assists. Gage Wheeler also chipped in, finishing with three points and six rebounds.
Wheelersburg was led by Miller and McCorkle, who each scored 15 points. Miller added eight rebounds and four assists and McCorkle totaled nine rebounds. Truitt also helped out, tallying nine points, seven rebounds and five assists.
The Tigers turn their attention towards Oak Hill, which they'll meet with on Saturday afternoon. Meanwhile, Wheelersburg goes to Eastern on Tuesday.
Both teams will then learn their tournament seeds on Sunday when the Southeast District releases this year's brackets. And, for Waverly, a top seed could be in order.
Robertson's group has several top-tier wins this year including victories over Jackson, Bishop Ready, Fairfield Union, West and yes, now Wheelersburg.
"We can always get better in every area. But if you go down the list and you look at the quality of wins, we may have one more loss than somebody, but our resume is a good one," Robertson said. "If you look at everything considered, it's going to be hard to beat what we've done this year. I feel like we are one of the top seeds and we should be considered for one."
BOX SCORE
Waverly: 13-10-5-15 (14) — 57
Wheelersburg: 6-9-12-16 (4) — 47
Waverly: 18-47 FG, 16-24 FT, 5-15 3pt., 36 rebounds (Futhey 12), 12 turnovers, 11 assists (Futhey 4). Scoring: Robertson 33, Brown 15, Wheeler 3, Futhey 2, Wolf 2, Stulley 2.
Wheelersburg: 20-55 FG, 4-7 FT, 3-16 3pt., 29 rebounds (McCorkle 9), 9 turnovers, 9 assists (Truitt 5). Scoring: Miller 15, McCorkle 15, Truitt 9, Sanderlin 6, Adkins 2.