Derrick Webb, Staff Writer
WASHINGTON C.H. — For nearly three weeks now, Miami Trace has had one thing on its mind … revenge.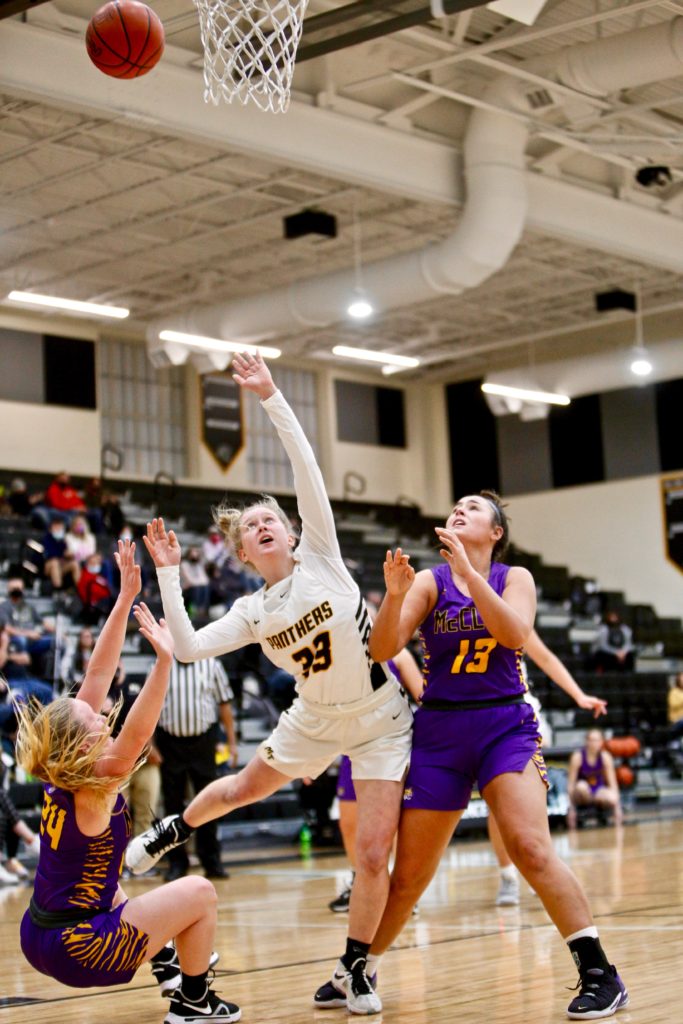 On Jan. 16, the Panthers lost a 41-40 heartbreaker to McClain in overtime in Greenfield, a game that helped shape the Frontier Athletic Conference title picture.
But knowing they still had a shot to reclaim sole possession of first place in the FAC, the Panthers have let the taste of that loss help salivate their hunger. And it paid off on Wednesday.
A balanced scoring effort, an all-around defensive showing and yes, a yearning for revenge, helped Miami Trace hand its rival a 37-31 loss — a victory that allows the Panthers to stand alone at the top of the conference standings.
"We wanted to limit McClain in transition and limit easy opportunities," Miami Trace coach Ben Ackley said. "We wanted to make them beat us over the top. We played a packed lineup and we've been playing that against other teams in preparation for tonight. Other than a few breakdowns, I thought our kids did a really solid job of making them take perimeter shots. They get downhill very well and they get to the foul line. We wanted to make them beat us over the top."
Ackley's game plan worked like a charm. The Panthers (12-5, 7-1 FAC) limited the Tigers to a 4-of-22 showing from beyond the 3-point arc and surrendered just 11 foul shots, a significant turnaround from the two's first matchup.
Meanwhile, on the other end, Miami Trace used patience to fuel their offensive rhythm.
That's a lesson they've been learning all year long against top-tier competition. The Panthers' five losses have been at the hands of Springfield Central Catholic, Eastern Brown, Fairfield Union, North Adams and McClain — four programs with a combined record of 68-14.
The lumps they've taken have proven to be beneficial. They were key to Wednesday's win.
"I think everyone knew that we had a team capable of doing this. We've proven, against the better teams we've played, that we're good enough to compete but not good enough to get over the top," Ackley said. "Tonight helped the kids get over that hump. This is a building block for us going into the tournament. Our non-league schedule won us this game tonight."
---
---
Gracee Stewart and Hillery Jacobs gave the Panthers a 4-0 lead with 4:31 to go in the first quarter. McClain (14-4, 6-2 FAC) then went on a 5-0 run, thanks to Emma Stegbauer, to take its first and only lead of the game at 5-4.
Emma Pitstick scored three straight points to put Miami Trace back on top before Delaney Eakins made it a 9-5 lead heading into the second.
Stewart and Eakins logged back-to-back baskets, extending the lead to 13-5 with 6:30 left in the second. Then, Stewart made it a double-digit lead at 15-5 with a lay-in at the 5:58 mark.
McClain, however, fought back.
The Tigers cut the deficit to 15-10, thanks to Payton Pryor and Kyla Burchett, before the Panthers took a 19-13 lead into halftime.
"I think we got out there and really played good defense," Eakins said. "We've been looking forward to this since the last time we played [McClain] and lost by one. We've just got to stay dialed in and keep playing as a team."
Out of the break, McClain's Jaelyn Pitzer nailed a 3 before Eakins and Pitstick logged back-to-back buckets for a 23-16 score. Eakins and Aleshire made it a 27-18 ballgame before Pitstick then gave the Panthers a 29-21 lead going into the third with two free throws.
In the fourth, Miami Trace continued to keep its distance.
Stegbauer dialed long distance at the 6:44 and 5:49 marks to cut the lead to 32-27. But Stewart and Pistick answered with a 5-0 run to put Miami Trace up 37-27 with just 2:49 to go. Stegbauer and Pitzer managed to cut the lead to six but it was too little, too late in a six-point loss.
Leading McClain statistically was Stegbauer, who finished with 12 points, four rebounds and two assists. Burchett followed with six points and Pitzer added five points.
For the Panthers, Stewart had 12 points, Eakins added eight points and five rebounds, Pitstick also tallied eight points and four boards, and Jacobs had five points and four rebounds. Magarah Bloom didn't score but posted team-highs of seven rebounds and three assists.
The Panthers, now just one win away from clinching at least a share of the conference title, will host Washington on Saturday. Meanwhile, the Tigers will attempt to bounce back the same day, hosting Hillsboro.
"We have to do a better job of executing and we've struggled all year coming out of the locker room," Ackley said. "Tonight, our first two possessions were turnovers. We're not getting into our sets and that's credit to Greenfield. But we've got to execute a little better and continue to grow as a team. We're just now, in my opinion, starting to gel. So we've got to get better every day."
BOX SCORE
McClain: 5-8-8-10 — 31
Miami Trace: 9-10-10-8 — 37
McClain: 10-42 FG, 7-11 FT, 4-22 3pt., 16 rebounds (Stegbauer 4), 8 turnovers, 5 assists (Stegbauer 2). Scoring: Stegbauer 12, Burchett 6, Pitzer 5, Pryor 4, Easter 2, Weller 2.
Miami Trace: 14-30 FG, 9-12 FT, 0-4 3pt., 26 rebounds (Bloom 7), 12 turnovers, 3 assists (Bloom 3). Scoring: Stewart 12, Eakins 8, Pitstick 8, Jacobs 5, Aleshire 2, Ferguson 2.