Brock Netter, Staff Writer
It was only a matter of time before it finally happened.
We've been waiting for a while, but it finally transpired this week … Snowmageddon.
It started on Saturday night. Then it wiped out nearly every single game on Monday and Tuesday. I love the snow as much as the next person, but when it forces games to be canceled, we have a problem.
But we got through it and still got to witness another wild week as many conference champions were mostly established. Also, girls basketball tournament pairings came out on Sunday, and the boys bracket will be unveiled this Sunday.
Get your popcorn ready, folks.
Here are this week's SOSA Power Rankings:
BOYS
1. Wheelersburg (15-0)
Previous ranking: 1 … —
Week by week, there's always something more to like about Wheelersburg. First, it was its returning leadership. Then it was its offensive balance. Next, it was its ability to perform in big games and win. Now, it's about the defense and the ability to lockdown. Ahead by seven against Jackson, the Pirates outscored the Ironmen by a 20-4 margin and blew the game wide open. The Pirates remain atop the rankings this week.
2. Eastern Brown (17-1)
Previous ranking: 2 … —
A rather easy week for the Warriors after dismantling Manchester by 54 points. No, that isn't a typo. They won by FIFTY-FOUR points. Too easy. Cake walk. Child's play. You get the picture. Line them up, and Eastern Brown will knock them down. Now the Warriors have non-conference matchups with Warren and Chillicothe before closing out their season.
3. New Boston (15-1)
Previous ranking: 3 … —
The SOC I is a forgone conclusion now, although I'm pretty sure most people knew that before the season actually started. There was room for optimism because of Ironton St. Joe, but that quickly went away. The No. 1 ranked team in Division IV is playing up to its ranking thus far. Now the Tigers have matchups with St. Joe, Notre Dame and Minford this week. Watch that Minford game. The Falcons can be sneaky.
4. Hillsboro (14-2)
Previous ranking: 4 … —
This Hillsboro team is very slowly growing on me. Adding it to a loaded Division II tournament with Waverly, Unioto, Logan Elm, Jackson and others is beautiful chaos. After beating Miami Trace on Friday, the Indians turned around the next night to knock off Western Brown, who previously handed Batavia its first loss. Hillsboro's stock continues to rise.
5. Adena (17-2)
Previous ranking: None … N/A
For the first time in 50 years, it looks as if the SVC will have back-to-back seasons of crowning co-champions. That's after Adena knocked off Unioto to force a tie atop the league mountain. That might just be the signature win the Warriors needed with only three games left on their schedule. Well done, gentlemen. It'll be interesting to see where the Warriors are seeded come Sunday.
ON THE RISE: Waverly (12-3), Unioto (13-4), Jackson (10-3)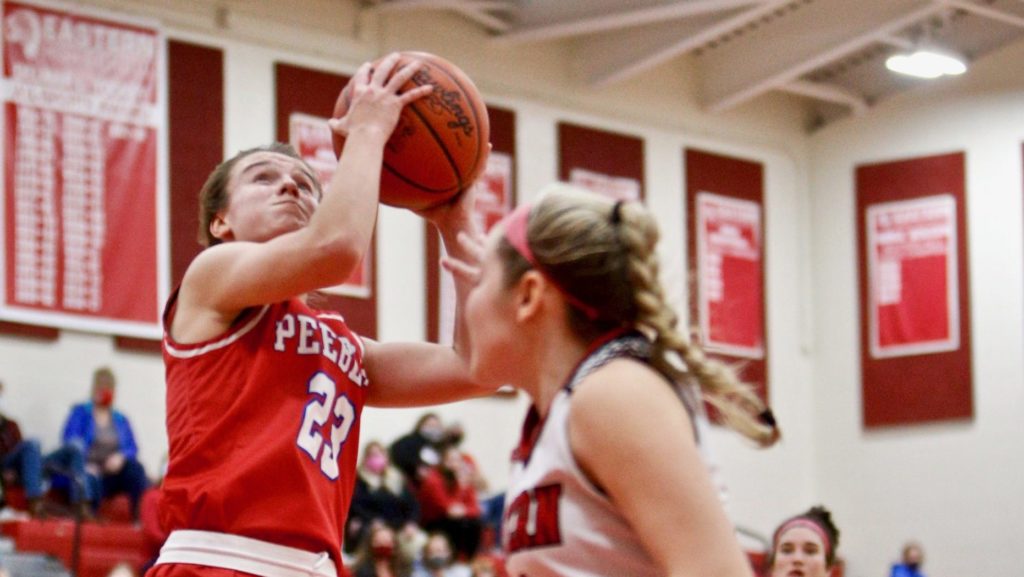 GIRLS
1. Peebles (12-1)
Previous ranking: 2 … +1
I didn't even know Peebles and Fairland were playing until I saw a halftime score from Fairland's Twitter page. I would've loved to have seen that matchup. Still, Peebles won a two-possession game and the Indians are our new top-ranked team this week. However, a lot can change as they host North Adams on Thursday before playing Fairfield again. Buckle up.
2. Wheelersburg (14-2)
Previous ranking: 1 … -1
I'm not faulting the Pirates for losing to Russell (Ky.) over the weekend. I respect the fact they played. I'm rewarding Peebles for a great win. Before the loss, the Pirates moved past Waverly to all but clinch the SOC II championship once again. And to think they were some questions about the Pirates after nearly losing to West two months ago. We should have known better.
3. Eastern Brown (18-2)
Previous ranking: 4 … +1
I spoke of beautiful chaos earlier, and that's exactly what the SHAC conference is. The chaos was turned up to 10 after the Warriors got their revenge and knocked off North Adams, quite possibly their statement win of the season. I'm guessing everyone saw the girls tournament seeding and I'm letting it be known that a third installment in the trilogy between Eastern and North Adams for a district championship would make my year.
4. Notre Dame (15-1)
Previous ranking: 5 … +1
What is the SOC I winning streak up to now for Notre Dame? Has it reached 100 yet? I know it's close but I've lost count. The dominance continues for the Titans, who earned the No. 1 seed in the tournament draw, and understandably so. They still have a game to play against Minford at some point and a huge matchup with Coal Grove. That will be a must-see.
5. North Adams (13-2)
Previous ranking: 3 … -2
The Green Devils hit a minor bump in the road, falling to Eastern Brown. Shots didn't fall and the Warriors' defense was too active in the second half. However, North Adams still has two top-tier games this week. Thursday at Peebles and Monday at home against Vinton County. If they win both, the Green Devils will be No. 1 next week, unquestionably.
ON THE RISE: McClain (14-3), Fairfield (13-4), Adena (14-2)