Tyler Hart, Contributor
CHILLICOTHE — The majority of Saturday's non-league game between Unioto and Miami Trace was a chess match.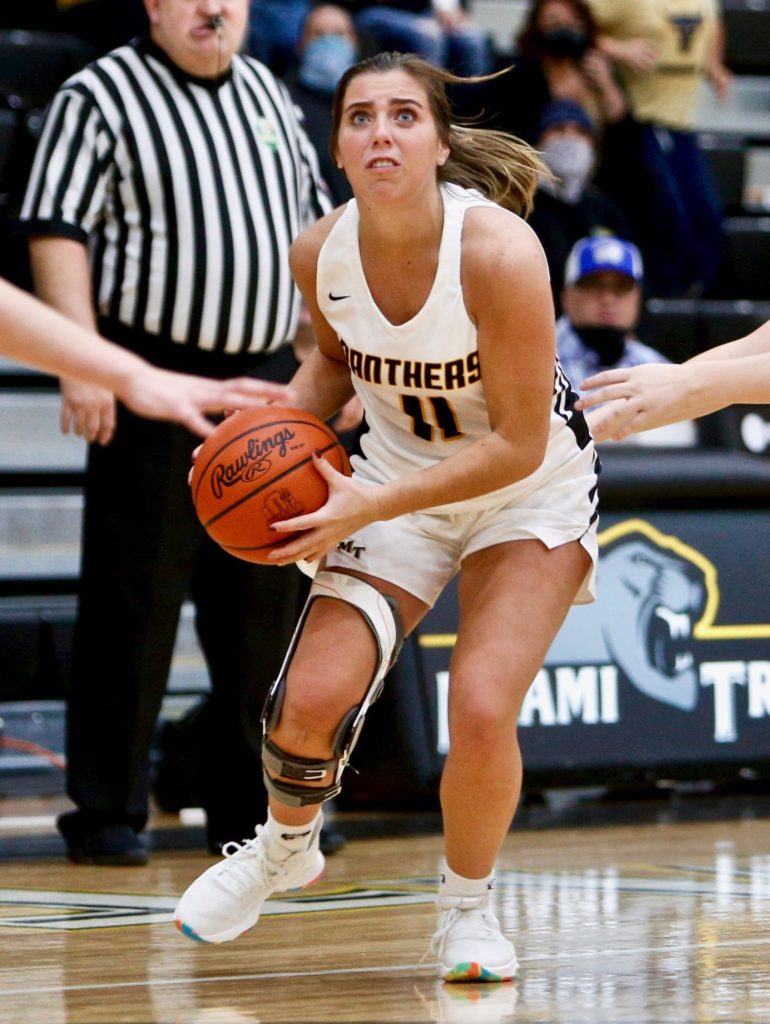 Both squads were capitalizing on any mislead possession, whether it was a steal leading to a quick transition score or cutting underneath the basket to keep their respective team's drive alive.
In the beginning, the Shermans attacked the basket heavily and were
capitalizing from earned second chance opportunities.
The battle between the two competitors kept an on-going trend of keeping the score to a one-possession game that left those in attendance thinking it would go down to the final whistle.
But in the end, it was Miami Trace (11-4) who faced adversity and earned a 57-44 road win over the Shermans.
"In the first half, our defense didn't come out strong," Miami Trace's Gracee Stewart said. "So at halftime, we kind of regrouped and I thought our defense was what led into our offense in the second half. Forcing turnovers and getting in transitions, and getting some easy shots ups. That led to some energy and momentum."
After Unioto took a timeout with 1:46 left in the first quarter, trailing 11-9, the Shermans went on a quarter-ending 6-0 run to take a 15-11 lead. Avery Miller was very much responsible for Unioto's fast start with seven points and two steals in the opening frame.
Both offenses began to click in the second before the Panthers eventually outscored Unioto (7-9) by an 18-17 margin.
Miller continued to have a defensive presence, grabbing a third and fourth steal in the closing minutes while Addison Mohan hit a contested 3 … which was Unioto's final triple of the day.
At halftime, Unioto had a 32-29 lead. But not for long.
In the third, the Panthers began displaying their brand of basketball. With Unioto leading 39-37 with 2:26 remaining, Miami Trace's Hillery Jacobs drained a closely-guarded 3 that gave the Panthers a 40-39 lead.
From that point forward, Miami Trace never relinquished its advantage.
Jacobs once again found herself scoring in the final seconds of the quarter, concluding a seven-point period, putting Miami Trace ahead 42-39.
Limiting the Shermans' second chance opportunities and flipping the turnover game was key in the fourth quarter for Miami Trace.
The Panthers were very talkative on the defensive end, helping put each other in position to disrupt a shot or intercept a pass.
Unioto was held to just one field goal in the final eight minutes, which came around the two-minute mark. The Shermans were 3-of-4 from the free throw line in the fourth, but that wasn't enough to keep up with MT.
The Panthers won the period by a 15-5 margin and the game by a 13-point spread.
"Letting them get offensive rebounds was what killed us in the first half," Stewart said. "They had multiple chances to score off of offensive rebounds. So we knew we had to box out and limit those second chances. Or that would've killed us in the second half, too."
Stewart led the Panthers with 14 points while Jacobs and Delaney Eakins each had 10 points. Emma Pitstick also helped out with seven points.
Unioto was paced by Miller's game-high 15 points. Mohan tallied eight points and Amaris Betts added seven of her own.
Miami Trace will be back in action this Wednesday, hosting McClain in a huge FAC tilt. Meanwhile, Unioto returns to the court on Tuesday, hosting Washington.
"Our goal for the league is to win it. We're tied for the league lead with Greenfield and they come to us on Wednesday," Stewart said. "That's our goal, though. We can't take anyone lightly. We have to go into every game like it's our last."
BOX SCORE
Miami Trace: 11-18-13-15 — 57
Unioto: 15-17-7-5 — 44
Miami Trace: 20-39 FG, 14-20 FT, 3-10 3pt.
Unioto: 16-48 FG, 8-12 FT, 4-25 3pt.