Brock Netter, Staff Writer
GREENFIELD — In the recent past, McClain has hung its hat on being a physical team that features a lockdown defense.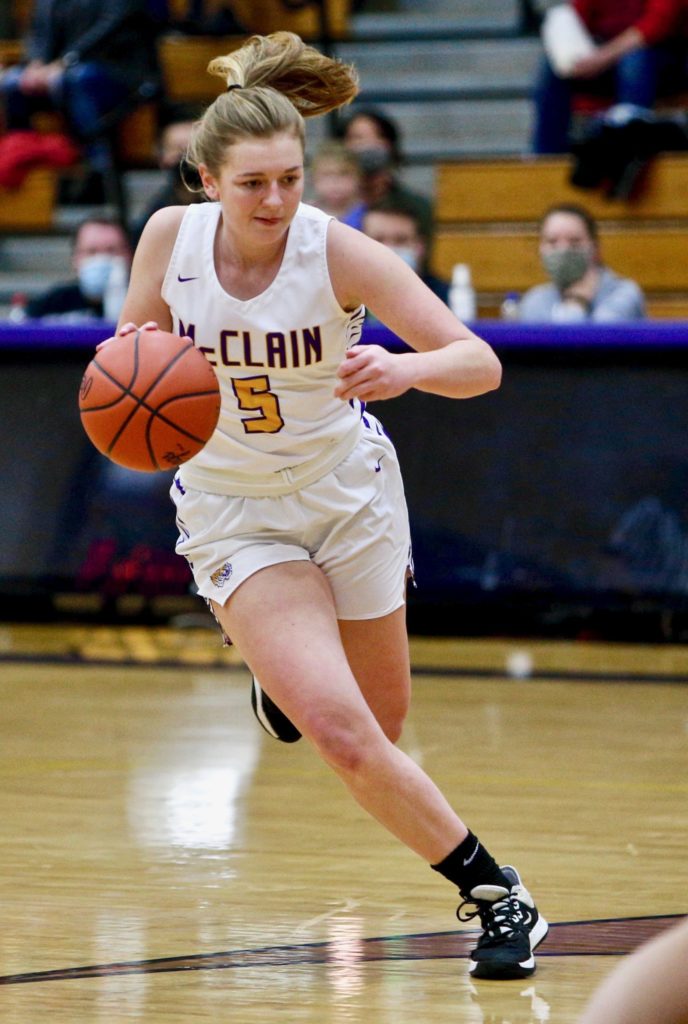 It took that reputation to another level on Saturday.
Leading by four at halftime, McClain completely shut out Waverly in the third quarter, holding the visiting Tigers scoreless for 10 minutes before sealing a 44-23 victory in non-conference action.
"It was a rough, and very physical game, but our second half adjustments is what got us this win," McClain coach Jarrod Haines said. "Waverly is a very athletic and active team on the glass, but I thought we controlled the rebounds. Payton [Pryor] and Bri [Weller] did a great job battling underneath and overall, this was a great team win."
McClain (14-3) never trailed in the game, and Kyla Burchett made sure of it. She opened the game with five points and eight of McClain's first 10 to put her team ahead 10-5.
Weller added a pair of buckets to help extend the lead to 15-9 after the first.
Waverly (13-5) generated some momentum and went on a 5-0 run, capped by a triple from Michaela Rhoads. But it couldn't get itself over the hump as Burchett buried her third 3, and another shot, scoring all 13 of her points in the first half and keeping McClain ahead 20-16 at halftime.
"There were times that we sat back and let Waverly dictate when we attacked their press defense," Haines said. "But Kyla hitting those shots early was what we needed. When she's on fire like that, it pushes us to another level. She was clicking on all cylinders, just like last Saturday and we need her to be like that."
Jaelyn Pitzer buried a triple to open the third, followed by buckets from Weller and Emma Stegbauer along with a put back from Pryor to cap a 9-0 run, extending the lead to 29-16.
Meanwhile, McClain's defense was opportunistic and quick to get into the passing lanes, which helped force six turnovers as it blanked Waverly in the third to maintain a double-digit lead and cruise to a win.
"When you give up just seven points in the second half, and just two points up until midway through the fourth, you have to be happy about that," Haines said. "The main thing was keeping them in front of us and not giving up second chances. Our defense played great, we hit our free throws, and we got players some extra minutes, which can be valuable with tournaments coming up. Super proud of the girls."
After Burchett's final statistics, Weller finished with 10 points and seven rebounds, followed by Pitzer with eight points.
Paige Carter and Kelli Stewart each finished with seven points for Waverly while Stewart collected seven rebounds.
McClain returns to action on Wednesday at Miami Trace with the FAC championship on the line while Waverly hosts Northwest in SOC II action on Monday.
"Anytime you go to Miami Trace, it's always tough," Haines said. "They're well-coached and well-balanced. They gave us all we could handle the first time, so we have a lot of work to do before Wednesday."
BOX SCORE
Waverly: 9-7-0-7 — 23
McClain: 15-5-9-15 — 44
Waverly: 9-38 FG, 4-13 FT, 1-6 3pt., 24 rebounds (Stewart 7), 22 turnovers, 4 assists. Scoring: Carter 7, Stewart 7, Rhoads 4, Thompson 4, Knight 1.  
McClain: 13-44 FG, 14-18 FT, 5-15 3pt., 33 rebounds (Pryor 16), 16 turnovers, 5 assists. Scoring: Burchett 13, Weller 10, Pitzer 8, Stegbauer 6, Easter 2, Pryor 2, McCoy 2.