Derrick Webb, Staff Writer
AMANDA — It is what it is.
That's the motto that Logan Elm has adopted this season because, well, when adversity hits, it is what it is. And if you've followed basketball this year, you know adversity has had its heyday.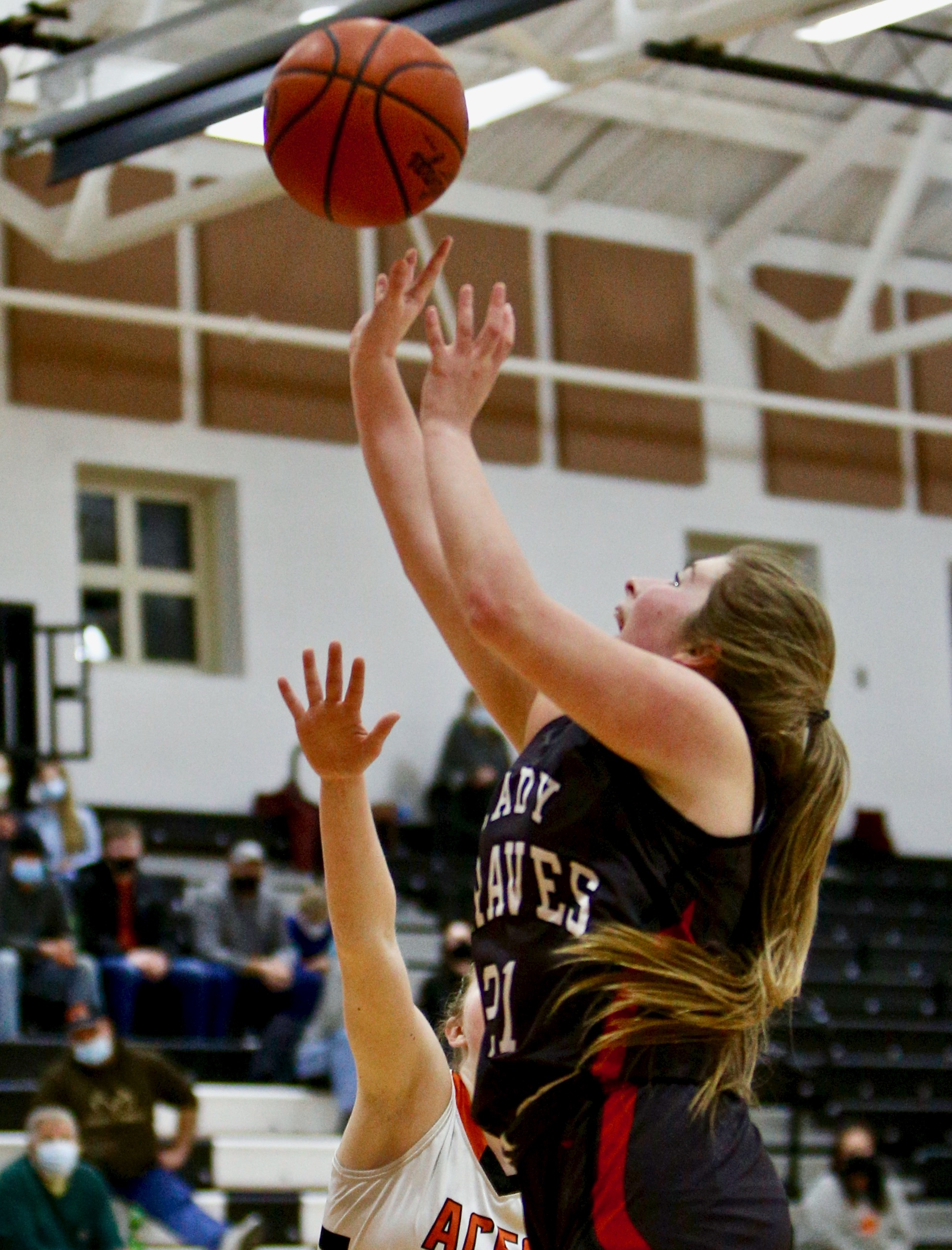 But the Braves have navigated through their ups and downs quite well — as was the case on Thursday in Mid-State League play at Amanda-Clearcreek.
Playing without two players who contribute regular minutes, Logan Elm (5-7, 4-6 MSL) earned a hard-fought victory over the Aces by a 38-34 final.
"It's so frustrating that, the other day that we played, we didn't have Anna Johnson or Josie Martin. So tonight, we're missing two other players. It's that type of year," Denen said. "Our saying is, 'It is what it is.' We have to play with the people we have here. I think, from our standpoint, we fought through the adversity of the game tonight. Our kids did a great job."
Riley Schultz led that charge.
The senior guard commanded the Braves' offense and finished with a team-high 10 points alongside three rebounds and three assists.
She was the engine that kept Logan Elm running.
"She's the captain of the team. She's one of the best captains that I've ever had," Denen said. "We depended on her a lot and switched her to the wing tonight to try and get her more shots. She's a tough kid. She's just an absolute pleasure to have. The kids look to Riley for a lot of reasons, on the floor and off the floor. They don't get much better than Riley Schultz."
Thursday's first quarter was rather uneventful.
Logan Elm took a 5-0 lead with 3:35 left, thanks to three free throws from Schultz and a bucket from Anna Johnson. Amanda (2-13, 1-9 MSL) finally got on the board at the 1:23 mark when Sara Sharp drilled a 3, producing the quarter's final tally.
But both offenses found a rhythm in the second.
---
---
Schultz made it a 7-3 lead with 6:54 to go before Amanda's Emily Buckley ended an 8-2 run with a triple, giving the Aces an 11-9 lead with 4:36 to play. Addie Pugh then put Amanda ahead 13-11 before Schultz tied the score at the 3:28 mark.
Amanda's Stephanie Bowers and Logan Elm's Josie Martin then traded triples before Carly Singleton nailed the final 3 of the quarter, putting the Aces up 19-16 at halftime.
Facing a small deficit, Logan Elm came out of the locker rooms with a vengeance.
The Braves, led by Schultz and Annie Karshner, opened the second half on a 7-0 run and seized a 25-19 edge with 3:47 left. By the end of the quarter, thanks to a jumper from Martin, Logan Elm held on to a 29-26 lead.
Karshner made it a 31-26 score with 7:42 left in the fourth before Martin scored again to make it 33-26 — the largest lead of the evening. Later, at the 3:03 and 2:51 marks, Johnson sank three of four free throws to keep the lead at seven, 36-29.
And over the final three minutes of play, the Braves' defense didn't surrender a field goal, sealing the deal.
"We did a good job, Riley Schultz did a good job of recognizing defenses and getting into our offense," Denen said. "Anytime you can get a win in this conference on the road it's a good thing. It's a tough conference to play in. You have to be ready to play every night."
Following Schultz statistically was Karshner, who scored eight points and collected four rebounds. Martin had seven points and four boards, Johnson tallied five points, seven rebounds and four assists, and Brynn Griffith ended with four points and seven boards.
Amanda was led by Buckley, who had 10 points, eight rebounds and two assists. Carly Singleton and Stephanie Bowers each had six points, Hailey Sowers added five points, and Grace Davis collected three points and eight rebounds.
The Braves are back in action on Saturday, hosting Washington, while Amanda attempts to bounce back on Tuesday at Liberty Union.
"Washington is similar to Amanda. They run some patterns but they don't have that great outside shooter like Amanda has," Denen said. "But we're going to have to play hard. We're beat up and we've got some sickness. Last Tuesday, we had some JV kids come up and play some big minutes for us. We may have to have some of that. We'll play with what we have."
BOX SCORE
Logan Elm: 5-13-11-9 — 38
Amanda: 3-16-7-8 — 34
Logan Elm: 15-48 FG, 6-15 FT, 2-10 3pt., 29 rebounds (Griffith 7, Johnson 7), 10 turnovers, 11 assists (Johnson 4). Scoring: Schultz 10, Karshner 8, Martin 7, Johnson 5, Griffith 4, Fultz 2, Williams 2.
Amanda: 10-47 FG, 8-12 FT, 6-21 3pt., 35 rebounds (Buckley 8, Davis 8), 14 turnovers, 7 assists (Buckley 2, Sowers 2). Scoring: Buckley 10, Singleton 6, Bowers 6, Sowers 5, Pugh 4, Davis 3.