Brock Netter, Staff Writer
GREENUP, Ky. — Whether in Ohio, or even across the river into Kentucky, the wins all translate the same.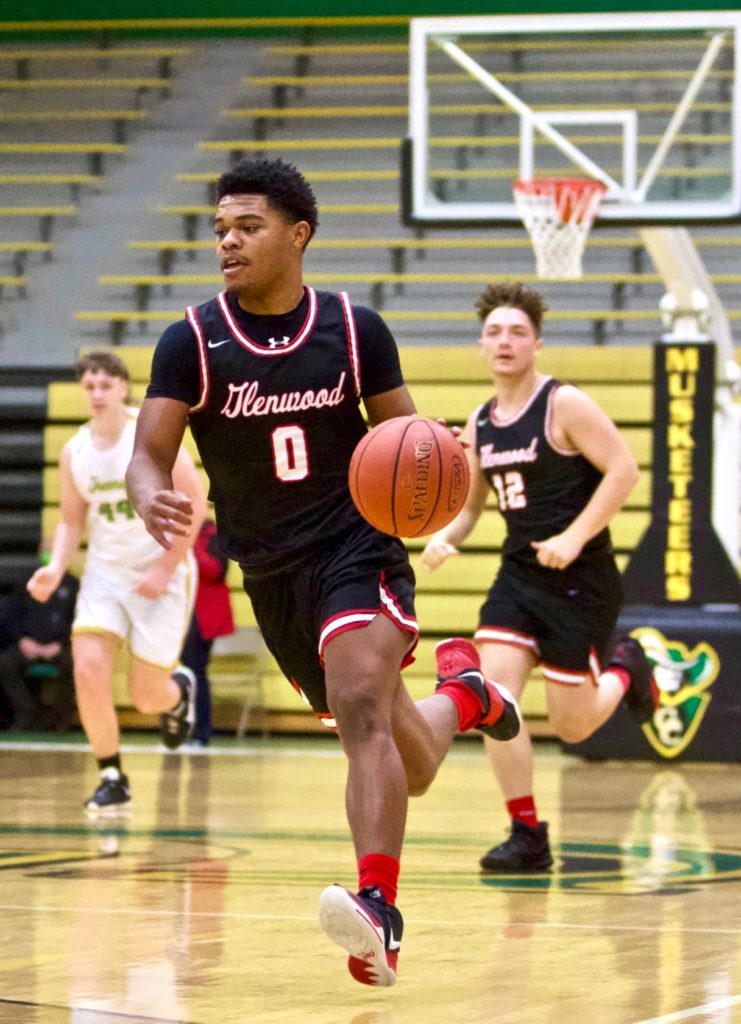 After having 11 days off, New Boston picked up a game and made a short trip across the border before returning home with a 75-64 victory over Greenup County on Wednesday.
"We played pretty well at times, and battled through some adversity," New Boston coach Adam Cox said. "This was a different challenge, and we're somewhat used to winning games by a larger margin and not having to play a full four quarters. But it was good for us to have this experience and handle ourselves in the fashion we did."
Playing in a different state also meant adapting to different rules and ways contests are called. But Tanner Voiers had no trouble at all.
The senior forward attacked early and struck often as he was nearly unstoppable throughout the evening, finishing with a game-high 29 points to lead the Tigers (14-1).
"We had guys in foul trouble all night long, so I knew I had to step up," Voiers said. "I thought I did a pretty good job, but all credit goes to my teammates for getting me the ball and trusting me to make plays when we needed it."
He received a lot of assistance as four Tigers logged double-digit scoring figures. But none were more critical than Grady Jackson.
After being off for 14 days due to quarantine, Jackson returned with a vengeance and brought an unmatched energy on the defensive end. Looking like he hadn't missed a beat, he turned defense into offense and finished with 15 points and four assists.
---
---
"Quarantine really took a lot out of me, but I was acting like I wasn't tired even though I was," Jackson said. "Brady [Voiers] has been starting with me being out, and he's done a great job. So I knew I had to bring a spark off the bench. I was able to get to my spots and get my teammates involved early before I started getting some buckets in the fourth."
Tanner Voiers started out by scoring or assisting on 10 of the Tigers' opening 14 points, setting the tone.
Devon Jones added a pair of buckets to the mix as the Tigers led 17-10 after the first quarter. The Tigers pushed the lead to 22-11, but then hit a bump in the road and surrendered an 11-0 run that tied the game.
However, they got the wheels back on the track and ended with an 11-4 spree to go up 33-26 at halftime.
Voiers opened the third by scoring seven straight points, which helped the Tigers push the lead to double digits at 44-31. Greenup wasn't going away quietly, led by Trent Hannah, as it cut the deficit to 46-39 heading to the fourth.
In the end, the Tigers' experience and talent was too much as Jackson and Voiers each scored 10 points in the fourth alongside six points from Kyle Sexton, outscoring Greenup and preserving the win.
"I thought we did a great job passing the ball, led by Kyle and Grady," Cox said. "They found guys cutting to the bucket for easy shots at the rim. Having 14 days off, it was good for us to knock some of the rust off before we get back into league play. Great team win."
After Voiers and Jackson, Kyle Sexton finished with 11 points, 11 rebounds and four assists, while Jones added 10 points and four steals.
New Boston returns to action on Friday in SOC I action at Western.
BOX SCORE
New Boston: 17-16-13-29 — 75
Greenup County: 10-16-13-25 — 64
New Boston: 28-63 FG, 13-19 FT, 6-16 3pt., 29 rebounds (Sexton 11), 8 turnovers, 13 assists (Sexton 4). Scoring: Tanner Voiers 29, Jackson 15, Sexton 11, Jones 10, Clark 8, Brady Voiers 2.