Brock Netter, Staff Writer
Well, the tables have finally turned this week.
After two weeks of sorting out the area's girls basketball scene, now it's time to embrace some chaos on the boys scene after a wild week.
And with just a few weeks before tournament play begins, every win is more critical than the last. Seeding is everything, especially since there are no neutral site games through at least the district semifinal round, and possibly through the district championships.
I already miss the Convocation Center, and it's only January.
OK, I've gotten slightly off topic. Here are this week's SOSA Power Rankings:
BOYS
1. Wheelersburg (14-0)
Previous ranking: 1 … —
Another week and yet the question remains the same: Is there anyone who can stop Wheelersburg? Now understand this, I'm not rooting for them to lose. It's just a general question that is asked when a team has been so dominant throughout a season. The Pirates ended West's eight-game winning streak, then put a beatdown on South Point. In other words, just another week for the Pirates.
2. Eastern Brown (16-1)
Previous ranking: 3 … +1
The Warriors move up a spot this week. If not for a one-point loss to Fairland, I'd be asking the same question about Eastern Brown that I did for Wheelersburg. After trouncing Ripley by 33, the Warriors survived a tough, hard-nosed North Adams team to remain unbeaten in SHAC play. The Warriors are good … really good.
3. New Boston (14-1)
Previous ranking: 4 … +1
The Tigers additionally moved up a spot, and did so in grand style with a victory over Greenup County on Wednesday. I know that every area and referees call games differently, but in Kentucky, they don't call anything. They just let the kids play, which is great at points. New Boston simply played, adapted and won, as winning teams should do.
4. Hillsboro (11-2)
Previous ranking: None … N/A
Who's behind curtain No. 4? It's Hillsboro, and I bet no one saw this coming. I remember watching the Indians push Unioto to the limit in a sectional semifinal last season. Well, they were possibly the biggest winners of the week, knocking off Jackson and Unioto on back-to-back nights, which is highly impressive. They just might have arrived.
5. Unioto (12-3)
Previous ranking: 2 … -3
I thought long and hard about this spot. But ultimately it came down to the fact that Unioto still holds a head-to-head victory over Adena, which still matters. But the Shermans drop three spots despite surviving against Piketon before falling to Hillsboro in non-conference action. Now it's Adena weekend. All three Unioto losses have been on the road this season. Who knows what will happen Saturday.
ON THE RISE: Adena (15-2), Waverly (9-3), Jackson (9-3)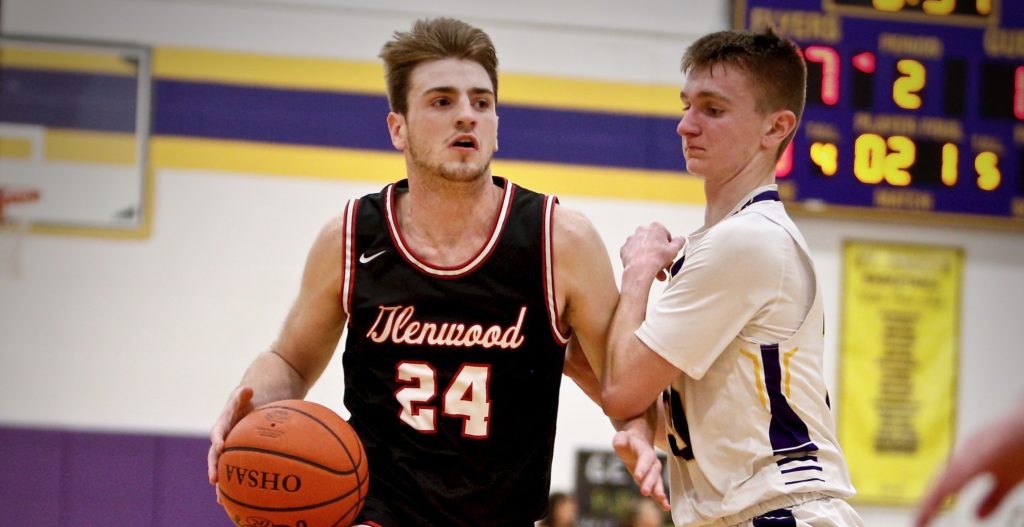 GIRLS
1. Wheelersburg (13-1)
Previous ranking: 1 … —
This team continues to impress week after week, which almost seems impossible to fathom. But a 15-point win over Northwest followed by a one-point win over D-I Mercy McAuley, and a win over Minford, is quite the five-day stretch.
2. Peebles (11-1)
Previous ranking: 2 … —
I'm just going to say this: I don't think there's a girl in the area with a quicker first step or more deadly jump shot than Jacey Justice. It's highly impressive to watch her play. Then you add in Lilly Gray under the basket and Payton Johnson, who is an impressive freshman, and it's a highly potent three-headed monster. Let's see how they handle Fairfield and North Adams this upcoming week.
3. North Adams (13-1)
Previous ranking: 3 … —
The Green Devils played four games in seven days, and went 4-0. That's flat-out impressive. This team deserves some state respect, and that fact that they haven't gotten it yet is ridiculous. They are on a roll, more than any other team aside from Wheelersburg's boys. Now they have Eastern Brown on Saturday and Peebles on Thursday. Get your popcorn ready.
4. Eastern Brown (17-2)
Previous ranking: 4 … —
Although the Warriors are No. 4, they're still the deepest team in the area. They'll throw 10-11 players at you and just wear you down. Look no further than this past week with victories over Ripley, Trotwood-Madison and Lynchburg-Clay. Now they have their chance at revenge against North Adams. Win and they're still in the race for the SHAC title.
5. Notre Dame (14-1)
Previous ranking: 5 … —
Nothing against the SOC I, but Notre Dame is just on another level and isn't going to be knocked off the mountaintop anytime soon. The Titans picked up a solid non-conference victory on Saturday over Oak Hill, notching win No. 14 on the season. If history repeats itself, they'll go undefeated the rest of the way since it's just SOC I teams left on the schedule. Although Minford could give them a scare.
ON THE RISE: Fairfield (13-4), McClain (13-3), Adena (13-2)