Derrick Webb, Staff Writer
SARDINIA — Any win is a good win. But when you put away victories like Wheelersburg did on Saturday, your tournament resume gets a quick boost.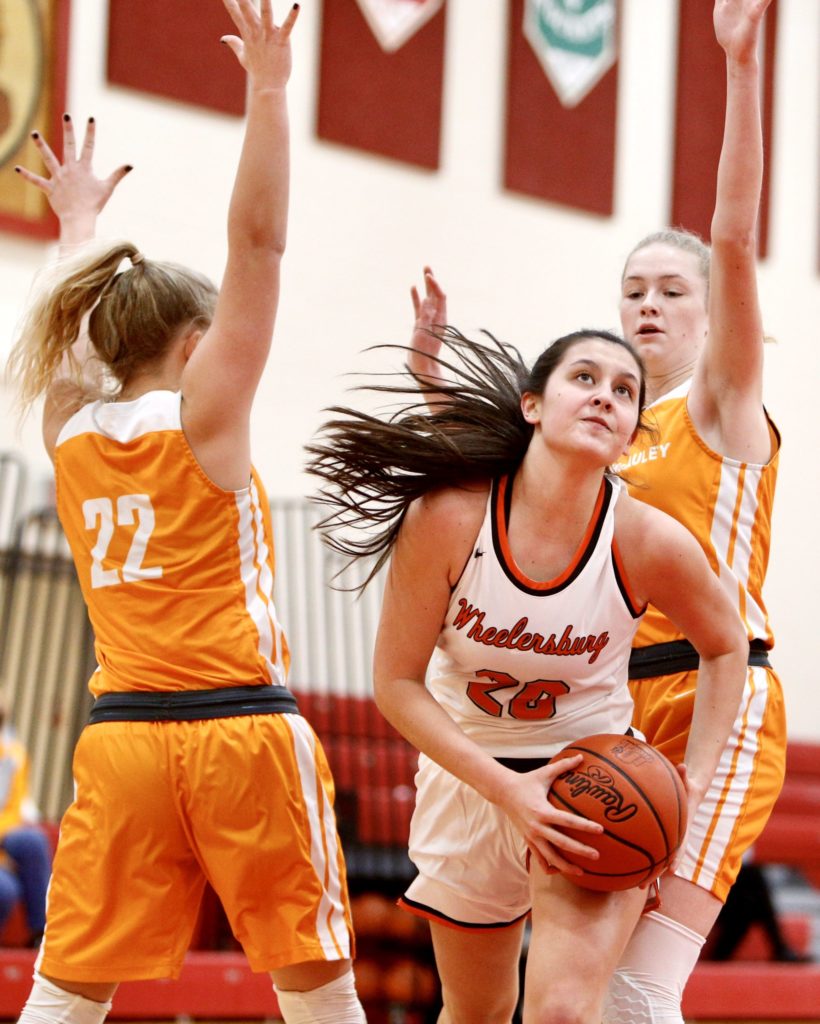 Playing at Eastern Brown High School, the Pirates nipped Mercy McAuley by a 53-52 final … thanks to a free throw from Alaina Keeney with less than three seconds remaining.
"At the line, I was just hoping to win it for my team," Keeney said. "I wouldn't have even been there without any of them."
She was as cool as a cucumber, netting the first of two tries before intentionally missing the other. The junior, who has admittedly been struggling to find her shot in the past week, scored 11 points and the Pirates needed (12-1) needed every bit of that production.
"It was nice to see Alaina get on the scoring sheet. Honestly, she's our best shooter but she's been struggling to make a few the last couple of games," Wheelersburg coach Dusty Spradlin said. "But she was able to get into the lane some and score today. It's good to see her find some other ways to score."
McCauley (3-12) came in with a misleading record. The Wolves play in Cincinnati's Girls Greater Catholic League, which includes the likes of Mount Notre Dame, Purcell Marian, Roger Bacon and other every-year powerhouses.
---
---
But thanks to scoring from Keeney, Kaylee Darnell and sophomore Lexie Rucker, the Pirates were able to counter McAuley's every move.
While Keeney and Darnell regularly make appearances on the scoring sheet, Rucker is rather new to the limelight. But her nine points and team-leading five rebounds came up huge.
"Lexie is one of those sophomores that has a lot of upside to her. We know that we're going to need her a lot and we've been trying to find more ways to work her in," Spradlin said. "We're senior-heavy so it's sometimes hard to get her in for big moments. But we kind of had a feeling today that this was a game for her to use her athleticism. When we're able to put her at the top of a press, she provides a big lift off the bench."
Wheelersburg took its first lead of the game with 3:30 left in the first quarter. Rucker gave the Pirates that 9-6 edge with a three-point play, one that ended an individual 7-0 run.
---
---
Darnell then went coast-to-coast before hitting a mid-range jumper, making it a 13-7 lead heading into the second.
McAuley's Liz York tied the score at 15-15 with 6:07 remaining before Darnell scored two straight times to give 'Burg a 19-15 edge with 3:57 left. McCauley then took a 23-21 lead, via Kylee Heidemann, before nursing a 25-23 advantage at the break.
One reason the Wolves were able to stay in the game is their performance on the glass.
They outrebounded Wheelersburg by a 30-21 margin and habitually earned second looks at the basket.
"We talk about rebounding the ball better every game. But the one thing that we're able to do is win the turnover battle, which evens things out a little bit," Spradlin said. "I thought our problem today was that we didn't necessarily go after the ball. We'll look at it and watch the film. McAuley is a lot like us. They're athletic and they like to run. But we have got to find a way to rebound the basketball."
The game stayed close before Darnell naield a triple with 3:19 to go in the third, making it a 35-32 ballgame in Wheelersburg's favor. Ellie Kallner then hit the front end of two free throws before Darnell dialed long distance again, putting Wheelersburg up 39-35 after three.
The Pirates held an edge until the 3:27 mark in the fourth when McAuley's Izzy Rotert gave the Wolves a 47-46 lead. But Darnell quickly put the Pirates back on top at 48-47 before Makenna Walker hit two free throws to make it a 50-47 tally.
McAuley's Hailey Lehn willed her teammates to a 52-52 tie with 13.9 seconds left, a sequence that included a three-point play, but that's when Keeney was fouled and stepped to the line with ice in her veins.
Darnell led all scorers with 23 points alongside three assists while Keeney had 11 points. Rucker followed with her nine points and five boards while Walker had seven points.
Lehn led the Wolves with 18 points and seven rebounds while Heidemann had 11 points. Rotert also chipped in with 10 points while York added seven points, five boards and three assists.
The Pirates, after a resume win, are back in action on Monday, hosting Minford in SOC II action.
"Unfortunately, the first thing anybody looks at is the wins and losses," Spradlin said. "But that's a team that plays a really tough schedule. They've played Cincinnati Mount Notre Dame twice, they play Cincinnati Taft … we compared it to South Webster, who plays up [a division] all year long in the league. So it's a good win for us. A win gets you, hopefully, some more respect heading into the tournament draw. We want the highest seed possible. That's always the goal."
BOX SCORE
Wheelersburg: 13-10-16-14 — 53
McAuley: 7-18-10-17 — 52
Wheelersburg: 20-50 FG, 10-17 FT, 2-17 3pt., 21 rebounds (Rucker 6), 17 turnovers, 6 assists (Darnell 3). Scoring: Darnell 23, Keeney 11, Rucker 9, Walker 7, Jolly 2, Kallner 1.
McAuley: 20-41 FG, 8-15 FT, 3-14 3pt., 30 rebounds (H. Lehn 8), 26 turnovers, 7 assists (York 3). Scoring: H. Lehn 18, Heidemann 11, Rotert 10, York 7, Sucietto 6.