Brock Netter, Staff Writer
WAVERLY — No lead is ever safe in SOC II play. Just ask Waverly.
Heading into the fourth quarter on Thursday, the Tigers trailed Oak Hill by double digits after sinking just three shots from the floor in the third.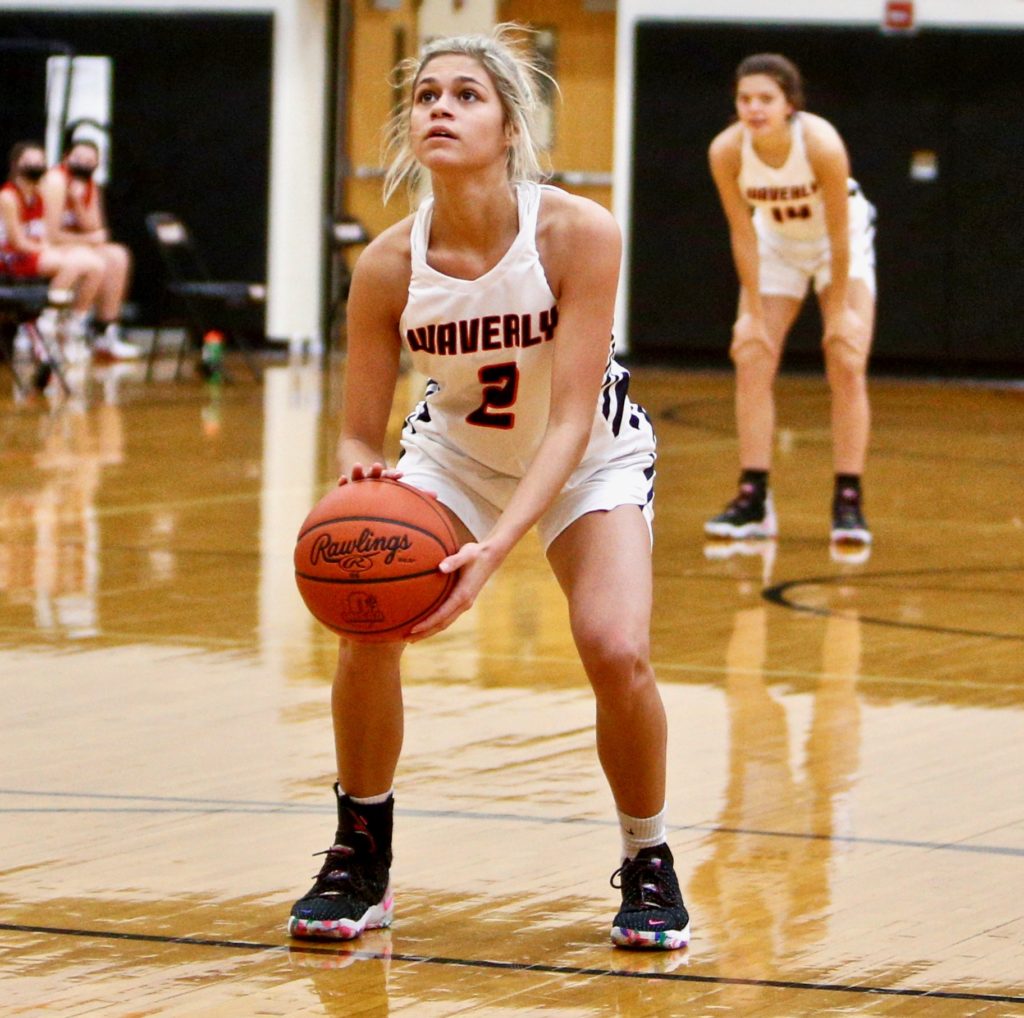 Yet, Waverly (11-3, 7-3 SOC II) exploded for 24 points in the fourth and rallied for a 48-47 victory over the Oaks in conference play.
"Nothing is easy in league play, especially against a Doug Hale-led Oak Hill team," Waverly coach John Bonifield said. "We dug ourselves a hole and somehow managed to climb out of it, despite struggling from the floor for most of the game. Our defense really came through by forcing turnovers in the fourth to keep us alive. That allowed us to get out in transition and run, which is what we like to do. Just an incredible win for us."
Oak Hill's start was less than ideal. It committed three turnovers in less than 90 seconds, which turned into a quick 8-2 lead for Waverly.
Once the Oaks (9-6, 7-5 SOC II) slowed down and figured out Waverly's pressure defense, Brooke Howard began to get rolling. She led them on a 9-1 run with seven points, taking a 11-9 lead after the first quarter.
With Waverly hitting an offensive wall, the Oaks piled on with a 6-0 run following baskets from Olivia Clarkson and Chloe Chambers, extending the lead to 17-9.
Not wanting the game to get out of hand early, Waverly ended its dry spell with a 6-0 run behind Kelli Stewart, Paige Carter and Ava Little. However, it still trailed Oak Hill 22-17 at halftime.
"We couldn't get into a rhythm at all, and that's credit to Oak Hill," Bonifield said. "They were being physical, closing out of driving lanes and not allowing Zoiee [Smith] to get into the gaps. Our spacing needed to be a little better and we needed to take better care of the basketball."
After a defensive-filled first half for Chambers, which included four blocks, she became the go-to player in the third. Like a veteran, she responded with seven of the Oaks' 12 points.
Meanwhile, the Tigers continued to flutter offensively and trailed by the largest margin of the game heading into the fourth, down 34-24.
"This felt like a tournament game and I told the girls that they just have to find a way to win," Bonifield said. "This team grinds and gives nonstop effort. They don't believe any lead is too big for them to overcome. But it all comes down to taking things one possessions at a time. We hit a stretch in the second quarter where we couldn't hang onto the ball and made some silly passes. We were trying to sprint before having the ball, so we had to slow down."
However, things were truly about to heat up.
Stewart sparked a 6-2 run that cut the lead to 36-30. Then Carter, Smith and Carli Knight combined for a 7-0 run, trimming the deficit to just one point.
Carter then scored and later hit two free throws, giving Waverly its first lead since the first quarter at 44-41. Both teams traded shots and free throws before Clarkson scored with 32 seconds left to put Oak Hill back on top at 47-46.
Yet, Waverly had an answer as Smith found Carter for the silky-smooth jumper with 18 seconds left for a 48-47 game. Oak Hill had a chance to win the game, but its shot was blocked by Smith, who also got the rebound and dribbled out the clock for a Tiger victory.
"That last play was a senior and a four-year starter recognizing what was going on and coming up with a big block to seal the game," Bonifield said. "We were able to finally get some stops and turn those chances into points on the other end in the fourth. Paige came through with some big buckets and our seniors stepped up when we needed them."
Carter finished with a team-high 14 points and six rebounds, followed by Stewart with 10 points and four rebounds. Knight added nine points and Smith had six pints with eight assists.
For Oak Hill, Chambers finished with a game-high 17 points and 10 rebounds, while Clarkson added 11 points and four assists.
Waverly returns to action on Saturday at Hillsboro in non-conference action, while Oak Hill travels to Notre Dame that same evening.
BOX SCORE
Oak Hill: 11-11-12-13 — 47
Waverly: 9-8-7-24 — 48
Oak Hill: 18-42 FG, 8-10 FT, 3-8 3pt., 24 rebounds (Chambers 10), 23 turnovers, 12 assists (Clarkson, Howard 4). Scoring: Chambers 17, Clarkson 11, Howell 8, Howard 7, Doss 4.
Waverly: 21-51 FG, 6-13 FT, 0-6 3pt., 22 rebounds (Carter 6), 13 turnovers, 10 assists (Smith 8). Scoring: Carter 14, Stewart 10, Knight 9, Smith 6, Little 4, Rhoads 3, Tackett 2.