Derrick Webb, Staff Writer
SEAMAN — If you've forgotten, North Adams is still good … like really good.
The Green Devils — who have been through the loop this season with quarantines, cancellations and postponements — have played just 10 games. But that doesn't negate the fact that they're still the defending co-SHAC champions and a returning regional finalist.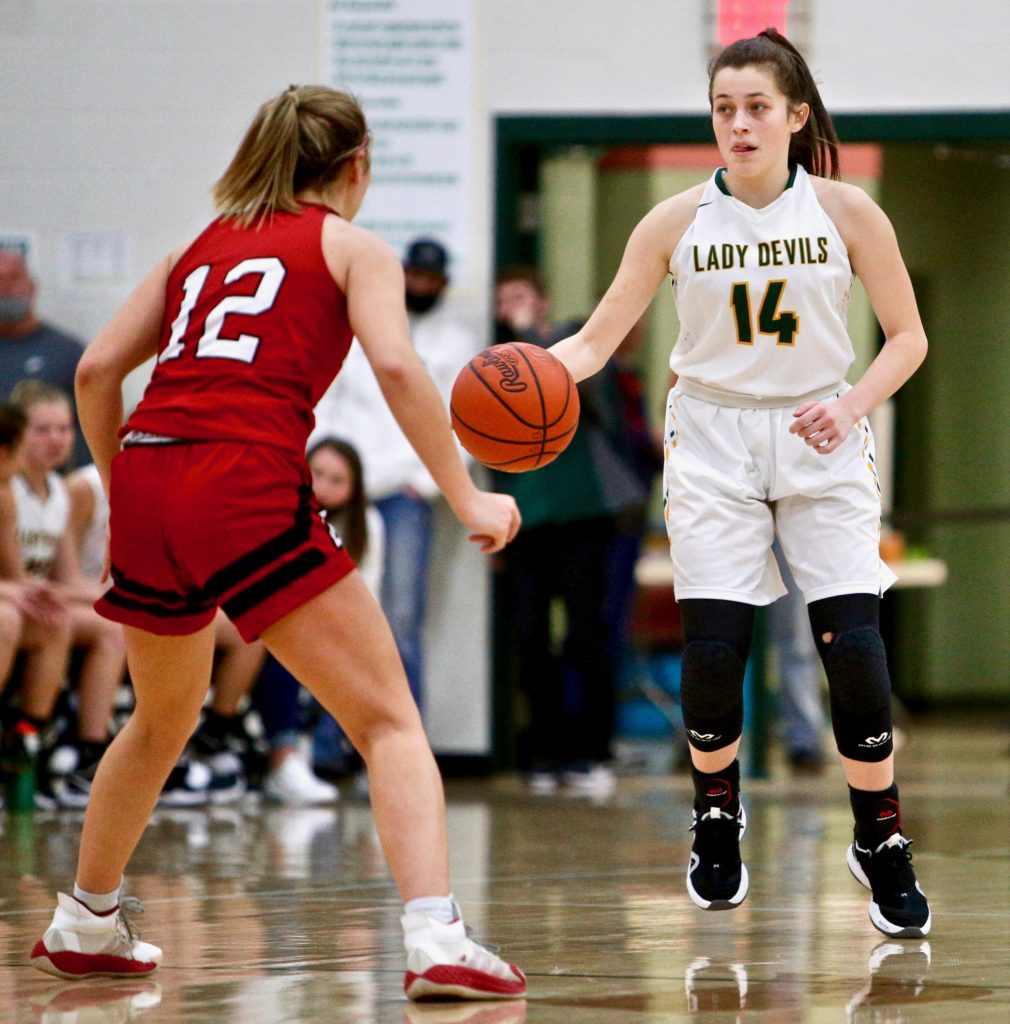 For whatever reason, those facts have gotten lost in the fold this season.
But after Wednesday, you can rest assured that North Adams is right back on the map.
Behind eight 3-point field goals and a magnificent first half performance, the Green Devils (9-1, 6-1 SHAC) handed Eastern Brown a 44-40 loss, claiming their ninth straight victory.
"I thought we came out and did what we wanted to do," North Adams coach Rob Davis said. "We wanted to hound them and make them work. We wanted to make [Eastern's] Rylee [Leonard] work. Daggone, we did wear her down. But she still hit some shots there late. But I thought we rebounded well and played physically. I couldn't be more pleased with them."
In the scoring column, DeLaney Harper, Wylie Shipley and Braylie Jones led the Green Devils. But it was what happened that didn't appear in the scoring column that gave the team a spark.
Off the bench, Kenzie Jones and Laney Ruckle were relentless. The duo gave the Green Devils fresh legs while continuing a high-motor style of play … especially on the defensive side.
"They came in and settled everyone down," Davis said. "They've been giving us good minutes. The freshmen and sophomores did a great job tonight. They gave us great minutes and energy."
North Adams made its living from behind the 3-point line, reminiscent of last year's first victory over the Warriors. The Green Devils were 8-of-18 from beyond the arc and also had the option to look inside with Harper and Shipley both hitting double-digit scoring figures.
"We just hit shots. We shot with confidence. I told the girls to go out and enjoy it. After all, it's just a game" Davis said. "But we're always up for Eastern. We hit some big shots and gained some confidence early. DeLaney and Wylie were great around the bucket and we executed the offensive game plan."
Harper began the night's scoring with a bucket at the 6:43 mark in the first quarter. That was followed by two consecutive triples from Jones, making it an 8-0 ballgame with 5:09 left.
Leonard scored to give Eastern its first bucket at the 4:59 mark but Shipley and Harper countered, giving North Adams a 12-4 advantage heading to the second.
---
---
The Devils stayed hot throughout the next eight minutes while Ruckle and Marah Call both connected from deep, pushing the lead to 24-9 with 1:55 to go. Just before halftime, the two teams traded 3's, courtesy of Jones and Leonard, making it a 27-14 count at the break.
In the third, Eastern (14-2, 6-2 SHAC) dialed up defensive pressure. The Green Devils had as many turnovers, six, in the first three minutes of the quarter as they did in the entire first half.
It allowed the Warriors to extend a 10-0 run, thanks to Emma Brown, Caitlyn Wills and Mackenzie Gloff, cutting the deficit to 27-21 with 4:32 left.
But on the other end, Shipley answered in a resounding way. The senior hit a 3 with 4:14 left, halting Eastern's run, before going back to the well at 2:01, pushing the lead to 35-25.
"We all have to get in a rhythm," Shipley said. "I just needed to get in the game and feel confident in my teammates while also giving them a reason to be confident in me. That was especially [true] in the third quarter. At halftime, Rob just told not to let up and keep going. The third quarter definitely wasn't our best but we still did what we needed to do."
Gloff scored with 1:24 left, trimming the lead back to single digits at 35-27, but Keetyn Hupp answered with a 3-ball at the 1:01 mark, making it a 38-27 score heading to the fourth.
Down the stretch, Eastern continued to force turnovers. But the Warriors failed to capitalize.
Leonard hit a 3 with 7:17 to go before Prine scored at the 7:11 mark, making it 38-32. Throughout the next three and a half minutes, Eastern had multiple chances to cut into the lead even further, but it wasn't meant to be.
The next score came at the 3:28 mark when Ruckle pushed the lead to 40-32. Harper then scored 25 seconds later, making it 42-32 before the Warriors went on an 8-1 run, cutting the lead to 43-40. But with less than 10 seconds to play, Harper hit one of two free throws to put the game on ice.
Harper led the Green Devils statistically with 11 points, 11 rebounds and four assists while Shipley added 10 points and four boards. Jones finished with nine points and Ruckle had six.
For Eastern, Leonard ended the night with 11 points, five rebounds and two assists while Gloff had nine points and six rebounds. Brown added nine points and five boards, and Prine had five points.
Both teams are back in action on Thursday. North Adams welcomes in Fayetteville while Eastern hosts Ripley.
"This shows we can come out and play with anybody," Davis said. "Eastern gets a lot of attention and they deserve that. But we're 9-1 and nobody hardly says anything. That's fine. We were giant killers last year, too. We just have to keep going and getting better. This is a great win, though. It's always fun with Eastern. We're six miles apart or whatever it is and we all know each other. It's fun basketball."
BOX SCORE
Eastern Brown: 4-10-13-13 — 40
North Adams: 12-15-11-6 — 44
Eastern Brown: 17-56 FG, 4-8 FT, 4-16 3pt., 29 rebounds (Gloff 6), 16 turnovers, 9 assists (Dotson 3). Scoring: Leonard 11, Brown 9, Gloff 9, Prine 5, Barber 2, Wills 2, Dotson 2.
North Adams: 17-43 FG, 2-8 FT, 8-18 3pt., 30 rebounds (Harper 11), 16 turnovers, 11 assists (Harper 4). Scoring: Harper 11, Shipley 10, Jones 9, Ruckle 6, Call 3, Hupp 3, Jones 2.