Derrick Webb, Staff Writer
WILLIAMSPORT — If you've ever watched Mahaley Farmer dribble a basketball, you're well aware of the talent the senior guard has.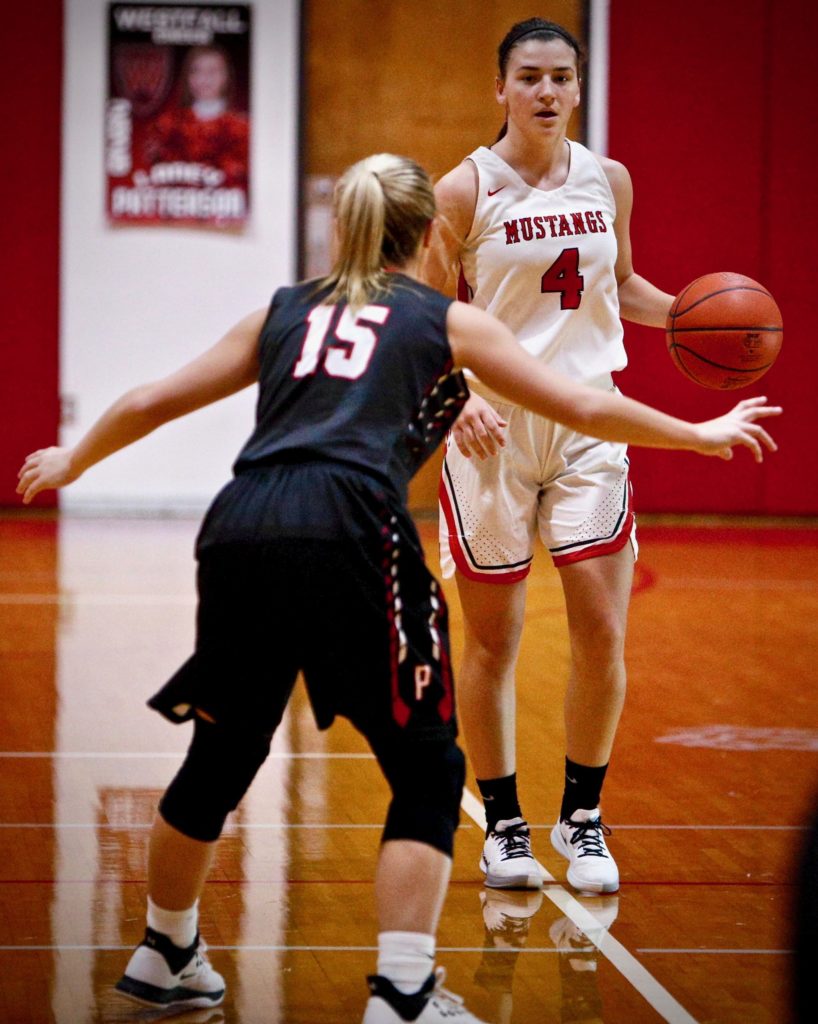 Farmer, who's led by example throughout her four years at Westfall, isn't the flashiest player. She isn't going to score 30 each night. And she isn't going to tell you about how good she is.
But she is consistently magnificent, stuffing a balanced stat sheet at every turn and making opposing coaches scratch their heads.
This past week, Farmer made the next step in her development as a point guard, and as a person, concrete. She committed to Oklahoma Wesleyan University, located in Bartlesville, Okla.
"I chose OKWU because the atmosphere was really great and the staff and students were amazing," Farmer said. "I didn't commit there at the time I visited and they were already invested in me. The main reason that I chose OKWU is the commitment they have to their faith. That was one of the main things that I was looking for in a college, not just helping me grow in my education but mostly in my faith. I really felt that OKWU was home when I visited."
OKWU is 800-plus miles away from Williamsport. But Farmer knows she has a strong support system in place — one that helped her get to where she is — that she can lean on at every turn.
"My family always let me know that I could play at the college level and that helped build my confidence," Farmer said. "My coaches have always pushed me to be better and have helped me develop new moves to add into the offense. They have also always been open to hearing from me and communicating. My teammates are amazing. They have all the confidence in the world in me. They support me and help me grow as a player. Without them, I would not be where I am and the player I am today."
Throughout her recruiting process, Farmer says Westfall basketball coaches Zane Miller and Dylan Givens were instrumental in getting her name out there.
"Coaches Miller and Givens have helped me so much with this recruiting process," Farmer said. "As soon as games were over, coach Miller would start clipping the game and making a highlight reel to send to schools. He was the middle man and helped set up times for calls and helped talk me up to schools. That's a big reason why I had many colleges looking at me to play for them. I just want to thank him because if he hadn't done what he did I'm not sure I would be playing in college."
When Farmer joins OKWU's program, she'll be joining a team that's 7-8 overall this season with a 6-7 mark in Kansas Collegiate Athletic Conference.
"I'm looking forward to the memories that I'm going to make and the relationships I'm going to make with my coaches and my team," Farmer said. "It's a new experience and although it may be nerve racking, it's also very exciting. Coach Hadley and her staff have done a great job preparing me for the transition."
But first, Farmer has the rest of her career at Westfall to finish out.
As a Mustang, Farmer has helped the girls soccer program into a viable conference contender while helping the basketball program continue to progress. This season, Farmer has led Westfall to an 11-4 overall mark and 5-4 mark in the SVC.
She's averaging 10.4 points and 3.1 assists per game.
"My career at Westfall has been full of ups and downs," Farmer said. "But it's helped shape me into the player I am today, and for that I am very thankful. I am very thankful for my family, my coaches and my team for pushing me to be the best I can be and to God for giving me the talent and ability to play the game I love."