Brock Netter, Staff Writer
WAVERLY — For two and a half seasons, Trey Robertson has made a name for himself as the go-to guy anytime Waverly needs a bucket.
He's delivered time and time again in big situations.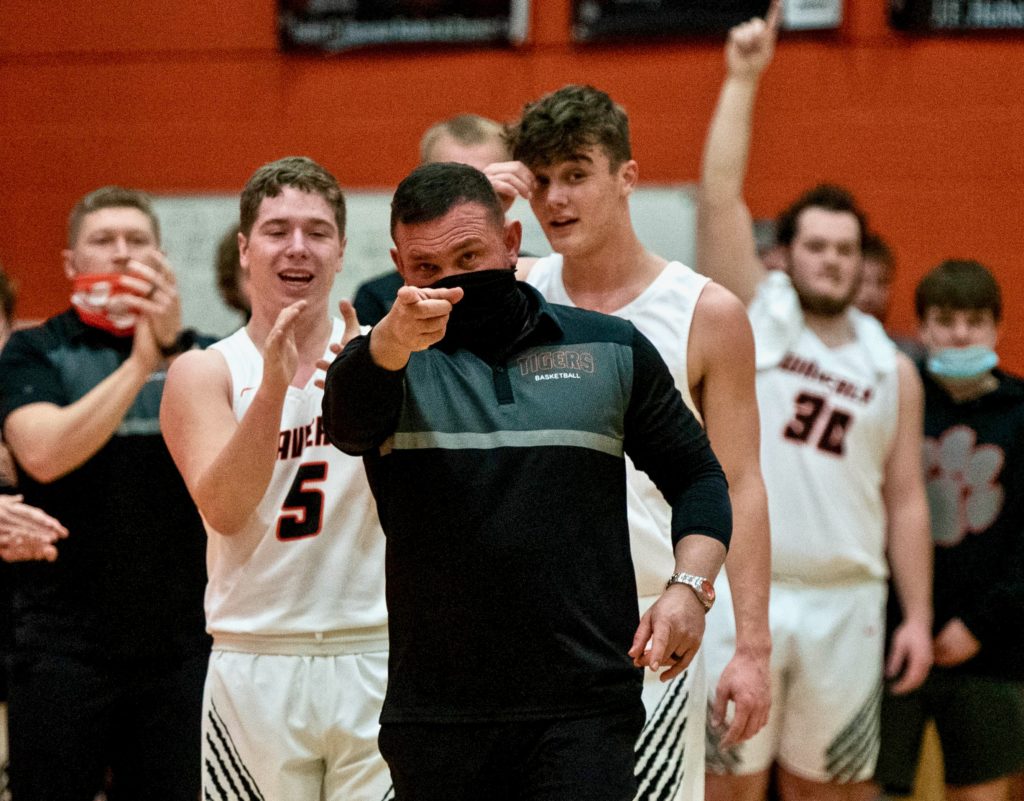 But Tuesday wasn't about a big-game situation. It was about his well-earned personal moment to shine.
After he missed the second free throw of a 1-and-1, Will Futhey corralled an offensive rebound and Waverly set up its offense. The ball reached Mark Stulley's hands, who delivered a perfect pass to a cutting Robertson, who finished at the rim and collected his 1,000th career point.
"I remember after making that first free throw, Mark told me we were going to run that play to get me that bucket," Robertson said. "I knew I was close since my teammates kept telling me, but I just tried to block it out and keep playing. I wasn't keeping track of how many points away I was, but I heard the crowd go crazy when I made the bucket at the rim. So I figured that was it.
"I wouldn't have been able to do this without my teammates. It's been a goal of mine forever, and it's a great achievement but the guys that I share the locker room with are the ones that have made this happen. They deserve just as much credit."
Although Robertson's career milestone was the story of the game, his final line included 28 points, 11 rebounds and four assists as he led the Tigers to a 64-45 victory over South Webster in SOC II action.
"It's hard sometimes to separate being his coach and his dad at the same point," Waverly coach Travis Robertson said. "I'm very hard on him, and I'm sure there are times he hates me because I push him so much. But it's coming from a place of love. And he knows that. I'm incredibly proud of him and what he's accomplished not just for himself but the program as well."
It was clear from the beginning that Waverly had every tangible advantage, from speed to height to athleticism over the Jeeps.
Rest assured, the Tigers (7-3, 5-2 SOC II) took full advantage.
Waverly ran up and down the court, getting quick buckets in transition from Trey Robertson, Will Futhey and Zeke Brown as they jumped out to a 12-0 lead.
The lead was pushed to 16-0 before South Webster (6-7, 3-6 SOC II) connected on its first shot from floor. But by the end of the first, the damage had been done with Waverly leading 23-9.
The Jeeps then mounted a rally behind Trae Zimmerman and Connor Bender for a 10-2 run that cut the lead to 25-19.
The next three points belonged to Robertson, which included his 1,000th career point, to put the lead back up to nine. It remained that margin at halftime with Waverly leading 35-26.
The Tigers wasted no time extending the lead again in the third as Futhey, Robertson and Phoenix Wolf combined to score all 16 points, compared to just five for the Jeeps, which essentially put the finishing touches on a Tiger victory.
"Those things happen when you get out to a big lead early and then you sort of just relax," Travis Robertson said. "South Webster hit some shots and put the pressure on to put them away. We just reiterated our points at halftime about doing your job and not missing assignments. We went on another big run to open the third and that pretty much put them away."  
After Robertson's final stat line, Futhey finished with a double-double of 14 points and 12 rebounds, followed by 12 points and five rebounds from Brown.
For South Webster, Zimmerman finished with 14 points.
Waverly returns to action on Wednesday at home against Jackson, while South Webster hosts Minford in SOC II action.
BOX SCORE
South Webster: 9-17-5-14 — 45
Waverly: 23-12-16-13 — 64
South Webster: 18-53 FG, 4-7 FT, 5-23 3pt., 27 rebounds (Carpenter 5), 10 turnovers, 4 assists. Scoring: Zimmerman 14, Bender 8, Campbell 5, Lower 5, Beasley 5, Blizzard 5, Carpenter 3.
Waverly: 24-53 FG, 14-24 FT, 2-13 3pt., 42 rebounds (Futhey 12), 9 turnovers, 12 assists (Robertson 4). Scoring: Robertson 28, Futhey 14, Brown 12, Wolf 4, Harris 3, Crabtree 2, Stulley 1.