Derrick Webb, Staff Writer
LEESBURG — In the words of Fairfield coach Chad Hamilton, sometimes, finding the Lions' hot hand is "a balancing act."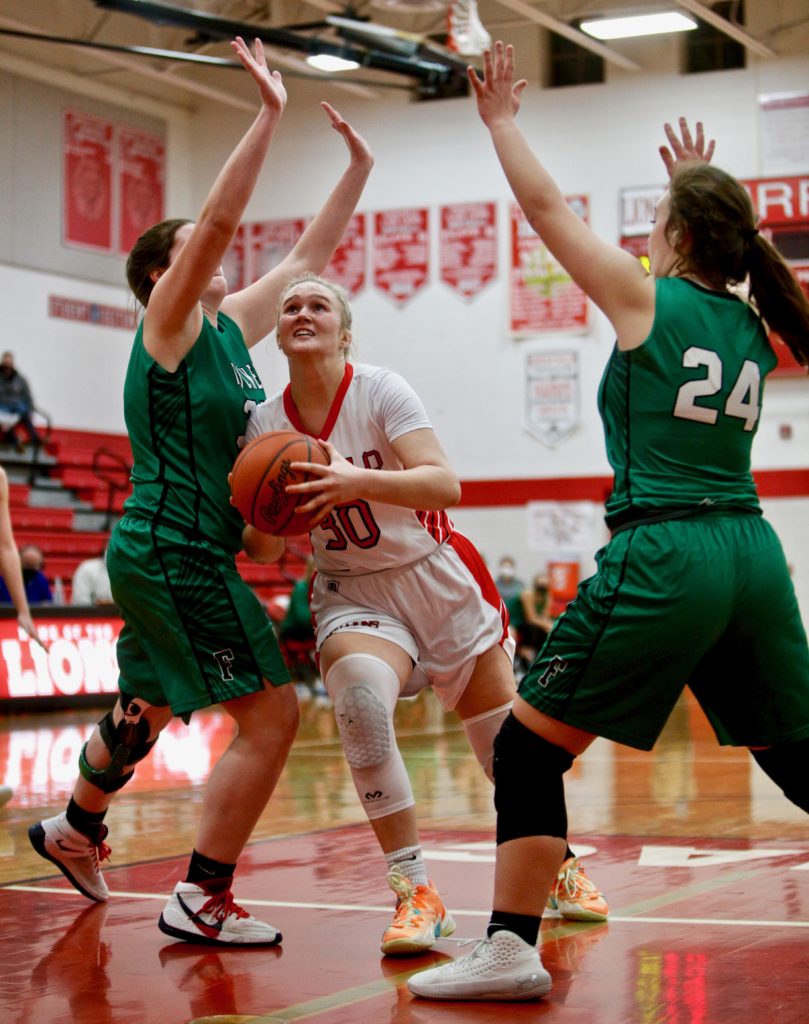 But it was a rather easy task on Monday. All the Lions had to do was pass the ball to the post.
From there, either Madison Bronner or Braylynn Haines would take matters into their own hands. And put simply, Fayetteville had zero answers for either post all night long.
Bronner and Haines combined for over half of the team's point total while collecting 20 rebounds — which helped Fairfield (10-4, 6-2 SHAC) win the battle on the glass by a 38-26 margin.
"I thought the whole team rebounded well tonight," Fairfield coach Chad Hamilton said. "But when Bray and Bronner are passing the ball out of the middle, because it's coming back and they're not double-teamed at that point, when they can score and rebound like tonight … they absolutely dominated. That was a big key for us."
The duo's performances helped the Lions score a 60-37 win over the Rockets (6-5, 3-5 SHAC) in conference action, a bounce back win from Saturday's 59-55 loss to Fairland.
"I think Saturday showed us we can play with anybody in the district," Hamilton said. "We were up five late in the game and had a chance to take a lead with 30 seconds left. And we got down and came back. We didn't like how it ended but I think they're starting to get a feel for how good we can be. It's just execution."
And it's maturity.
Fairfield's roster doesn't own one senior. The Lions' starting five consists of four juniors and a sophomore. That group has started to near its expectations … and then some.
"Last year, we gave away three or four in the final minutes as far as giving away wins," Hamilton said. "We haven't really done that this year. We're struggling to get over the hump sometimes against the really good teams, but it's more execution stuff. It's not silly mistakes. I'd still like a couple of girls to show up some 'senior' leadership, even though they're not seniors. But I like where we're at. All of our starters can get 15 to 20 points on any given night."
---
---
Monday's coast-to-coast win started with buckets from Haines and Ella Newkirk. Bronner and Emma Fouch then contributed to the scoring column, making it a 9-0 score with 2:23 left in the first quarter.
Fayetteville scored its first points with 1:39 left when Anne Murphy hit two freebies. The Lions then entered the second on a 7-0 run, capped by a putback from Haines, seizing a 16-2 lead.
The Rockets' offense finally arrived in the second but Fairfield matched every move it made. Newkirk made it a 27-7 lead with a 3 at the 3:39 mark before Fouch followed suit with 40.6 seconds left. By halftime, the Lions owned a 34-15 advantage.
"One of our main points tonight was ball movement," Hamilton said. "We knew Fayetteville was going to double down and try to get those jump balls as soon as you threw it in the middle. So our focus was don't dribble and get the ball out. We did that. It wasn't our greatest night from the perimeter, but when the posts are playing the way they did, we're going to be tough to beat."
With 5:00 left in the third, Peyton Magee dialed long distance, making it a 40-20 score, before Bronner and Faith Donley combined to make it a 48-25 tally heading to the fourth.
Nothing changed in the final eight minutes as Haines and Bronner continued to control the paint, pacing the Lions to a 23-point victory.
Bronner led all scorers with 17 points alongside nine rebounds and four assists while Haines finished with 14 points, 11 rebounds and three assists. Fouch was also in double-digit scoring figures with 12 points and eight rebounds while Newkirk added eight points. Magee finished with three points, eight rebounds and five assists, and Donley added in six points.
Olivia Crawford led the Rockets with 14 points while Murphy had eight of her own. Brinli Crosley also chipped in with six points and nine rebounds.
Fayetteville is back in action on Thursday at North Adams while Fairfield gets back to work the same evening, hosting Whiteoak. Then, the Lions have a matchup with Minford at Eastern Brown on Saturday.
That game is just one of the non-league contests that the Lions have scheduled to challenge themselves. Others include dates with the aforementioned Fairland, Williamsburg, McClain and Paint Valley.
"We got invited to a couple of classics and shootouts and these girls want atmospheres like that," Hamilton said. "I told them that their hard work and the success they've had, that's what got them to where they are. They want the big stage. But we're also trying to beef up the schedule a bit for tournament time. We want to be as prepared as possible for that."
BOX SCORE
Fayetteville: 2-13-10-12 — 37
Fairfield: 16-18-14-12 — 60
Fayetteville: 13-52 FG, 8-12 FT, 3-16 3pt., 26 rebounds (Crosley 9), 13 turnovers, 7 assists (Crosley 4). Scoring: Crawford 14, Murphy 8, Crosley 6, Rosselot 5, Feldhaus 4.
Fairfield: 22-48 FG, 12-20 FT, 4-14 3pt., 38 rebounds (Haines 11), 18 turnovers, 15 assists (Magee 5). Scoring: Bronner 17, Haines 14, Fouch 12, Newkirk 8, Donley 6, Magee 3.