Brock Netter, Staff Writer
GREENFIELD — Last Saturday, McClain suffered an FAC loss to Washington that put the team behind the 8-ball in the conference title race.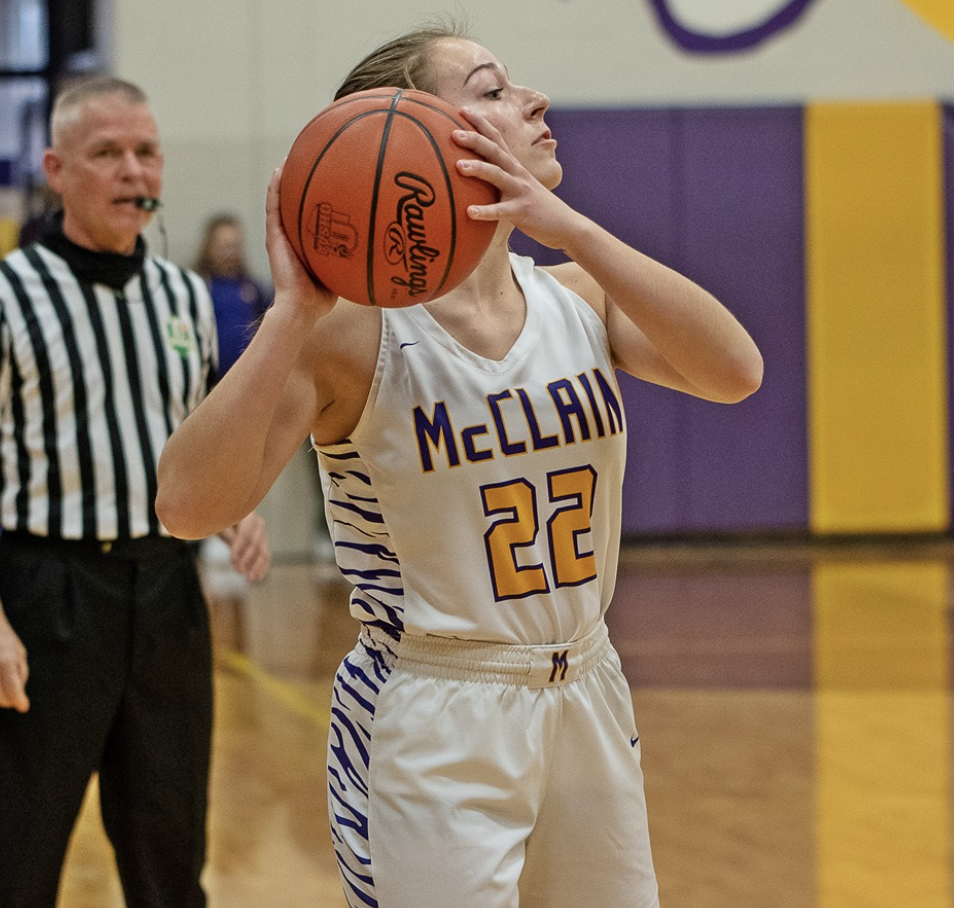 Seven days later, the Tigers are tied for first place in the standings.
Despite sinking just 10 shots from the field, McClain (11-2, 5-1 FAC) converted 19-of-27 free throws and survived a thriller against FAC rival Miami Trace by a 41-40 final in overtime.
"Games like this are why you get into this profession," McClain coach Jarrod Haines said. "I couldn't be more proud of the girls for competing as hard as they did. Hats off to Miami Trace. We know that every time we play them, that we're going to get their best shot. They played extremely hard and took it to us, but we battled and managed to pull this one out."
Despite forcing 11 turnovers in the first half, the Tigers had no answer for Miami Trace's Magarah Bloom. Every time the ball left her hands, it was an automatic bucket.
She scored all 10 Miami Trace first quarter points, producing a 10-8 lead.
"She finished with 13 of their 15 points in the first half. Some of those points came on some great moves, and other times it was just Magarah being Magarah," Haines said of Miami Trace's senior guard. "She's a really good player, works extremely hard, gets offensive rebounds and plays with a lot of heart. She's given us fits in the past and this time was no different."
In the second, the Tigers made a couple adjustments to slow Bloom down and force other players to score.
At the same point, Bri Weller began to jumpstart the Tigers' offense as she scored four straight points to give them a 15-13 lead. Emma Stegbauer came up with a steal and bucket, as part of a 9-2 run to end the half, giving McClain a 20-15 lead.
Part of McClain's halftime adjustment was putting Stegbauer on Bloom defensively to stop any possible chance at a repeat performance in the second half.
Stegbauer answered the bell, holding Bloom scoreless from the field for the rest of the night.
"Emma is our best on-ball defender, and she's just relentless," Haines said. "She'll get down and bulldog you the whole night, and keep that same intensity from the tip to the final buzzer. In the first half, I put Emma on [Miami Trace's Kaelin] Pfeifer and she came up with a couple steals. We knew Margarah needed to be stopped, and I thought Emma did a great job of making sure it happened."
With Bloom on ice, the Panthers (7-4, 4-1 FAC) continued to search for answers offensively. But they only managed seven points in the third, while McClain extended its lead behind Payton Pryor and Kyla Burchett as it led 29-22 heading to the fourth.
"Miami Trace went to a zone defense that we struggled with against Jackson, but it's much easier to play against a zone when you have a lead," Haines said. "We were able to work the ball around, make some nice passes and eventually get the ball inside to Payton for a couple buckets."
However, Miami Trace wasn't going away that easily. Hillery Jacobs knocked down a couple buckets, and then Delaney Eakins, who was in foul trouble for much of the game, made her presence felt with a pair of rebounds and put backs to cap a 9-3 run, cutting the deficit to 32-31.
With McClain ahead 34-32 following two free throws from Burchett, Pfeifer was able to use her speed and drive into the lane for a tough bucket to tie the game. After two more free throws from McClain, Jacobs converted underneath for a 36-36 game with 13 seconds left.
The Panthers then forced a turnover and got fouled, putting them into the bonus with just 2.5 seconds left. But they missed the free throws for the win as the game went into overtime.
Grace Stewart scored the first bucket of the extra frame, putting the Panthers back ahead 38-36. But on the next possession, McClain's Josie Crabtree buried the shot of the game, a 3-pointer to put the Tigers back in the lead at 39-38. Weller made two free throws, followed by another Stewart bucket for a 41-40 game.
The Panthers then forced a turnover and had another chance for the win, but missed a 3-pointer with two seconds left, securing the Tigers' victory.
"Miami Trace is a very physical ball team, but that also gave us some opportunities at the free throw line," Haines said. "Bri Weller did what she does best all night, getting into the lane, getting fouled and making her free throws. The biggest shot of the game was Josie hitting that triple in overtime. An unbelievable, gusty shot. But she took it with confidence and I'm proud of how she played."
Weller finished with a game-high 16 points. Burchett had eight points and Pryor has seven points and five rebounds.
Bloom had 14 points and nine rebounds for Miami Trace, Stewart added 10 points and Jacobs finished with seven points and nine boards.
McClain returns to action on Monday in FAC action at Hillsboro, while Miami Trace welcomes Wilmington to town for non-league play.
BOX SCORE
Miami Trace: 10-5-7-14 (4) — 40
McClain: 8-12-9-7 (5) — 41
Miami Trace: 15-41 FG, 5-13 FT, 5-15 3pt., 28 rebounds (Jacobs 9), 18 turnovers, 6 assists. Scoring: Bloom 14, Stewart 10, Jacobs 7, Eakins 5, Ferguson 2, Pfeifer 2.
McClain: 10-36 FG, 19-27 FT, 2-13 3pt., 20 rebounds (Pryor, Pitzer 5), 9 turnovers, 4 assists. Scoring: Weller 16, Burchett 8, Pryor 7, Stegbauer 4, Pitzer 3, Crabtree 3.