Derrick Webb, Staff Writer
FRANKFORT — Coming into Saturday night's matchup at Piketon, Adena had played 14 games … and had won 12 of those decisions.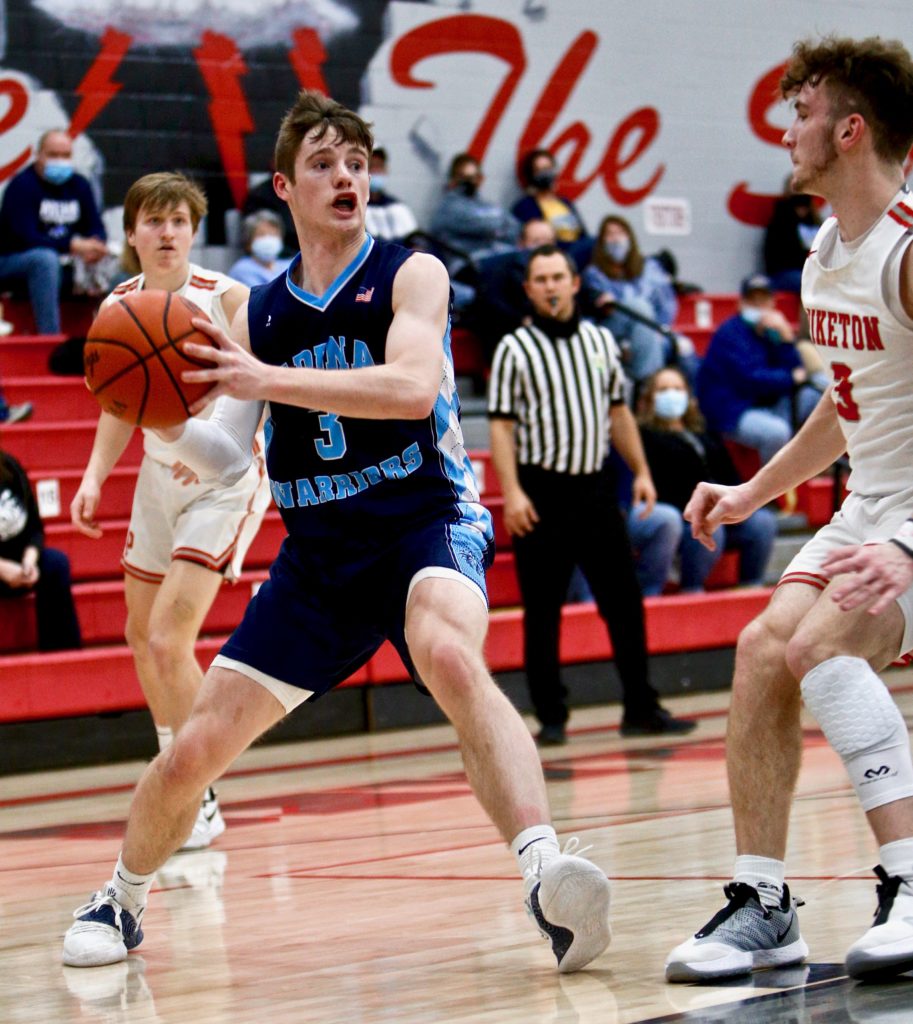 But believe it or not, according to coach Kyle Bradley, win number 13 may have been the best yet.
The Warriors (13-2, 7-1 SVC) were impressive on both ends of the floor and pieced together a 10-point road win, by a 49-39 final, over the Redstreaks.
"I thought we had our best defensive performance we've had in awhile," Bradley said. "That's been our emphasis. We've got to get back to playing solid defense, having an identity and making teams uncomfortable. Piketon is a really good basketball team. They're super athletic, [Chris] Chandler can shoot lights out, [Brody] Fuller is a great shooter and [Piketon coach] Kyle Miller does a great job with them. So to come down here and build momentum, it's big."
The win snapped Piketon's seven-game winning streak. Much of that credit is due to the patient nature of Adena's offense.
The Warriors waited for the right shot, shared the ball well, limited turnovers and relied on five different players that scored eight or more points.
"Honestly, I thought this might have been our best game offensively," Bradley said. "I told Logan [Bennett], I know that he's had better scoring nights, but I told him that I thought that was his best all-around game. Then Preston Sykes had a quiet ten, twelve and five tonight, Jarrett fought through foul trouble and Dillon McDonald had the best game he's had in awhile."
---
---
From the jump, Adena grabbed a 6-0 lead on the heels of Bennett, Sykes and Garrison. Sykes extended that lead to 10-2 with 4:27 left in the first quarter before Bennett hit a pair of free throws to make it 12-4 at the 3:25 mark.
But Chris Chandler began to chip away, bringing the Redstreaks (11-4, 5-3 SVC) within three at the end of the quarter with a mid-range jumper and a 3.
McDonald answered with two straight triples to begin the second, making it an 18-9 score, before Bennett and Davis Kerns teamed up to give Adena a 23-15 lead at halftime.
The Warriors held a seven to eight-point lead for much of the third before taking a 36-30 lead into the final eight minutes … then they pulled away.
Sykes and Bennett began the third with back-to-back buckets, putting Adena ahead 41-30, before Garrison later hit two freebies for a 45-32 score. Piketon's Kyden Potts followed suit at the 1:57 mark, bringing the deficit to 45-36, but Adena put the game away from the line down the stretch.
Bennett led all scorers with 19 points while Sykes ended with 10 points, 12 rebounds and five assists. Garrison finished with nine points and five rebounds, and McDonald had eight points.
Tra Swayne led Piketon statistically with 11 points and five rebounds while Gullion had 10 points. Chandler helped out with nine points, eight boards and two assists.
The Redstreaks will try to get back on track Friday, hosting Unioto, while the Warriors are back in action on Tuesday against Zane Trace … a make-up game from earlier in the year.
"We have to limit paint touches," Bradley said. "Credit to Piketon. They do a great job of catching it and getting downhill, trying to demand help and then kicking it out to shooters. We have to clean that up. There's always room for improvement. But it's also easier to get better after a win than a loss. We'll get the guys in there and we'll get things fixed."
BOX SCORE
Adena: 12-11-13-13 — 49
Piketon: 9-6-15-9 — 39
Adena: 18-37 FG, 8-11 FT, 5-16 3pt., 24 rebounds (Sykes 12), 6 turnovers, 13 assists (Sykes 5). Scoring: Bennett 19, Sykes 10, Garrison 9, McDonald 8, Kerns 3.
Piketon: 14-39 FG, 7-12 FT, 4-19 3pt., 24 rebounds (Chandler 8), 9 turnovers, 6 assists (Leedy 2, Chandler 2). Scoring: Swayne 11, Gullion 10, Chandler 9, Leedy 4, Fuller 3, Potts 2.