Derrick Webb, Staff Writer
WHEELERSBURG — Bad news for opposing teams … Wheelersburg seems to have found its footing.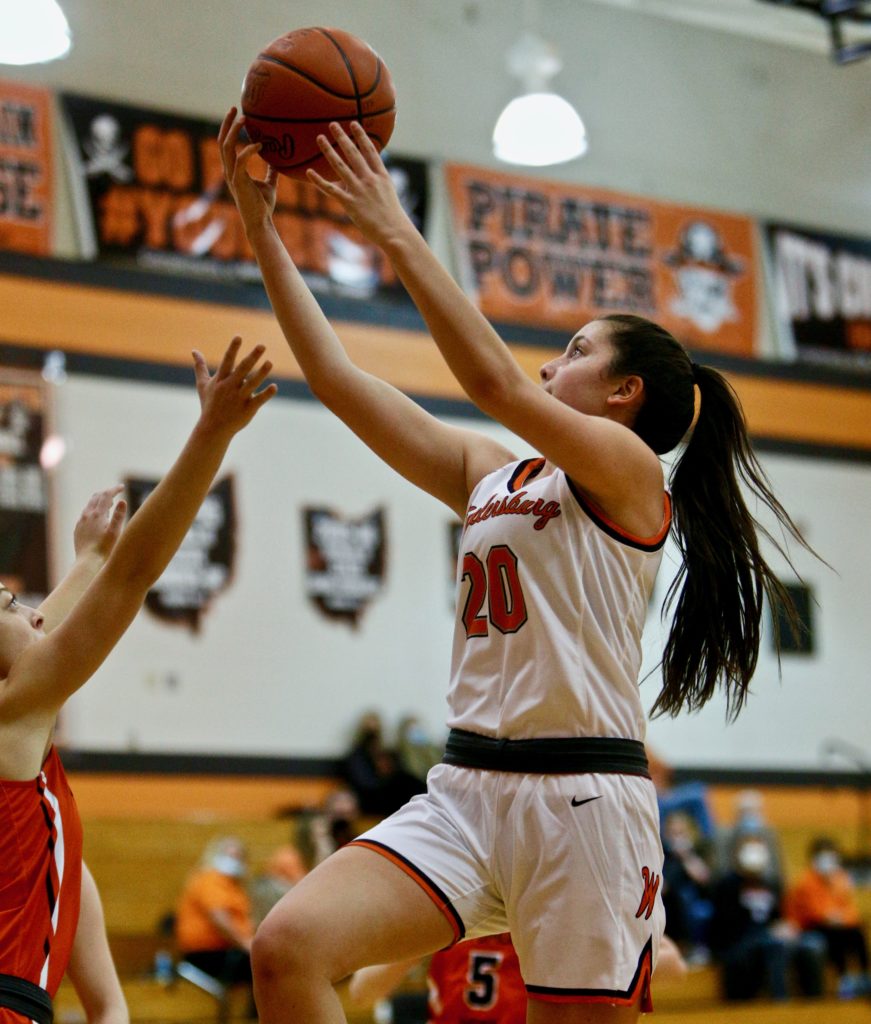 Earlier this season, the Pirates struggled to beat West in Southern Ohio Conference action. It was their second game of the season and, playing without an identity, almost cost them.
But that night, on Dec. 3, Wheelersburg escaped West Portsmouth with a 45-42 victory.
Fast forward almost five weeks later and the Pirates had no problem topping the Senators. Wheelersburg swept the season series with West on Thursday, earning a 62-43 win — and handing coach Dusty Spradlin his 300th career win.
"Some of my former players were here tonight and it's nice when you have really good players," Spradlin said. "The other thing is nice to be blessed to be around for awhile. All that helps. It was cool to do it at home and it was cool that my older kids were around and able to be here. I'm missing my oldest one, but it's a really cool accomplishment."
Throughout his tenure at Wheelersburg, Spradlin has had a bounty of talent. This year's group resembles some of his best teams. Talent, the ability to close out big games and, most importantly, an unrivaled work ethic to be the best.
"The thing that I love about these kids is that they battle. We've had some really good teams and some really talented teams," Spradlin said. "Some years, maybe when we haven't been as talented, you can count on them fighting. This group has that mixture. They've got big hearts. We're finally starting to get some games in, so hopefully we can get things rolling here."
Kaylee Darnell got things rolling in the first quarter on Thursday. The senior scored 15 of her 21 points and grabbed five rebounds for good measure. While her hot hand cooled late in the game, teammates Alaina Keeney, Makenna Walker and Ellie Kallner all stepped up to the plate.
That trio all reached double-digit scoring figures.
"It's good to see that the kids are starting to have some of that trust in each other. I think that's the thing going forward," Spradlin said. "If we play like that, we're going to make it tough on teams. Any night, multiple kids could drop 20 points. And we want to be as diverse as we can."
---
---
Darnell started the night's scoring with 7:40 left in the first quarter. She'd go toe-to-toe with West's Charlie Jo Howard, Maelynn Howell and Haley Coleman throughout the first five minutes as the teams played to an 8-8 tie with 3:18 remaining.
At the 2:59 mark, Darnell nailed a triple from the left wing before scoring three consecutive buckets to hand the Pirates (8-1, 8-0 SOC II) a 17-10 advantage. With 11.7 seconds left, Walker dialed long distance to put Wheelersburg ahead 20-10 after one.
West (6-6, 5-5 SOC II) battled back, cutting the lead to 22-16 thanks to buckets from Howell, Eden Cline and Lexi Deaver. But Kallner, Darnell, Lexi Rucker and Lauren Jolly spearheaded a half-ending 8-1 run, putting Wheelersburg ahead 30-17 at the break.
In the third, the Pirates began to create a plethora of separation.
Jolly with 6:14 left before Kallner hit a 3 at the 5:36 mark, making it a 37-23 tally. Walker then scored five straight Pirate points, putting 'Burg ahead 43-27 with 3:38 remaining. Keeney then took her shot at West, scoring with 2:23 left before burying a triple at the 1:02 mark.
Kallner and Darnell each added buckets to end the quarter as the Pirates led 54-29.
From there, cruise control was enabled. The Senators managed to outscore the Pirates by a 14-8 margin in the fourth but it was much too little, much too late.
"West has a lot of talent. I always say they're a lot like us," Spradlin said. "They've got good guard play and they fight. I think we just kind of wore on them a little bit and finally made a couple of shots."
Darnell led all scorers with 21 points alongside seven rebounds and four assists. Keeney followed with 12 points, Walker added 11 points and Kallner finished with 10 points and four assists. Rucker also helped out, totaling four points and a team-high eight rebounds.
West was led statistically by Howell with 10 points and nine rebounds. Cline ended with 10 points and seven rebounds, Howard had eight points, and Lexi Deaver totaled five points and four assists.
The Senators will attempt to get back in the win column on Monday, hosting Northwest. Meanwhile, the Pirates travel to Waverly on Saturday for another key SOC II tilt.
"For us, I think we're still trying to figure out where everybody fits," Spradlin said. "But we've had practice time with some games that were cancelled. It gave us a chance to kind of figure out who we were. We've got several kids that can play. It's just about putting them in the right positions. And I think we're starting to settle into our roles and relax a little bit."
BOX SCORE
West: 10-7-12-14 — 43
Wheelersburg: 20-10-24-8 — 62
West: 19-44 FG, 4-6 FT, 1-8 3pt., 23 rebounds (Howell 9), 18 turnovers, 8 assists (Deaver 4). Scoring: Howell 10, Cline 10, Howard 8, Deaver 5, Coleman 4, Sayre 2, Andre 2, McDermott 2.
Wheelersburg: 25-64 FG, 6-9 FT, 6-25 3pt., 34 rebounds (Rucker 8), 13 turnovers, 13 assists (Kallner 4, Darnell 4). Scoring: Darnell 21, Keeney 12, Walker 11, Kallner 10, Rucker 4, Jolly 4.